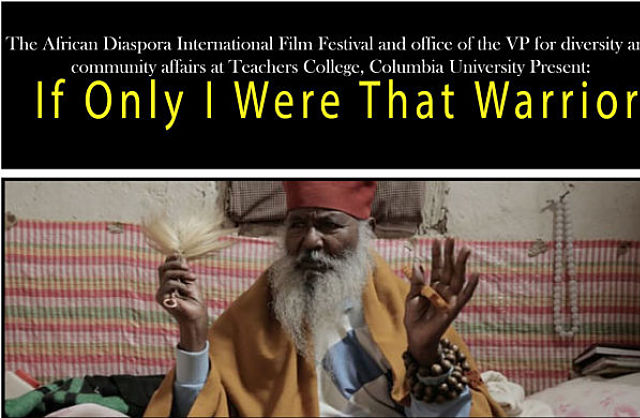 Tadias Magazine
By Tadias Staff
Published: Friday, January 1st, 2016
New York (TADIAS) — The new documentary film on Ethiopia, If Only I Were That Warrior, will be screened at the Best of African Diaspora International Film Festival on January 9th, 2016 in New York City.
"We are proud to present this year, in the context of the Best of the 23rd Annual African Diaspora International Film Festival, the screening of 'If Only I Were That Warrior,' organizers announced. The film will be showing at Teachers College, Columbia University as part of the festival's three-day program from January 8th to January 10th and will be followed by a Q&A with the filmmaker.
If Only I Were That Warrior, which was shot in Ethiopia, Italy and the United States, narrates personal stories from the Italian occupation of Ethiopia. It was inspired after the director Valerio Ciriaci and producer Isaak Liptzin attended a 2013 panel discussion held at New York University concerning the recent unveiling of a statue in Italy honoring the fascist war criminal Rodolfo Graziani — Mussolini's top enforcer in Ethiopia during the occupation in the late 1930s. Strangely enough, more than seven decades later, "Graziani was honored with a mausoleum and memorial park, built at taxpayers' expense, in a village south of Rome," BBC reported in 2012. "He was notorious as Benito Mussolini's military commander in colonial wars in Ethiopia and Libya where he carried out massacres and used chemical weapons."
In Ethiopia, among Graziani's numerous crimes against humanity, is the brutal Yekatit 12 massacre following a failed assassination attempt against him in February 1937. Graziani unleashed a war of retribution and terror in Addis Ababa and across the country indiscriminately slaughtering as many as 30,000 Ethiopians and imprisoning many more. According to BBC Graziani who was denounced by the League of Nations and brought in front of the United Nations War Crimes Commission "was sentenced to 19 years imprisonment for war crimes in 1948 but was released from jail after serving only two years, and died in 1955."
The NYU panel "prompted the two young filmmakers to research the Italian occupation of Ethiopia and understand why it was remembered so little and with such radical divergences," Centro Primo Levim (CPL) — which also hosted a screening of the documentary last Spring — stated in a press release. "Their quest became a film project on the 1935 Italian invasion of Ethiopia and its unresolved legacy exposing it both from an Italian and an Ethiopian perspective."
CPL adds: "The film moves from contemporary debate into the history of the invasion through the work of major historians of colonialism like Angelo Del Boca and Richard Pankhurst. Historian of fascist Italy Mauro Canali and cultural historian Ian Campbell accompany the public through the history of the occupation as documented in the Italian and Ethiopian national archives. In recent years, scholars have placed Italian war crimes in Greece, Yugoslavia and Africa under the spotlight allowing, among other things, a new approach to the study of fascist racism and a debate on international intervention, post-war justice as well as the effect of lingering prejudice and an unspoken past."
The Massacre of Debre Libanos – If Only I Were That Warrior CLIP from Awen Films on Vimeo.
—
If You Go
Best of African Diaspora International Film Festival (ADIFF)
Screenings of 'If Only I Were That Warrior
When: Saturday, January 9, 2016 at 2pm
Where: Teachers College, Columbia University
The Chapel
525 W. 120TH ST
New York, NY 10027
Tickets at www.brownpapertickets.com
More info & schedule at: www.nyadiff.org
Related:
Tadias Book Review: Jeff Pearce's 'Prevail': Personal Stories From Mussolini's Invasion of Ethiopia
—
Join the conversation on Twitter and Facebook.