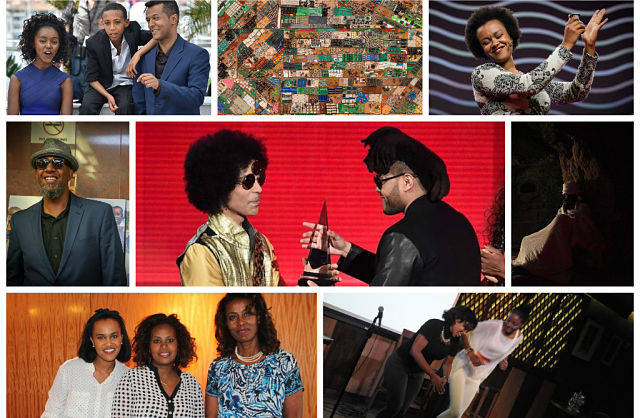 Tadias Magazine
By Tadias Staff
Published: Monday, December 28th, 2015
New York (TADIAS) — – 2015 was a vibrant year filled with acclaim and awards for several emerging artists of Ethiopian heritage including the musician The Weeknd (Abel Tesfaye) and filmmaker Yared Zeleke. Singer and songwriter Mizan Kidanu likewise earned praise from Rolling Stone Magazine as she released her first EP album. As we approach the end of the year here are 10 Arts & Culture headlines that top our list.
The Weeknd (Abel Tesfaye)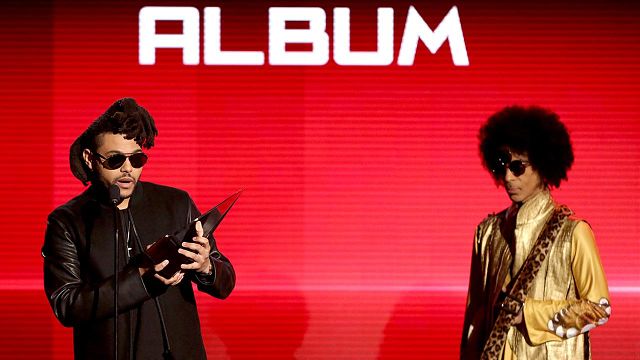 Prince (right) presented The Weeknd with the award for favorite album – Soul/R&B for "Beauty Behind the Madness" at the American Music Awards in L.A., California on Sunday, November 22nd, 2015. (Photo: AP)
By far the biggest Ethiopian name to emerge on the global music scene in 2015 is The Weeknd (Abel Tesfaye). The Ethiopian-Canadian superstar's "Beauty Behind the Madness" won favorite album in the Soul/R&B category at this year's American Music Awards in Los Angeles last month. The Weeknd accepted the coveted prize from the American musical legend, Prince. But the best is yet to come for The Weeknd as he has been nominated in multiple categories for the upcoming 2016 Grammy Awards including for Record of the Year, Album of the Year, and Best Pop Solo Performance. "These kids, you know, they don't have a Michael Jackson," The Weeknd told the New York Times earlier this Summer. "They don't have a Prince. They don't have a Whitney. Who else is there? Who else can really do it at this point?" BET noted: "Though Prince can still really do it, Weeknd has a point. His latest album, Beauty Behind the Madness sat atop the Billboard 200 for three consecutive weeks (the first since Taylor Swift's 1989 to do so), and broke the Top 10 in more than ten countries."
Yared Zeleke's Film 'Lamb'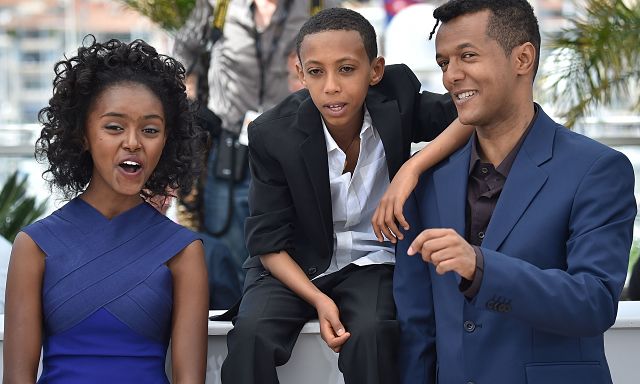 Actors Kidist Siyum and Rediat Amare with director Yared Zeleke at the premiere for Lamb at the 68th Cannes Film Festival in Cannes, France, May 2015. (Photograph: AFP/Getty Images)
Yared Zeleke's brilliant movie Lamb, which is the first Ethiopian film to be an official selection at the Cannes Film Festival, is also Ethiopia's Oscar entry for 2015 under the Best Foreign Language film category. Yared's film won 'Best Feature Film' at the 2015 Milano Film Festival, and the Guardian declared that "Yared Zeleke's sharp eye for the culture of his homeland is showcased in this tremendous ethnographic debut…What's most exciting about Lamb is that it is entirely from the inside out." In an interview with Tadias Yared who attended New York University's film school said: "For me, it's not only about cinematic art but your point of view as a citizen of the modern world. I am a "cultural omnivore" of Ethiopian origin who tries to make sense of this vast, complicated world through the work I do. Film is a powerful medium to get your point across and/or engage in a dialogue with a wider audience." Lamb is scheduled to premiere in the United States on January 13 at the 2016 New York Jewish Film Festival's opening night. Read more »
Elias Sime's Exhibit at James Cohan Gallery in New York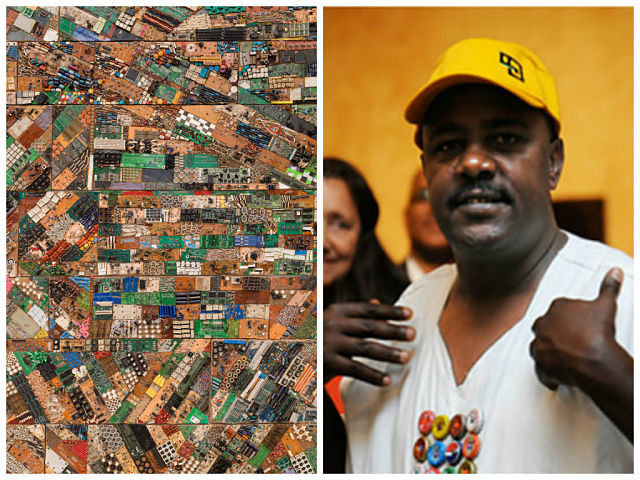 Elias Sime's "Tightrope 7," a collage of reclaimed electronic components adorned with items such as buttons and batteries. (Credit: Elias Sime & Adam Reich/James Cohan, New York/Shanghai)
Ethiopian artist and sculptor Elias Sime's latest works were exhibited at James Cohan Gallery in New York from September 10 to October 17, 2015. The series called Tightrope included artwork made from the "discarded innards of computers and machines," that Elias gathers from "Merkato's Menalesh Tera section in his hometown of Addis Ababa." In its review of Elias' work the New York Times observed that he "makes complex monumental art from tiny parts.. painting like abstract pieces, stitched from yarn, of biomorphic forms in grays and browns. Mr. Sime has said that the title refers to the precarious balance a city must maintain to survive and thrive, and "Tightrope 7" might be read as a bird's-eye view of Addis Ababa, now in the midst of a disorienting transformation." Read more »
Chester Higgins' Homage to Ethiopia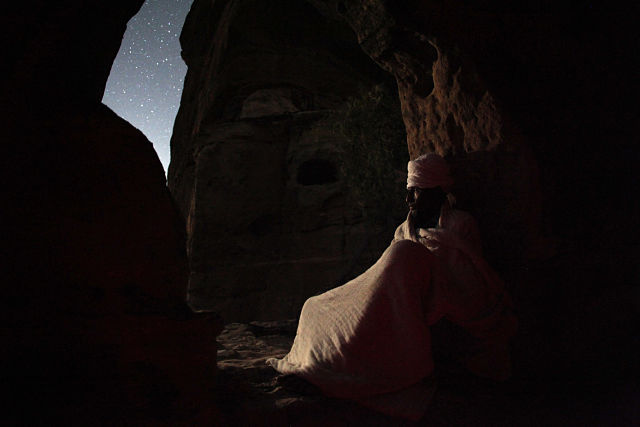 Priest in the Abuna Yemata cave at 8, 600 feet. Hawzein, Ethiopia. 2011. (Photo by Chester Higgins, Jr.)
The acclaimed American photographer Chester Higgins, Jr. presented an exhibition called Zéma at Skoto Gallery in New York City in May 2015. Higgins has been photographing Ethiopia since he first traveled there in 1973. Some of his stunning images of the country include iconic Christian and Muslim religious sites such as the Sof Omar Cave in Bale and the St. George church in Lalibela, as well as the Omo people in Southern Ethiopia. Describing his latest exhibit Higgins states that Zema is "a love song celebrating Ethiopia's unique landscape and people as well as impressionistic imagery honoring ancestral spirits along the Blue Nile."
Musician Thomas Gobena (Tommy T) Appointed UNICEF Ambassador to Ethiopia
In October 2015 Tommy T (Thomas Gobena) was appointed as UNICEF National Ambassador to Ethiopia. The Ethiopian American musician, who is a bass player for the New York-based gypsy band Gogol Bordello, follows in the footsteps of UNICEF Ambassadors Marcus Samuelsson, Aster Aweke, Abelone Melesse and Hannah Godefa. At a signing ceremony held at the UN agency's office in Addis Ababa Tommy said: "I hope I will be an Ambassador who will awaken hope, inspire action, and nurture kindness and respect to all. I hope with all my heart that my modest contribution will be inspiring to as many youth as possible because inspiration fuels hope." We congratulate Tommy and we wish him all the best in both his artistic and social endeavors!
Meklit Hadero at TED Talk
In this video from this past summer TED Senior Fellow Meklit Hadero speaks about how everyday sounds (nature, language and silence) inspire her creativity. "As a singer/songwriter people often ask me about my influences or as I call them my sonic lineages," says the Ethiopian American artist. "And I could easily tell you that I was shaped with the Jazz and Hip-Hop that I grew up with, by the Ethiopian heritage of my ancestors, or by the 1980s pop on my childhood radio stations, but there is another genre. How do the sounds that we hear everyday influence the music that we make?" She says "the world is alive with musical expression,"as she explores popular Amharic interjections. "We are already immersed."
Mizan Kidanu's New EP
Another talented artist from Ethiopia to watch for in the coming years is singer and songwriter Mizan Kidanu whose newly released debut EP Dark Blue is already receiving high praise and national media profile in the United States including features on NPR. Rolling Stone recently ranked her EP as one of the 20 Best R&B Albums of 2015 along with The Weekend and Ethiopian American singer Kelela Mizanekristos. Mizan Kidanu who was raised in Ethiopia relocated to the U.S. four years ago. "Her choice of relocation after graduating from college in Delaware was decisive in that it exposed her to whole ecosystems of musicians and showed her, from the benefit of other artists' experiences, that talent is not the prerequisite of success," Heran Abate wrote two years ago in a Tadias article profiling Mizan. Rolling Stone notes that Mizan "knows how to make songs that make you move, too: "Looking For" casts her as the seductress over a throbbing club beat, but her "what are we looking for" chorus reveals unease over whether she'll be embraced or rejected." We wish Mizan continued success! Read more »
Marcus and Maya Samuelsson
Ethiopian-born chef, restaurateur and author Marcus Samuelsson and his model wife Maya Gate Haile traveled to Ethiopia earlier this year with a CNN crew led by their friend TV host Anthony Bourdain. Marcus and Maya shared their personal stories and welcomed Bourdain to their family homes while proudly showing the world the rich and communal nature of food preparation in their birth country. It was refreshing to see an international spotlight being focused on the beautiful culture of the Gurage of Ethiopia to which Maya belongs as well as the nation's coffee tradition and Addis Ababa's emerging skateboard scene among other highlights. Tadias was a proud partner with CNN and Food Republic in organizing an advance screening of the show at Ginny's Supper Club in Harlem on October 9th, 2015. The sold-out evening featured a conversation with Marcus about behind-the-scenes stories and experiences. In addition, the event included a Q&A session and film trailer presentations by Julie Mehretu regarding the U.S. premiere of Difret and Teddy Goitom's Afripedia platform. Read more »
National Museum of African Art Presents Haile Gerima's Acclaimed Films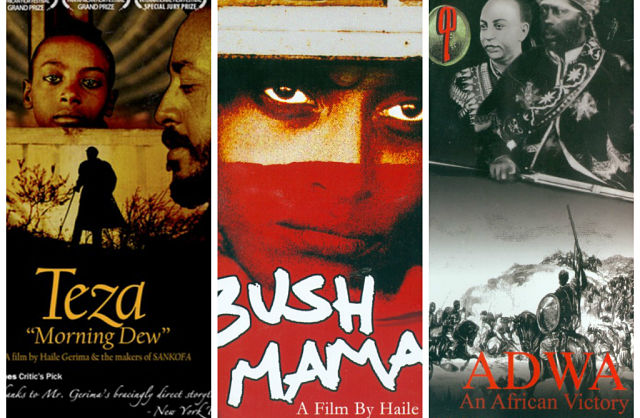 Haile Gerima's films were featured at the Smithsonian National Museum of African Art in D.C. from November 6th to 14th, 2015.(Courtesy image)
In November 2015 the National Museum of African Art in Washington, D.C. hosted a week-long screening of Ethiopian filmmaker Haile Gerima's most critically acclaimed films including Adwa: An African Victory, Bush Mama, Sankofa, and Teza. The program — produced in collaboration with Positive Productions Inc., Minab Arts, Humanities D.C., and the Diverse City Fund — was entitled "Streams of a River African and African-American History and Identity in Haile Gerima's Films" and was followed by panel discussions led by artists, activists and scholars. The award-winning director is also working on a new film called Yetut Lij. Read more »
Tadias Interview With Real-life Inspirations for Award-Winning Film Difret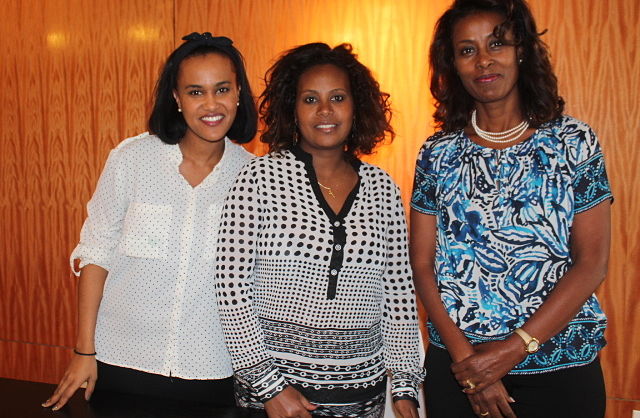 Difret Producer Mehret Mandefro, Women's Rights Activist Aberash Bekele and Lawyer Meaza Ashenafi (Photo: Tadias)
Indiewire has called Difret one of the 12 best films about girls and women of 2015. Tadias Magazine caught up with the real-life inspirations for the award-winning Ethiopian film — Aberash Bekele and her lawyer Meaza Ashenafi as well as Producer Mehret Mandefro — during the movie's U.S. premiere in New York City in October 2015. Below is our conversation with three of the women behind Difret about the case that launched a global spotlight on the practice of abduction for marriage (telefa) and the educational efforts underway to end it.
—
Related:
Tadias Year in Review: 2015 in Pictures
Tadias Year in Review: 2014 in Pictures
Ten Arts & Culture Stories of 2014
Tadias Year in Review: 2013 in Pictures
Ten Arts and Culture Stories of 2013
Top 10 Stories of 2013
Join the conversation on Twitter and Facebook.