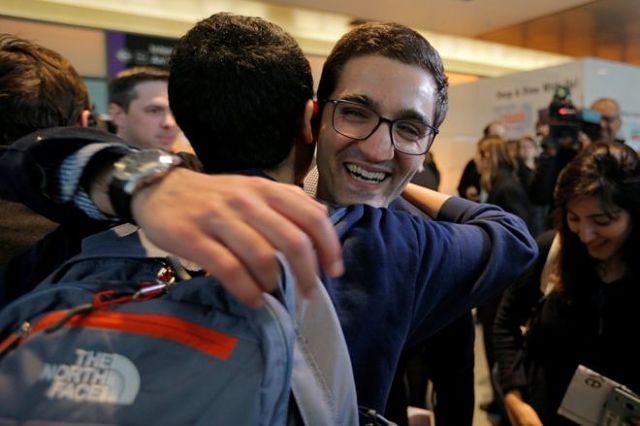 Tadias Magazine
By Tadias Staff
Updated: Saturday, February 4th, 2017
New York (TADIAS) — A U.S. federal judge in Seattle, Washington has ruled to put a nationwide temporary hold on President Donald Trump's immigration order and allowing stranded passengers at several airports across the country entry into the United States.
A State Department official confirmed on Saturday that individuals with valid visas are once again being welcomed into the US. "We have reversed the provisional revocation of visas under Executive Order 13769. Those individuals with visas that were not physically cancelled may now travel if the visa is otherwise valid," the official told VOA. "We are working closely with the Department of Homeland Security and our legal teams."
In announcing his decision on Friday U.S. District Judge James L. Robart declared that the judicial branch "must intervene to fulfill its constitutional role in our tripart government." And Washington state Attorney General Bob Ferguson added that the ruling "the first of its kind..shuts down the executive order immediately."
The Director of the American Civil Liberties Union's Immigrants' Rights Project, Omar Jadwat, said: "This ruling is another stinging rejection of President Trump's unconstitutional Muslim ban. We will keep fighting to permanently dismantle this un-American executive order."
Watch: U.S. borders reopen to valid visa holders; Trump files appeal

On Friday, Judge James Robart of Federal District Court in Seattle stopped the ban.
Meanwhile, prior to the new court decision, Reuters reports that nine Yemeni nationals were sent to Ethiopia and eventually to Djibouti. Ethiopian government spokesman Negeri Lencho told the news agency that "The only reason they came to Addis Ababa was because Ethiopian Airlines has flights from Addis Ababa to Washington."
—
Related:
State Dept. reverses visa revocations, allows banned travelers to enter U.S.
To the World Trump's Immigration Ban is Contrary to the Idea of America
A Jarring New Level of Confrontation Hits Washington
State Dept. Dissent Cable on Trump's Ban Draws 1,000 Signatures
Watch: AS PROTESTS GROW, TRUMP'S IMMIGRATION BAN PROVOKES CRISIS
Join the conversation on Twitter and Facebook.