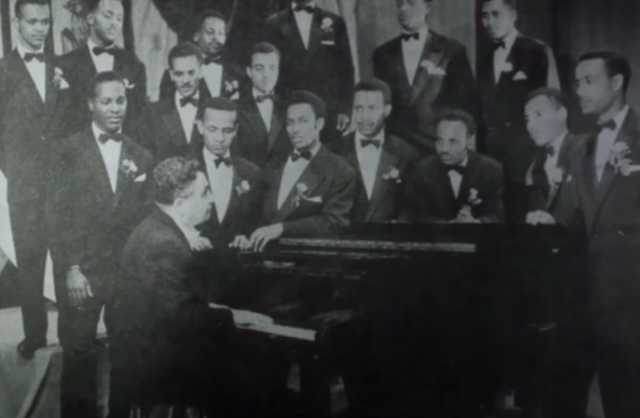 Tadias Magazine
By Tadias Staff
Published: Friday, February 3rd , 2017
New York (TADIAS) – One of the oldest immigrant communities in Ethiopia, Armenians, were welcomed to Ethiopia in the early 1900s after they escaped genocide carried out by the Ottoman empire. In addition to thriving as goldsmiths, carpenters, teachers and carpet makers, Armenian-Ethiopians have also greatly contributed to the emergence of modern music in Ethiopia. Kevork Nalbandian was an Armenian who composed the first national anthem for Ethiopia as well as served as the musical director of Arba Lijoch. His nephew Nerses Nalbandian was involved in the founding of the historic Yared Music School in Addis Ababa as well as led the Municipality Orchestra.
Nerses Nalbandian will be honored this month with a tribute concert entitled The Emperor, the Nalbandians and the Dawn of Western Music in Ethiopia, on Sunday, February 19, 2017 in Watertown, Massachusetts. The concert, which is organized by The Friends of Armenian Culture Society (FACS), features Boston's world renowned and the Grammy-nominated Ethio jazz band the Either/Orchestra and multilingual cast of guest vocalists including Debo band's Bruck Tesfaye.
"Born in 1915 in Aintab, Ottoman Empire, Nerses Nalbandian settled in Aleppo, Syria after his family escaped the genocide," FACS said in a press release. "He worked as a music teacher and choir master at the Armenian Orthodox Church in Syria, before moving to Ethiopia in 1938 at the invitation of his uncle Kevork Nalbandian."
The press release adds: "The program will include music Nalbandian composed and arranged during his tenure as Music Director of the Haile Selassie National Theater (1956-74). The event also celebrates the release of the E/O's CD Ethiopiques 32: Nalbandian the Ethiopian, for which the E/O has reconstructed and interpreted Nalbandian's music in live and studio recordings made in Ethiopia, the US and Canada. The E/O's previous Ethiopiques release, Live in Addis (2005), was called "astonishing…monumental…the best live album of the year in any genre" by Paul Olsen, AllAboutJazz.com. Armenian scholar Dr. Boris Adjemian, the director of the AGBU Nubar Library in Paris, will deliver a short pre-concert talk."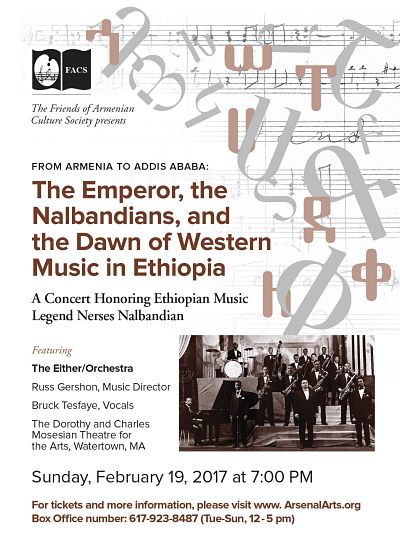 —
If You Go:
FACS presents:
A Tribute to Ethiopian Music Legend Nerses Nalbandian
Featuring Either/Orchestra; Russ Gershon, Music Director, & Bruck Tesfaye, vocalist.
Sunday, February 19, 2017 at 7:00 PM
The Mosesian Center for the Arts [map]
321 Arsenal St
Watertown, MA 02472
Click here for tickets
Join the conversation on Twitter and Facebook.