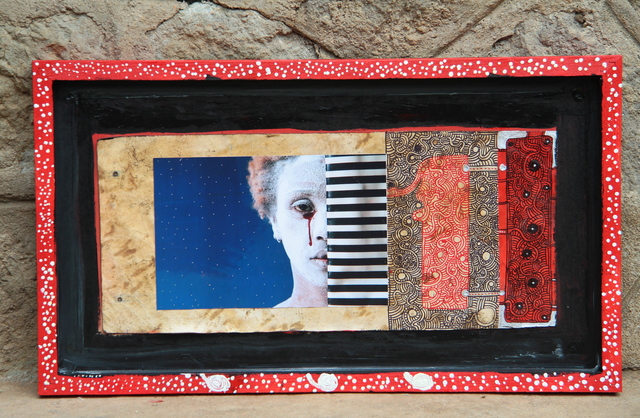 Tadias Magazine
By Tadias Staff
Updated: Thursday, June 6, 2013
New York (TADIAS) – Last month, the award-winning Ethiopian photographer Aida Muluneh held a successful solo exhibition at TO.MO.CA gallery in Addis Ababa entitled So Long a Letter, which featured her photographs mixed with pen drawings on leather and mounted on wooden board frames. In a recent interview with Tadias Aida said the show was inspired by one of her favorite books "So Long A Letter" — a semi-autobiographical novel originally written in French by the Senegalese author Mariama Bâ.
"In a sense it was my 'So Long Letter' to all the women in the country who often go unrecognized or are under-appreciated in our society," Aida said. "I have always loved the book and the fact that it was written in a letter format."
Aida said the book left a lasting impression on her because the author was exploring issues that were close to home: "Women in Africa." She added: "With this in mind, I wanted to do an exhibition featuring all the various women that I had encountered in the course of the almost six years that I have lived here in Addis Ababa."
Aida, who returned to Ethiopia in 2007, was born in 1974, but left the country when she was five years old and spent an itinerant childhood between Yemen and England. After several years in a boarding school in Cyprus, she finally settled in Canada in 1985.
In 2000, Aida graduated with a degree in Film from Howard University in Washington, D.C. She later worked as a photojournalist for the Washington Post exhibiting her work in-between throughout the United States. Her images are part of the permanent collection at the Smithsonian's National Museum of African Art, the Museum of Biblical Art, as well as various private galleries and collections in New York and across the country.
Today, Aida said, she finds herself in the middle of a thriving art movement in Ethiopia. "I have to say that the art scene here in Addis has flourished more than one can imagine and I would have to give recognition to the many artists and groups who are fighting the good fight to bring art into the forefront of society," she noted. "The younger artists are exhibiting in various spaces and I have to say that almost every week there is an opening, this to me is a promising factor for the future of contemporary art in Ethiopia."
Through her solo exhibitions as well as her work as Founder and Director of the first annual international photography festival, Addis Foto Fest, in Ethiopia, Aida is an active participant and organizer in the burgeoning local arts scene that has begun to attract increased worldwide attention. She emphasized that she continues to curate and develop cultural projects with domestic and global institutions through her company DESTA (Developing and Educating Society Through Art), a creative consulting venture based in Addis Ababa.
"We have to move from the shadows of our artists of the past and carve out our own visual language, which is happening even amidst the criticism and lack of support from older generation artists," she argued. "With all of that said, we are all in our own way walking down the long path of doing something that we believe in and feel passionate about."
Regarding the process of putting together her most recent exhibition Aida said it was a two-part project. "The classical black and white images that most often people recognize from my work was one part," she explained. "Which came about by editing through my archives of images that I have shot in the past six years." She added: "The other part is new work that I created, which is more of a personal design on combining image, pen drawing and paint. On the selection, the material used also has leather and in a sense for me its bringing together digital and analog forms of expression into one frame."
—
You can learn more about the show and Addis Foto Fest on Facebook.
Related:
Video: Tadias interview with Aida Muluneh taped in New York in 2010 (Tadias Magazine)

—
Join the conversation on Twitter and Facebook.