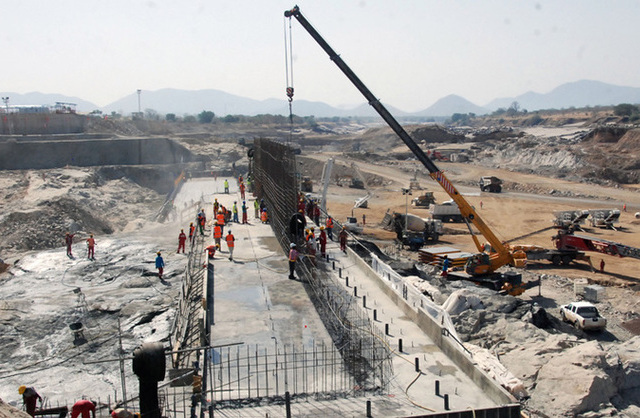 Marthe van der Wolf
June 06, 2013
ADDIS ABABA — Tensions between Egypt and Ethiopia are rising after Ethiopia began diverting the water of a Nile River tributary to build the continent's biggest hydroelectric power plant. Despite criticism from Egypt, Ethiopia says construction of the dam will proceed.
Ethiopia summoned the Egyptian ambassador this week to demand an explanation after Egyptian politicians were overheard on a live broadcast discussing ways to sabotage the Great Ethiopian Renaissance Dam.
The spokesperson of the Ethiopian Ministry of Foreign Affairs, Dina Mufti, says Ethiopia is surprised by the tone of Egyptian officials.
"Whether those propaganda that are coming from that corner are the government's position or not, we have asked for verification. We are caught by surprise because some government officials, party leaders and civil society leaders, they were talking about Ethiopia violently and we were surprised. We are waiting for this tone to be watered down very soon," said Dina Mufti.
Watch: Egyptian Politicians caught on Air Discussing to Sabotage Ethiopia

Egyptian concerns
Ethiopia started diverting a part of the Blue Nile last week for the construction of the $4.7 billion dam. The dam, scheduled to be completed by 2017, will transform Ethiopia into Africa's biggest power producer.
While the construction started almost two years ago, it was not until last week's diversion that tension between Egypt and Ethiopia broke into public view. The government in Cairo said it has not approved the building of the dam, and vowed to prevent the dam from reducing Egypt's water supply.
Dina says Ethiopia will not consider halting the construction of the dam.
"The halting of the construction is unthinkable. We hear two voices; one is a very backward voice of the 19th century. And there is another voice, with sanity, also a voice that is looking for corporation, for good relationship. So we hope the sane voice will prevail," said Dina.
Both Egypt and Ethiopia are part of the Nile Basin Initiative, a group of nine countries that have agreed to "develop the river in a cooperative manner."
An international panel of experts released a report last weekend, concluding that construction of Ethiopia's dam will not harm downstream countries such as Sudan and Egypt. But the conclusions of the report did not convince Egypt.
Fear of military action
The words of some Egyptian leaders and the media sparked fears about possible military actions. Nile expert Wondwosen Michago says other scenarios are more likely to happen before any type of army intervention will take place:
"The first scenario for me is resorting to the Nile Basin Initiative, coming to the roundtable and discussing under the umbrella of the Nile Basin Initiative. The other scenario is accepting the international panel of experts' reports. The other one is, as some people say, going to the international courts and putting that on the table," said Wondwosen Michago.
Mehari Taddele Maru, an international consultant based in Ethiopia, says military action is highly unlikely. But he believes the dam would be the first target if the situation were to escalate.
"If bombing happens, basically Egypt would bomb the dam. That is probably the clear target they may have. Or send a commando, some Wikileaks stuff has indicated, to try to destabilize the area where the dam is. And the response from Ethiopian side would also similarly be to use air force and to inflict as many attacks as possible on Egyptian interests," he said.
Ethiopian officials would not say whether the country has increased security around the dam. They said only that they are following the rising tensions with Egypt closely and carefully.
—
Related:
Ethiopia says it won't bow to Egyptian pressure over Nile dam (Reuters)
ABC News: Egyptian politicians caught discussing plan to sabotage Ethiopian dam
Egyptian politicians caught in on-air Ethiopia dam gaffe (BBC News)
Report Finds Renaissance Dam Won't Significantly Affect Egypt, Sudan (AP)
Ethiopia studies on Nile dam fall short, Egypt says (Reuters)
Ethiopia to Accommodate Nations Concerned by Nile Dam Project (Bloomberg News)
Nile River Dispute Between Egypt, Ethiopia Sparks Tensions (VOA News)
Ethiopia Diverts Flow of Blue Nile to Build Dam (AP)
Ethiopia diverts Blue Nile for controversial dam build (BBC News)
Fear in Egypt as Ethiopia builds giant dam on Nile (The Boston Globe)
Watch: Communications Minister Bereket Simon on the Nile issue (Al Jazeera English)

—
Join the conversation on Twitter and Facebook.