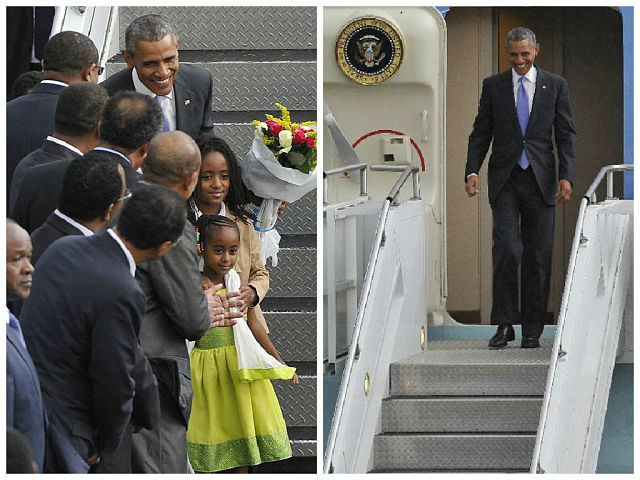 The Associated Press
Barack Obama, the US president, has landed in Ethiopia, beginning a two-day stay and becoming the first American leader to visit Africa's second most populous nation.
The president's jet touched down at Addis Ababa's international airport on Sunday after a short flight north from the Kenyan capital Nairobi, and he was greeted on the tarmac by Ethiopian Prime Minister Hailemariam Desalegn.
The visit will include talks with the Ethiopian government, a key strategic ally but criticised for its record on democracy and human rights.
Obama will also become the first US president to address the African Union, the 54-member continental bloc, at its headquarters.
He will also hold talks with regional leaders on the civil war in South Sudan.
AU Commission chief Nkosazana Dlamini-Zuma hailed what she said will be an "historic visit" and a "concrete step to broaden and deepen the relationship between the AU and the US".
—
Related:
Photos: President Obama Becomes First Sitting U.S. President to Visit Ethiopia

Obama's Historic Visit to Ethiopia: A Larger Perspective
President Obama Visits Kenya and Ethiopia
Open Letter to The Washington Post Regarding Ethiopia
Harassing VOA Reporter is Not Your First Amendment Right
Obama Visit to Ethiopia Brings Fresh Eyes to the Country, Say Seattle Ethiopians
Ethiopia releases journalists and bloggers ahead of Obama visit
In Ethiopia, Why Obama Should Give Due Credit to Haile Selassie's OAU Role
Breaking News: President Obama to Travel to Ethiopia in Late July
Meet the 2015 Mandela Washington Fellows from Ethiopia
Brookings Institution Recommends Obama Visit Kenya, Ethiopia & Nigeria
Join the conversation on Twitter and Facebook.