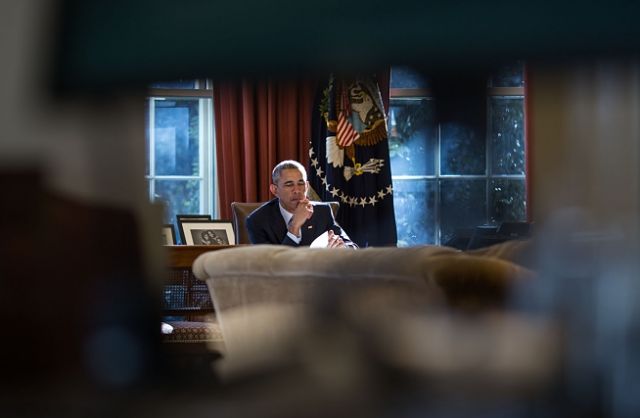 Tadias Magazine
By Tadias Staff
Published: Monday February 23rd, 2015
New York (TADIAS) — Before the end of his second term in 2016 President Barack Obama has the opportunity to become the first sitting U.S. president to address the African Union from its headquarters in Addis Ababa, Ethiopia. "A visit to the AU headquarters by the U.S. president would be a significant endorsement of the role of the continental organization and would, indeed, be the best forum in which to hold the next U.S.-African Leaders Summit — building upon the success of the first summit held in Washington in 2014," stated an article published last week by the Brookings Institution. The piece is entitled "Suggestions for Obama's Last Trip to Africa as President."
Historically, Ethiopia has served as the continent's diplomatic home base ever since the Organization of African Unity (OAU), the predecessor to the African Union (AU), was established in Addis Ababa in 1963. In addition to urging the American president to make history by addressing African leaders from the AU podium, the article authored by Mwangi S. Kimenyi, Senior Fellow on Africa at the Brookings Institution, recommended that the next U.S. presidential trip to Africa also pay homage to Kenya, the birth-country of Obama's father, as well as Nigeria, the most populous African nation.
"As the President's second "home," Kenya must be included in the itinerary," Kimenyi argued. "Previous U.S. presidents have shown great pride by visiting their ancestral homes. Notable are the visits by Presidents Kennedy, Reagan and Clinton to their ancestral homes in Ireland." He added: "It will be an opportunity for the president to demonstrate pride in his African roots. A visit [to Kenya] as president will have great significance not only to him but also to Kenyans and indeed other Africans."
Regarding Nigeria the writer noted that the country is simply too big to ignore: "It is now the largest economy on the continent and has the largest population there," Kimenyi wrote. "Despite all its shortcomings, Nigeria has, in recent years, undertaken major reforms that are helping stimulate the economy and shift it away from an over-reliance on oil. By all accounts, Nigeria can be considered the continental anchor: Whatever happens in that country has large spillover effects across the continent."
But both Nigeria and Ethiopia, Kimenyi pointed out, have poor governance records. In Nigeria's case, the country is well known for its "high levels of corruption and serious ethnic and religious fractures." He added: "Ethiopia is another large country also characterized by significant governance problems. The country's past has been characterized by dictatorships, serious conflict and devastating famines. However, since the dictator Mengistu Haile Mariam was deposed, Ethiopia has made important progress, including adoption of a new federalist constitution and far-reaching economic reforms that have seen the country achieve one of the highest growth rates in the continent over the last decade. The economic reforms have attracted new foreign direct investments with the consequential emergence of new industrial clusters, especially in leather processing. Not all is perfect though: Like with governance, Ethiopia still lags far behind other countries in deregulating some key sectors of the economy especially telecommunications, land markets, banking, and finance."
In terms of Obama's possible follow-up meeting with African leaders in Addis Ababa, which is purely speculative at this point, Kimenyi said: "President Obama and the African leaders could use the summit to discuss strategies to advance the pace of regional integration especially as pertains to involvement of the U.S. private sector, such as in the building of regional infrastructure."
—
Related:
Suggestions for Obama's last trip to Africa as president
Join the conversation on Twitter and Facebook.