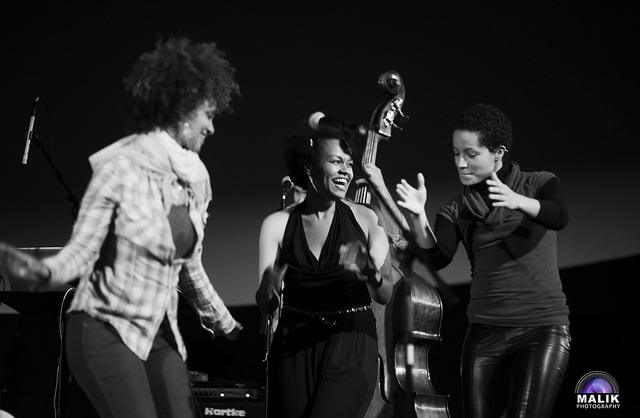 To This Ethiopian American Singer, 'Home is Always in Flux'
By MONICA CAMPBELL
Like a lot of immigrants in the United States, Meklit Hadero's family arrived to a place unknown, with a single connection drawing them. For Hadero, that place was Iowa, where her dad knew a professor.
It was the early '80s, and Ethiopia was still feeling the aftermath of the 1974 revolution.
"There was a lot of kindness and community," says Hadero, a singer and songwriter now based in San Francisco. "We were adjusting to living in this country. At the same time it was very challenging. There weren't many immigrants at all, let alone immigrants from East Africa or Ethiopia."
In fact, she remembers, there was one other Ethiopian family in town. "They heard through the grapevine that we had moved there and people said, 'Oh, they live in that apartment complex.' And they knocked on every door until they found us and we're still friends today."
Her parents were physicians who had to redo their residencies in the US in order to work. It took a long time. Five years. And the jobs they got brought the Hadero family to Brooklyn.
She returned to Ethiopia when she was 21 with her mom, carrying with her a body of stories, those highs and lows her family had talked about for years regarding life back in Ethiopia. Hadero says when she got to Ethiopia, she started to "see the holes" in her parents' memories.
"I started to see the people who were maybe only hinted at filled into whole three-dimensional personalities," she says. She also remembers her mom shifting between what she called "home" or "back home," toggling between Ethiopia and the United States.
"Home is always in flux," Hadero says.
Those journeys, and discovering more about Ethiopian music, have influenced Hadero's music and can be heard in "We are Alive," her latest album. It includes "I Like Your Afro," Hadero's modern twist on a traditional Amharic-language Ethiopian love song called "Kemekem," which means "the perfect Afro."
"This is a very flirtatious love song, where the lyrics say, 'Oh, my dear, with the perfect Afro, you live at the top of the hill, I live at the bottom of the hill, just roll on down and meet me there.'"
She calls it her version of a "countryside song that, at the core of it, is something that people all over the world can connect with."
She also sees how people don't always know how to classify her. "When I play my music for the world music, they say, 'Well, this is too jazz.' When I play it for the jazz people, they say, 'Well, this is kind of pop.' And when I play it for the pop people they say, 'What is this?'"
—
Learn more about the artist at www.meklitmusic.com.
Join the conversation on Twitter and Facebook.