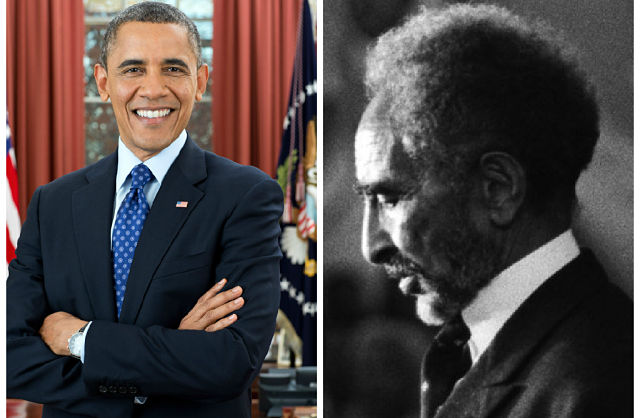 Tadias Magazine
By Tadias Staff
Published: Saturday, June 20th, 2015
New York (TADIAS) — President Barack Obama is preparing to make a landmark trip to Ethiopia and the African Union headquarters in Addis Ababa in late July as the first sitting U.S. president to visit the nation. Diplomatic relations between the U.S. and Ethiopia formally began with the signing of the first U.S.-Ethiopia bilateral trade agreement in 1903 during the term of President Theodore Roosevelt and the era of Emperor Menelik II in Ethiopia.
In addition to President Obama's planned meetings with Ethiopian authorities regarding business investments, international security and democratic governance, we also hope that the President recognizes the significant role that Ethiopia's former Emperor Haile Selassie played in the creation of the African Union's predecessor – the Organization of African Unity — as he takes the stage to address African leaders in its new hall.
As Professor Ted Vestal, author of the book The Lion of Judah in the New World, points out "Haile Selassie was an iconic figure of the 20th Century, Cold-war ally of the United States, staunch anti-colonialist, and a noted Pan-Africanist and founding father of the Organization of African Unity." According to Vestal the Emperor visited the U.S. as a Foreign Head of State, a record 6 times only matched by the Queen of England later in the 21st century.
Likewise, President John F. Kennedy's remarks made at Washington D.C.'s Union Station on October 1st, 1963, while extending a rare State reception to the globally revered Ethiopian leader, are unforgettable. In welcoming Haile Selassie to the U.S. President Kennedy stated: "I know I speak on behalf of all my fellow Americans in welcoming his Imperial Majesty back to the United States. Since His Majesty visited the United States nearly a decade ago we have seen one of the most extraordinary revolutions in history. And that has been the appearance on the world scene of 29 independent countries in the short space of less than ten years, including over 150 million people. The conference recently held in His Majesty's capital served, I think, to bring together in a great cooperative movement the people of most of these countries. And the success of that conference was due to in no small part to the leadership of our distinguished guest. His efforts to move his country forward to provide a better life for its people and his efforts throughout the world, which dates back over 30 or 40 years. For all of this your Majesty we take the greatest pride in welcoming you here. You do us honor and I can assure you that there is no guest that we will receive in this country that will give a greater sense of pride and satisfaction to the American people than your presence here today. Your Majesty, you are most welcome."
We welcome President Obama going to Ethiopia and the African Union's headquarters and are thrilled that he decided to make this historic trip as the first sitting President to do so in American history.
—
Related:
Breaking News: President Obama to Travel to Ethiopia in Late July
Meet the 2015 Mandela Washington Fellows from Ethiopia
Brookings Institution Recommends Obama Visit Kenya, Ethiopia & Nigeria
A Memoir of First US Diplomat's Meetings With Emperor Menelik
Haile Selassie's Africa: A Legacy Ignored by a Generation
Click here to listen to the complete audio of President John F. Kennedy's welcoming remarks to Haile Selassie, Emperor of Ethiopia, at Union Station in Washington, D.C., on October 1st, 1963.
Join the conversation on Twitter and Facebook.