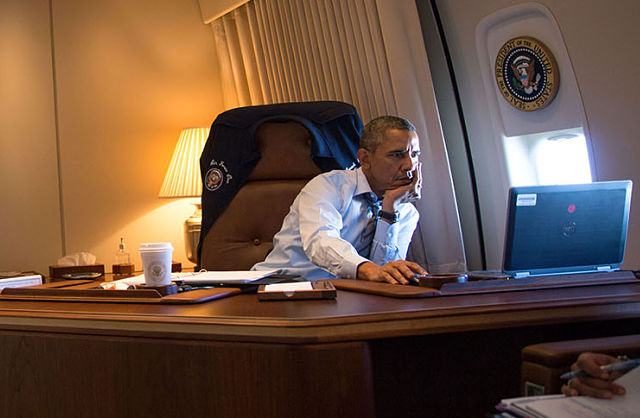 Tadias Magazine
By Tadias Staff
Published: Friday, June 19th, 2015
New York (TADIAS) — President Barack Obama will become the first sitting U.S. president to visit Ethiopia and the AU head office in Addis Ababa when he travels to Ethiopia next month.
"In late July, President Barack Obama will travel to Ethiopia for bilateral meetings with the government of Ethiopia and the leadership of the African Union," the White House announced on Friday. "This visit, which follows the President's trip to Kenya, will build on the success of the August 2014 U.S.-Africa Leaders Summit by strengthening ties with African partners and highlighting America's longstanding commitment to investing in Africa."
The White House said that "This will be the first visit of a sitting U.S. president to Ethiopia and African Union from its headquarters, understanding our efforts to work with the countries and citizens of sub-Saharn Africa to accelerate economic growth, strengthen democratic institutions, and improve security."
An article published this past Winter by the Brookings Institution suggested that President Obama make the historic travel to Ethiopia noting: "A visit to the AU headquarters by the U.S. president would be a significant endorsement of the role of the continental organization [that was established in the Ethiopian Capital in 1963 as the Organization of African Unity (OAU], and would, indeed, be the best forum in which to hold the next U.S.-African Leaders Summit — building upon the success of the first summit held in Washington in 2014. President Obama and the African leaders could use the summit to discuss strategies to advance the pace of regional integration especially as pertains to involvement of the U.S. private sector, such as in the building of regional infrastructure."
Below is a Twitter post from The White House National Security:
Breaking: @POTUS will travel to #Ethiopia in late July for meetings w/ the Gov. of Ethiopia and w/ the leadership of the AU.

— WH National Security (@NSCPress) June 19, 2015
—
Related:
In Ethiopia, Why Obama Should Give Due Credit to Haile Selassie's OAU Role
Meet the 2015 Mandela Washington Fellows from Ethiopia
Brookings Institution Recommends Obama Visit Kenya, Ethiopia & Nigeria
Join the conversation on Twitter and Facebook.