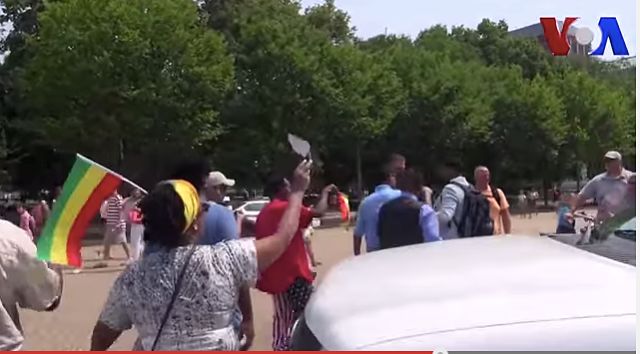 Tadias Magazine
By Tadias Staff
Published: Tuesday, July 7th, 2015
New York (TADIAS) — Last week a video showing a rowdy group of Ethiopian protesters physically harassing Voice of America journalist Henok Semaegzer emerged following a rally in front of The White House. Hours before the release of the video Henok had tweeted saying:

It is highly hypocritical for demonstrators who were demanding freedom of expression and press freedom — calling for the release of jailed journalists, bloggers, and prisoners of conscience in Ethiopia — to have shoved and ripped off the badge of a VOA reporter while he was covering their rally. How can they claim to stand for freedom of expression, when they failed miserably to extend the same respect to those they may disagree with? At best they were totally oblivious to the First Amendment of the U.S. constitution that guarantees freedom of expression to all citizens by prohibiting lawmakers from "abridging the freedom of speech, infringing on the freedom of the press, interfering with the right to peaceably assemble."
Sadly this is not the first time that such harassment of dissenters has occurred. A similar incident was recorded in November 2013 when the microphone was snatched from a young Ethiopian organizer as the crowd disagreed with her comments during a demonstration in Washington D.C. against the violence inflicted on Ethiopian migrant workers in the Middle East.
What happened to Henok Semaegzer is dishonorable and damages the cause of those who claim to stand for human rights. The bystander apathy is likewise inexcusable. Henok's attackers were heard shouting "shame on you" while chasing the reporter. We say shame on them.
—
Join the conversation on Twitter and Facebook.