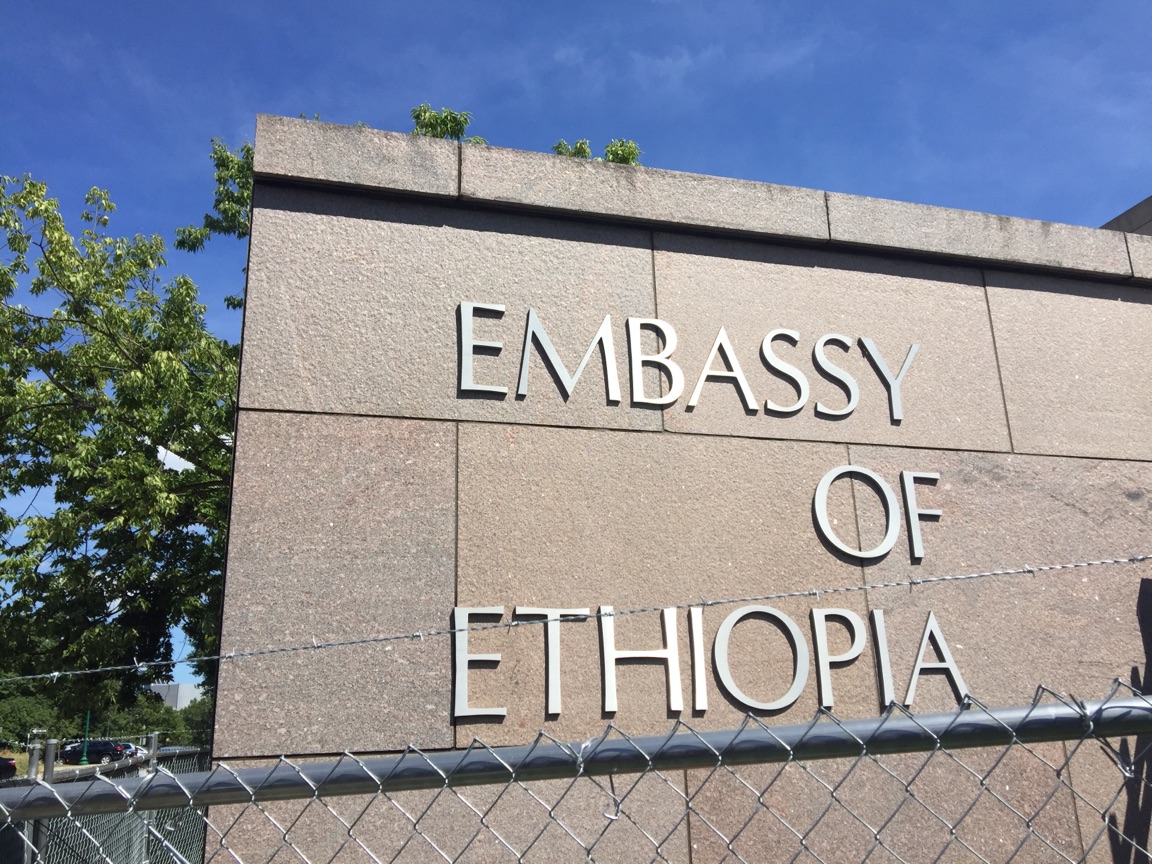 Tadias Magazine
By Tadias Staff
Updated: July 20th, 2018
New York (TADIAS) — The Ethiopian Embassy in Washington D.C. held a press conference yesterday evening to provide more details on the PM Abiy Ahmed's upcoming visit to Washington D.C. on July 28th, 2018. The press conference was shared live on a newly launched official Facebook page (PM Abiy in DC #መደመር) designed to promote this event.
Details of the public event provided during the press conference include location and time information, transportation recommendations as well as security details for the gathering as follows:
PM Abiy will greet Ethiopians at a free event hosted at the Walter E. Washington Convention Center in Washington D.C. on Saturday, July 28th, 2018. There is no registration or payment requirement for the event.
PROGRAM SCHEDULE & LOCATION:
Walter E. Washington Convention Center 801 Mt Vernon Pl NW, Washington, DC 20001
9:00AM: Doors Open
1:00pm: Official Program Commence
5:00pm: Program Concludes
PUBLIC TRANSPORTATION & PARKING INFORMATION:
Metro information:
Yellow/Green line: Mt Vernon Sq/7th St-Convention Center
Red/Green Line: Gallery Place-Chinatown wmata.com for weekend schedule. It is recommended to use public transportation to arrive to the convention for this event.
Parking Information:
There are over 3,000 parking spaces in a three-block radius of the facility. These spaces are available on a first come, first serve basis.
VOLUNTEER INFORMATION & TRANSPORTATION:
Close to 500 volunteers in uniform will be assisting attendees with entrance into the venue. Three volunteer cab companies will be transporting attendees from various locations to the venue. Please pay attention for marked taxi vehicles.
SECURITY INFORMATION:
It is highly recommended that attendees do not bring large bags or metal objects. Everyone is subject to security protocol and metal detector screening. In addition, it was advised at the press conference that event participants refrain from bringing their children to the convention center.
ADDITIONAL PROGRAMS
In addition to the public event at the Walter E. Convention Center a smaller town hall event comprising of 1,500 individuals represented from various sectors and civic organizations have been invited to meet with PM Abiy Ahmed during his visit to Washington D.C.
PM Abiy Ahmed also plans to take part in the peace process event to be held among the exiled synod of the Ethiopian Orthodox Tewahido Church and the synods in Addis Ababa during his visit to Washington DC.
Following the Washington DC event PM Abiy Ahmed will travel to Los Angeles, CA on July 29th and Minneapolis, MN on July 30th to meet with members of the Ethiopian community. The Minneapolis event is scheduled to be hosted at the Target Center (600 N 1st Ave. Minneapolis, MN 55403).
Additional information for all events related to PM Abiy Ahmed's visit to the U.S. can also be found on the following social media platforms:
Facebook: https://www.facebook.com/DrAbiyUSVisit/
Website: www.yemedemerguzo.org
Instagram: #MedemerUSA
Twitter: @MedemerUSA
—
Related:
PM Abiy Ahmed to Meet Ethiopian Community in Washington DC July 28th
A Diaspora Trust Fund for Ethiopia and Embracing a Culture of Democracy (Editorial)
With Hugs, Leaders of Rivals Ethiopia, Eritrea Finally Meet
PM Abiy Ahmed to Travel to Washington D.C. & Los Angeles on July 28-29
Images: Washington DC Rally to Support Ethiopia's New PM Dr. Abiy Ahmed
Join the conversation on Twitter and Facebook.