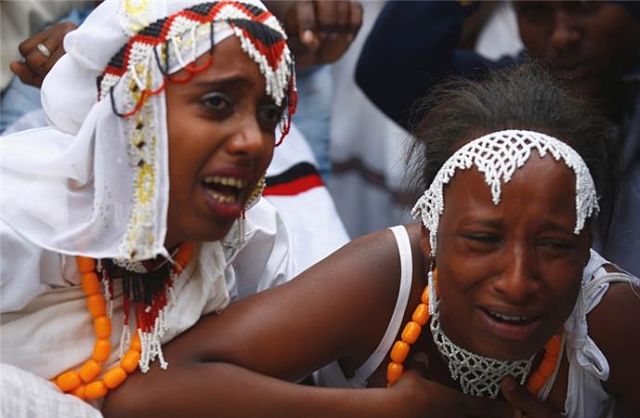 UPDATED: OCTOBER 4, 2016
Protests broke out in some areas of Ethiopia's Oromiya region, a day after dozens of people were killed in a stampede at a religious festival sparked by a bid by police to quell demonstrations, witnesses said.
Opposition politicians and government officials gave contrasting tolls of casualties that took place during the annual Irreecha festival in the town of Bishoftu, some 40km south of the capital Addis Ababa, where police fired teargas and shots in the air to disperse protesters.
The manager of the town's government-operated referral hospital said the death toll had risen to 55, with 100 injured, from 52 dead on Sunday.
An opposition leader told Reuters the number of dead stood at around 150.


Photo: Reuters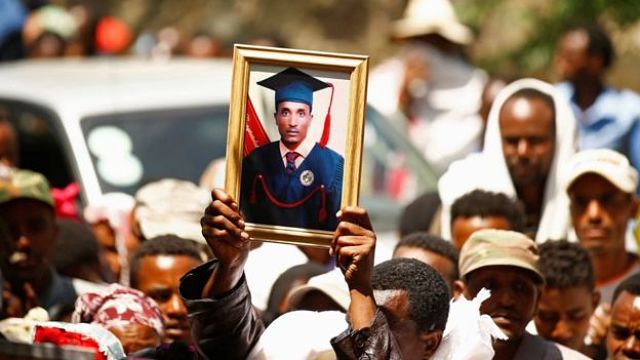 (Photo: Reuters)
On Monday, witnesses said crowds took to the streets in Oromiya's Ambo, Guder, Bule Hora and other towns in response to the deaths.
"Shots are still being fired. Everything remains shut – Ambo has been brought to a standstill," said Mesfin, a university student who did not want to give his full name out of fear of reprisal.
Two other residents of the other towns said scuffles took place between demonstrators and police.
The region's assistant police chief told journalists that "widespread disturbances" had taken place in several parts of the region.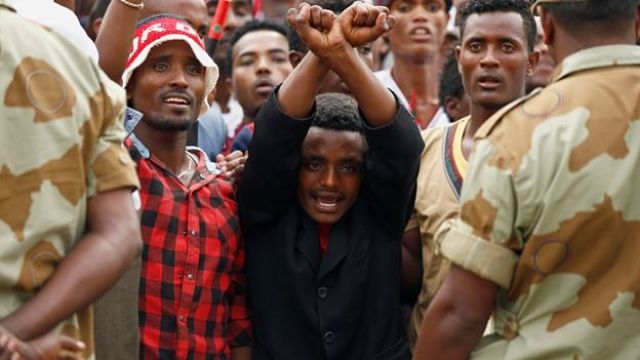 Experts say that after 25 years of control over the country's public life, the ruling party is facing its biggest political challenge yet. (Reuters)
"Roads have been blocked, while government offices and vehicles have been burnt down. Police are trying to put an end to all this," said Sorri Dinka, deputy commissioner of the Oromiya Police Commission.
The Horn of Africa country has declared three days of national mourning, with flags flying at half mast throughout the country to pay tribute to the victims.
Sporadic protests have erupted in Oromiya over the last two years, initially triggered by a land row but increasingly turning more broadly against the government.
Merera Gudina, chairman of the opposition Oromo Federalist Congress, said Sunday's death toll had climbed to 150 people and that some of the victims were shot dead by police, contrary to official claims.
—
Ethiopia: Deadly Stampede at Protest During Irrecha Festival in Bishoftu (AP)

Raw Video — Dozens Dead During Stampede in Ethiopia (AP)
By Elias Meseret 
BISHOFTU, Ethiopia — Dozens of people were crushed to death Sunday in a stampede after police fired tear gas and rubber bullets to disperse an anti-government protest that grew out of a massive religious festival, witnesses said. The Oromia regional government confirmed the death toll at 52.
"I almost died in that place today," said one shaken protester who gave his name only as Elias. Mud-covered and shoeless, he said he had been dragged out of a deep ditch that many people fell into as they tried to flee.
The first to fall in had suffocated, he said.
"Many people have managed to get out alive, but I'm sure many more others were down there," he said. "It is really shocking."
The stampede occurred in one of the East African country's most politically sensitive regions, Oromia, which has seen months of sometimes deadly demonstrations demanding wider freedoms.
An estimated 2 million people were attending the annual Irrecha thanksgiving festival in the town of Bishoftu, southeast of the capital, Addis Ababa, when people began chanting slogans against the government, according to witnesses.
The chanting crowds pressed toward a stage where religious leaders were speaking, the witnesses said, and some threw rocks and plastic bottles.
Police responded with tear gas and rubber bullets, and people tried to flee. Some were crushed in nearby ditches, witnesses said.
In its statement, the Oromia regional government blamed "evil acts masterminded by forces who are irresponsible," and it denied that the deaths were caused by any actions by security forces.
Mulatu Gemechu of the opposition Oromo Federalist Congress told The Associated Press that his sources at hospitals said at least 52 people were dead as of Sunday evening, but he thought the figure would rise.
The protesters were peaceful and did not carry anything to harm police, he said.
Before the stampede, an AP reporter saw small groups of people walking in the crowd and holding up their crossed wrists in a popular gesture of protest.
The reporter also saw police firing tear gas and, later, several injured people.
—
Join the conversation on Twitter and Facebook.