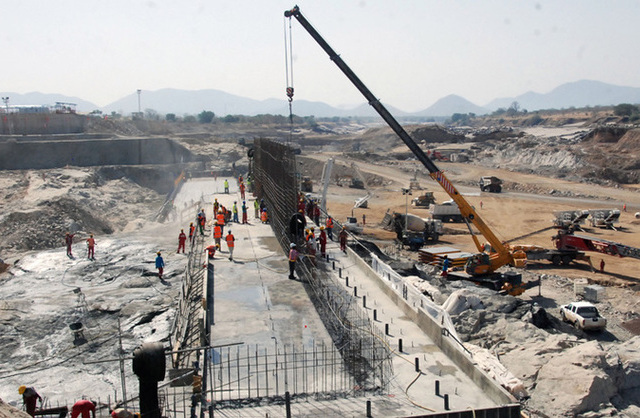 Tadias Magazine
By Tadias Staff
Published: Tuesday, June 11th, 2013
New York (TADIAS) – In the late 1990s, long before the Egyptian cabinet got caught on live television discussing to sabotage Ethiopia's $4.7 billion Grand Renaissance hydroelectric dam project, a law professor and his students at Stanford University were quietly researching the legal case that could assist Ethiopia in the event that the inter-country conflict ended up at the International Court of Justice for resolution.
"I was very happy when I learned Ethiopia was going ahead with the Blue Nile Gorge project; and then very concerned when the Egyptian cabinet meeting conversation leaked, referring to Egypt's going to war against Ethiopia," said former Congressman Tom Campbell who is currently the Dean of Chapman University School of Law in Orange, California. "What totally irresponsible statements."
In a recent interview with Tadias Magazine, Mr. Campbell recalled that two of his Stanford law students, Paul Epstein and Ken Fleuriet, had prepared a draft brief that dealt with just these questions.
"International law requires upstream and downstream users to engage in equitable use of a river's water," he said.
Egypt, which operates its own multiple dams built on the Nile, is vigorously opposing Ethiopia on the basis of a colonial era agreement that served only the interest of Egypt and Sudan. In a review article entitled "Who Owns the Nile? Egypt, Sudan and Ethiopia's History-Changing Dam" published at Ohio State University, Andrew Carlson notes that "After achieving its independence in 1922, Egypt negotiated the Nile Waters Agreement of 1929 with the East African British colonies. This accord established Egypt's right to 48 billion cubic meters of water flow, all dry season waters, and veto-power over any upriver water management projects." Despite that over 85% percent of the waters flowing to Egypt came from the Blue Nile originating in Ethiopia, Carlson states that Ethiopia's emperor Haile Selassie "was not consulted." An additional colonial-era agreement between Egypt and Sudan, which Egypt claims should be followed today also left out five other upriver countries from fair use.
"Does Ethiopia have the legal right to dam the Nile?" we asked. The answer, Mr. Campbell gave is a resounding "Yes."
"Unquestionably Ethiopia has the legal right to build the dam," he replied. "The issue had been one of funding: the U.S. had supported Egypt at the World Bank, and the World Bank had not funded the project. I believe Ethiopia found alternative funding from China."
Mr. Campbell added. "While Egypt wants more of the Nile to be diverted to new settlements in the Sinai, Ethiopia wants water to prevent the devastating drought that occurs every seven years. This favors Ethiopia. Further, Ethiopia's storage of water in the Blue Nile gorge will result in far less evaporation per cubic meter of water than Egypt's storage in Lake Nasser, a shallow lake with huge loss to evaporation."
Mr. Campbell emphasized that this essentially means sharing the river, based on traditional uses, and the value of the proposed new use. "The International Court of Justice exists for just this kind of dispute resolution," he argued.
In their brief Epstein and Fleuriet asked: "Beyond the broad notions of fairness and justness embodied in the concept, just what are the particulars of 'equitable utilization?' In very large measure the modern doctrine of equitable utilization is nothing more than a compromise between the two extreme positions. Equitable utilization recognizes a right of upper riparians to develop and exploit their water resources, but also imposes upon them a burden to take the needs of their downstream neighbors into account."
"My advice is for Ethiopia to commence a legal process in the International Court of Justice." Campbell urged. "The sooner this goes to the ICJ the better, as any military threat would, on top of being highly irresponsible, then be perceived by the world community as an attempt to short cut the process of the ICJ."
—
Related:
Hydropolitics Between Ethiopia and Egypt: A Historical Timeline (TADIAS)
How Egypt Might Try To Stop Ethiopia's Dam Project (Forbes)
Egyptian warning over Ethiopia Nile dam (BBC News)
Ethiopia rejects Egyptian protests over Nile dam (The Guardian)
Ethiopia says Nothing Will Stop Nile Dam Project (AP)
Watch: Communications Minister Bereket Simon on the Nile issue (Al Jazeera English)
Join the conversation on Twitter and Facebook.