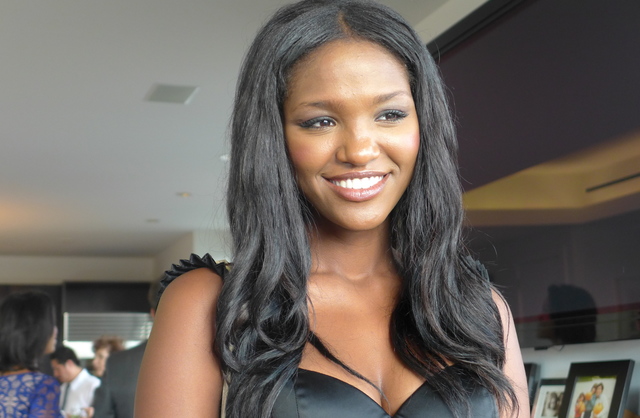 Tadias Magazine
By Tseday Alehegn

Updated: Thursday, June 13th, 2013
New York (TADIAS) – Yityish (Titi) Aynaw, Miss Israel 2013, was recently in New York where she stayed for a week. At a gathering open to the press on Tuesday, June 11th in Manhattan Titi spoke to the media, and Tadias briefly interviewed her in Amharic. Miss Israel shared that she came to New York City to fundraise for a project she is working on through the Netanya Foundation.
"I live in Netanya in Israel," Titi said. "And some children who live there don't have the financial resources to participate in after school activities. For example, if I want to learn music, and my parents have the resources they can send me to take music lessons." But in Netanya, she noted that some children don't have these opportunities.
"So I've taken the initiative to bring together these children in a community room and help them to learn what they show interest in, whether it's dance or music. I am fundraising to create these opportunities for them" Titi explained.
We asked what she thought of her visit to New York and she replied "Nice..Betam des yilal. Titi added that only a week ago she was in Ethiopia. When we inquired if it was her first time returning to Ethiopia since she moved to Israel, she replied "No I have been to Ethiopia before, after I completed my military training."
She noted the fast-paced changes in Addis and said: "Every time I go to Ethiopia I feel that it's changing. There are always new buildings, more growth." She added: "Arif bota nech Ethiopia" (Ethiopia is a great place)."
Below are photos from the evening's event:

–
Join the conversation on Twitter and Facebook