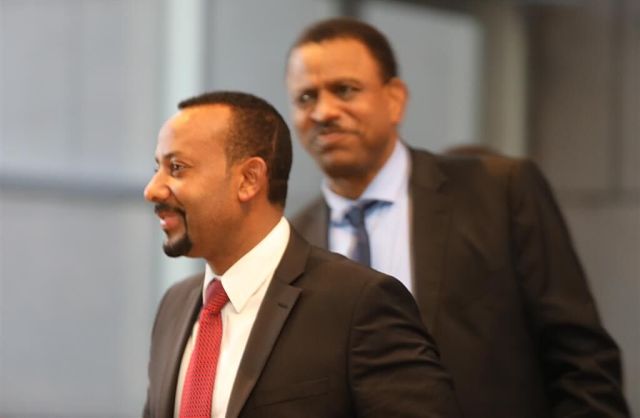 Tadias Magazine
By Tadias Staff
Updated: July 27th, 2018
New York (TADIAS) — PM Abiy Ahmed met with members of the Ethiopian Diaspora community at a reception held at the Ethiopian Embassy in Washington D.C. on Thursday, July 26th as he started his three city tour of the United States this week that will take him to Los Angeles, CA on July 29th and Minneapolis, MN on July 30th as well.
Earlier in the day PM Abiy met with religious leaders and took part in the peace and reconciliation event between the exiled synod of the Ethiopian Orthodox Tewahedo Church and the synod in Ethiopia during his visit to Washington DC. The churches were reunited after almost three decades of separation.
When PM Abiy arrived at the embassy there was a lone protester holding the Ethiopian flag. The prime minister approached the protestor, inquired about his concerns and insisted that he will not go inside unless he joins him. It's not clear what the person was protesting, but he was later seen having a good time at the reception inside.
Ethiopia's prime minister is further expected to encourage investment from the diverse Ethiopian Diaspora community to continue to boost Africa's fastest-growing economy. As Bloomberg's Samuel Gebre notes "Abiy Ahmed's first U.S. trip since taking office in April comes as he shakes up orthodoxies at home, promising a multi-party democracy and to privatize state monopolies, while making peace with long-time foe and neighbor Eritrea. He will hold meetings in Washington D.C. with the Ethiopian business community, religious leaders, think tanks and the public until Saturday, before heading to Los Angeles and Minneapolis, according to Ethiopia's embassy."
Thousands are expected on Saturday, July 28th at the Walter E. Washington Convention Center in D.C. as PM Abiy hold his first public address greeting the larger Ethiopian community at a free event open to all individuals.
Below are photos of PM Abiy's first meeting with the Ethiopian Diaspora in America:
—
Related:
DC Mayor Proclaims July 28th Ethiopia Day, Will Join PM Abiy at Convention Center
Update on PM Abiy's Visit to U.S.
A Diaspora Trust Fund for Ethiopia and Embracing a Culture of Democracy (Editorial)
Images: Washington DC Rally to Support Ethiopia's New PM Dr. Abiy Ahmed
Join the conversation on Twitter and Facebook.