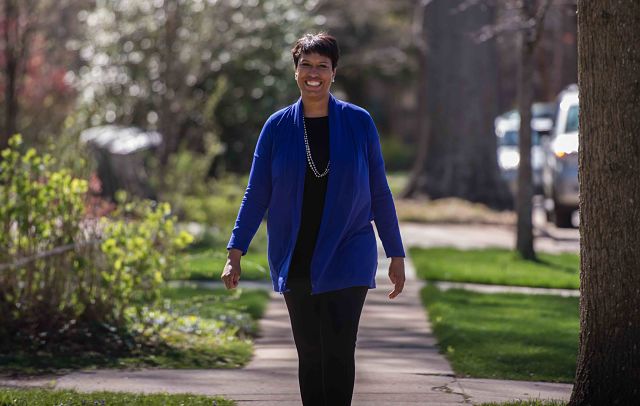 Tadias Magazine
By Tadias Staff
Updated: July 27th, 2018
New York (TADIAS) — The Mayor of Washington, DC Muriel Bowser has proclaimed July 28th, 2018 "Ethiopia Day in DC" in celebration of Ethiopian Prime Minister Abiy Ahmed's visit to the U.S. capital, which is a sister city of Ethiopia's capital city Addis Ababa.
Mayor Bowser said she will join Prime Minister Abiy at the Walter E. Washington Convention Center on Saturday. Thousands are expected at the venue as PM Abiy holds his first public address greeting the Ethiopian community in the DC metropolitan area.
"The Ethiopian community is such a valued part of our city, and our Ethiopian neighbors have played a critical role in building the diverse, inclusive, and vibrant Washington, DC that we live in today," Mayor Bowser said in a statement. "Now, during this new climate of goodwill and unity, we look forward to reaffirming the Sister City relationship between our two capital cities." The Mayor's proclamation highlights that "since assuming office in April of 2018, Dr. Abiy has focused on improving human rights, ending the war with Eritrea, pursuing political and economic reforms, and eliminating corruption, that will move Ethiopia toward a more democratic society."
The Mayor added on Twitter: "We are honored to welcome @PMOEthiopia, Dr. Abiy Ahmed Ali to Washington, DC. I look forward to joining thousands of Ethiopians from across the region tomorrow as we proclaim July 28, 2018 as "Ethiopia Day in DC."
Meanwhile, PM Abiy who is on three city tour of the United States, also met with Vice President Mike Pence at the White House on Friday, July 27th.
Pence tweeted: "Honored to meet with Prime Minister Dr. Abiy Ahmed of Ethiopia today at the @WhiteHouse. I applaud his historic reform efforts, including improving respect for human rights, reforming the business environment, and making peace with Eritrea."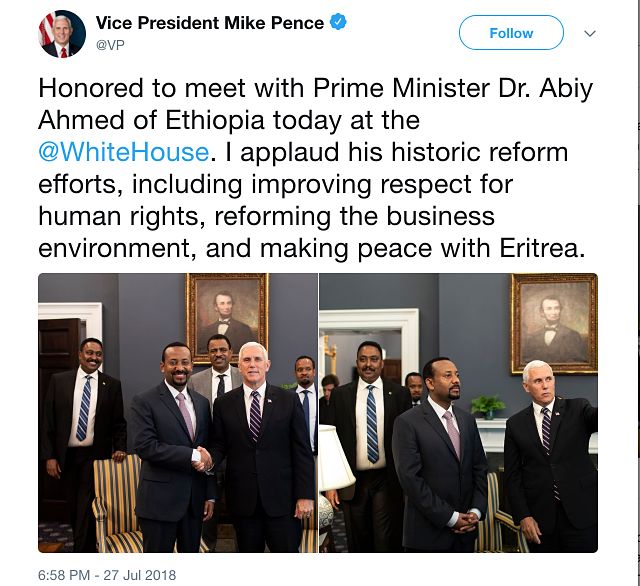 —
Related:
First Photos of PM Abiy Meeting With Ethiopian Diaspora in U.S.
Update on PM Abiy's Visit to U.S.
A Diaspora Trust Fund for Ethiopia and Embracing a Culture of Democracy (Editorial)
Images: Washington DC Rally to Support Ethiopia's New PM Dr. Abiy Ahmed
Join the conversation on Twitter and Facebook.