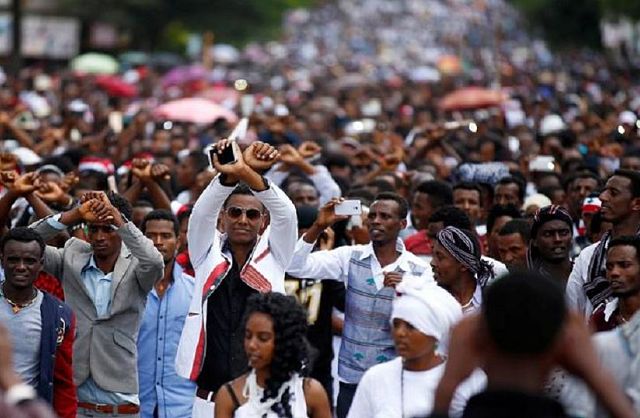 Tadias Magazine
By Tadias Staff
January 6th, 2018
New York (TADIAS) — This week Prime Minister Hailemariam Desalegn stunned Ethiopians around the globe when he announced plans to free political prisoners at a press conference in Addis Ababa on Wednesday in order to facilitate political dialogue. Hailemariam also declared the shutting down of the country's atrocious Ma'ekelawi detention center.
The news was a major triumph for youth protesters across Ethiopia who have been demanding political reform for the past couple of years. But the question remains: Will the ruling party follow through on its latest promise?
As Yacob Hailemariam, an attorney based in Addis Ababa who was a former senior prosecutor at the International Criminal Tribunal for Rwanda, told the New York Times: "It was absolutely not clear what the Prime Minister was saying. The whole thing is filled with vague statements and vague promises. He was very equivocal, and we will have to wait to see what he really meant."
U.S.-based organization Human Rights Watch was also cautiously optimistic stating in a press release that "While the government did not say how and when this would occur, doing so would be an important step toward ending longstanding political repression and human rights abuse in the country."
HRW added: "Numerous questions remain regarding timelines for implementation, who qualifies as a "political prisoner," and how many detainees will be freed. Will the release only include well-known figures like Bekele Gerba, an ethnic Oromo politician detained since December 2015? Or will the thousands of ordinary detainees held in military camps and police stations, often without charge, for peacefully protesting against government policies also be freed? What, if any, conditions will be placed on those released?"
In regards to the closure of the Ma'ekelawi center, which has been used as torture chamber by successive Ethiopian regimes including the current one, former Zone9 blogger Soleyana Gebremichael who is now with the Ethiopia Human Rights Project says: "That's very symbolic — whenever you think of torture, you think of Maekelawi. It might not mean torture is not going to happen in Ethiopia anymore, but it by itself is symbolic."
In its coverage The Washington Post quotes an apt editorial by Addis Standard from last year describing Ma'ekelawi, as "a time defying institution which has been around for more than half a century, and has been used (and abused) for the same purpose: to detain, without due legal process, people alleged to have committed grave crimes against the state, the people and the constitution."
Moreover, as Human Rights Watch points out: "Does the government's announcement signal a new approach to dissent in Ethiopia? Will people be allowed to protest peacefully, without fear of arrest, intimidation, or politically motivated charges?"
We hope the next steps will include allowing the formation of a truly multi-party federal system in Ethiopia.
—
Related:
Is 2018 the year Ethiopia's great quest for peace pays off? (The London Economic)
Ethiopia: Closure of "torture chamber" could signal new chapter for human rights (Amnesty)
Ethiopia to release political prisoners, says prime minister (BBC)
Ethiopia Says It Will Close Notorious Prison and Free Some Inmates (NYT)
Ethiopia to Release Political Prisoners in Attempt to Ease Unrest (The Wall Street Journal)
Ethiopia to Consider Pardoning Some Members of Opposition Parties (VOA)
Join the conversation on Twitter and Facebook.