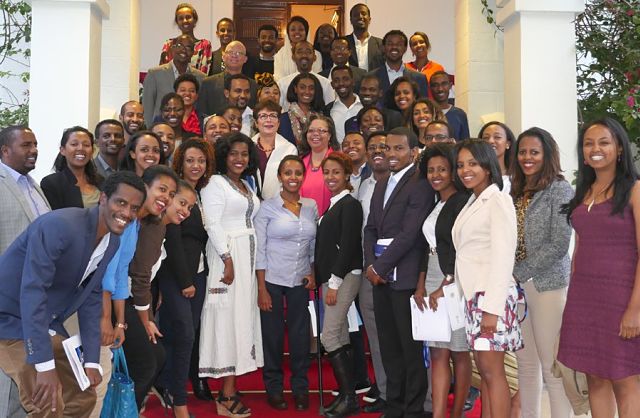 Tadias Magazine
By Tadias Staff
Updated: Wednesday, August 3rd, 2016
New York (TADIAS) — As President Barack Obama wraps up his last summer in the White House, he held a town hall meeting with the 2016 class of Mandela Washington Fellows Wednesday including 50 young professionals from Ethiopia who are part of the President's Young African Leaders Initiative (YALI).
This year's class of Mandela Washington Fellows from Ethiopia includes a diverse group of 50 young professionals between the ages of 25 and 35 hailing from various regions of Ethiopia. Teachers, lawyers, doctors, filmmakers, human rights activists (including Zone9 blogger Zelalem Kibret), social workers, Ethiopian sign language & deaf culture experts, non-profit directors, public health employees, entrepreneurs, engineers, software developers, and human resource managers are among some of the sectors represented by the new Fellows.
The Mandela Washington Fellowship for Young African Leaders (YALI), which is conducted annually as a merit-based open competition by U.S. Embassies across the African continent, was launched by President Obama in 2014. "Each Mandela Washington Fellow takes part in a six-week academic and leadership Institute at a U.S. university or college in one of three tracks: Business and Entrepreneurship, Civic Leadership, or Public Management," states the announcement from YALI. "The Fellows, who are between the ages of 25 and 35, have established records of accomplishment in promoting innovation and positive change in their organizations, institutions, communities, and countries. Fifty percent of Fellows were women; and for 76 percent of Fellows, it was their first experience spending substantial time in the United States."
In addition, Fellows will receive the opportunity to meet and interact with President Obama as well as other U.S. leaders during a town hall session. Furthermore, the announcement notes that "100 selected Fellows will remain in the United States to participate in a six-week professional development experience with U.S. non-governmental organizations, private companies, and governmental agencies that relate to their professional interests and goals."
Click here to Watch live: President Obama Participates in a Young African Leaders Initiative Town Hall.
—
Related:
Meet the 2016 Mandela Washington Fellows from Ethiopia
Meet the 2015 Mandela Washington Fellows from Ethiopia
Meet the 2014 Mandela Washington Fellows From Ethiopia
Join the conversation on Twitter and Facebook.