Sunday's protest in Ethiopia involving thousands of people in Gondar, a city in Amhara region, is a rare example of an anti-government demonstration in the country.
It was organised on social media but no group has taken responsibility for it. The demonstration comes two weeks after another protests in the city in which 15 people died, including members of the security forces and civilians.
What's behind the protests?
At the root of the recent demonstrations is a request by representatives from the Welkait community – known as the Welkait Amhara Identity Committee – that their land, which is currently administered by the Tigray regional state, be moved into neighbouring Amhara region.
The Welkait committee says community members identify themselves as ethnic Amharas and say they no longer want to be ruled by Tigrayans.
Demonstrations began a fortnight ago but leaders of the Welkait community have been asking for the move for a year.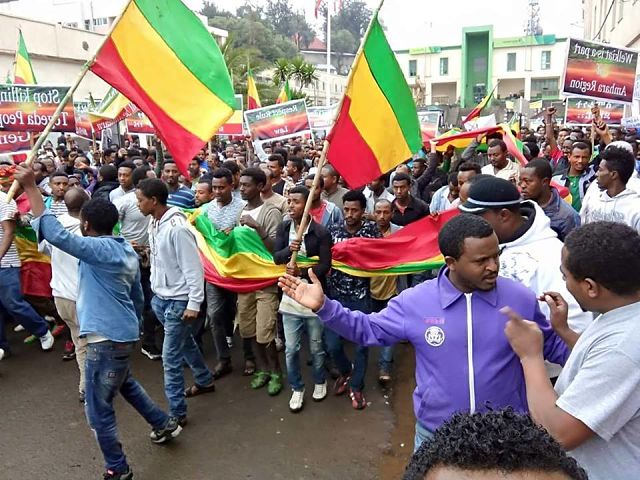 (Photo via Twitter: Wendwesen T @wondTE)
—
Related:
Protests in Ethiopia's Gonder City Signal Uncertain Future (VOA News)
Protest in North Ethiopian Region Signals Rising Discontent (Bloomberg)
Riots in Gonder Claim Casualties (DW Report — Jul 15, 2016)
Join the conversation on Twitter and Facebook.