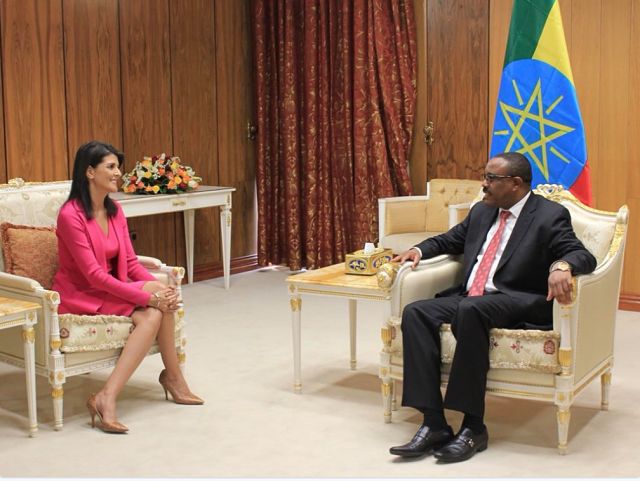 US Embassy
Ambassador Nikki Haley, U.S. Permanent Representative to the United Nations, met with Ethiopian Prime Minister Hailemariam Desalegn today [23 October, 2017] in Addis Ababa, Ethiopia. Ambassador Haley thanked Prime Minister Hailemariam for his country's leadership in continuing to host desperate people fleeing conflict in the region and for Ethiopia's decades-long generosity hosting refugees from nearby countries.
Ambassador Haley and Prime Minister Hailemariam discussed peace and security in the region, particularly developments in South Sudan and the Democratic Republic of the Congo. On South Sudan, Ambassador Haley and Prime Minister Hailemariam agreed on the importance of moving forward with the high-level revitalization forum to revive the 2015 South Sudan peace agreement as soon as possible. Both underscored that resolving the situation in South Sudan would require sustained engagement and attention from the African Union and others in the region. On the Democratic Republic of the Congo, they agreed on the importance of holding elections as well as the need to address the root causes of conflict in the country.
They also discussed efforts to stimulate additional growth and sustain long-term peace and stability in Ethiopia by building strong institutions and fostering an open society.
.@statedeptspox comments on Ambassador @nikkihaley's travels to #Ethiopia, #SouthSudan, and the #DRC. pic.twitter.com/2YiNgUtmL1

— Department of State (@StateDept) October 24, 2017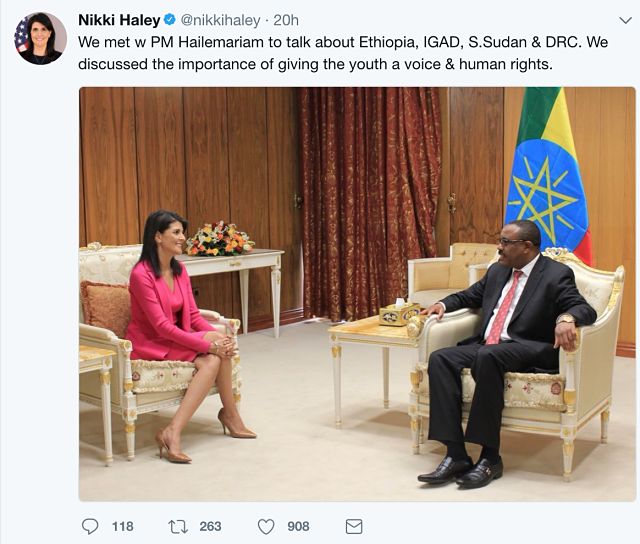 —
Related:
What Key 19-Year Timeline of U.S. Human Rights Reports on Ethiopia Show (TADIAS)
Join the conversation on Twitter and Facebook.