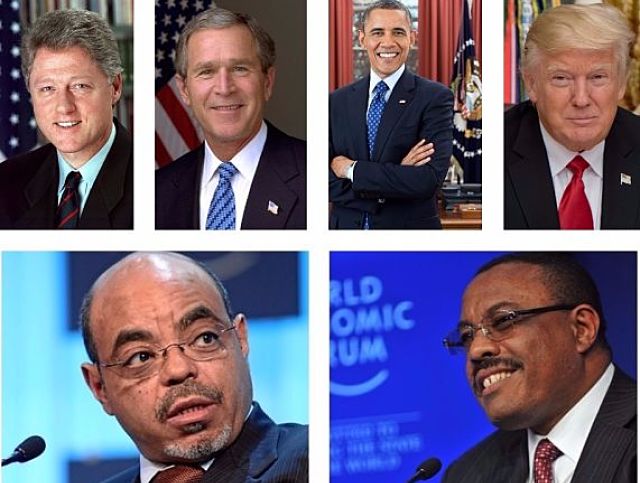 Tadias Magazine
By Tadias Staff
October 21st, 2017
New York (TADIAS) – The United States has been expressing grave concern about human rights in Ethiopia for a long time without much results. In a report published in 1998 during the Bill Clinton administration the U.S. noted:
Serious problems still remain in the Government's human rights practices; although the Government made efforts to improve its record in a few areas, its record worsened significantly in others. Security forces sometimes beat or mistreated detainees, and arbitrarily arrested and detained citizens. These problems persisted despite government efforts to improve the security forces' human rights practices through increased training. Prisons are seriously overcrowded, and prolonged pretrial detention remains a problem."
Three years later in 2001 under George W. Bush the U.S. Department of State declared:
The Government's human rights record remained poor; although there were some improvements in a few areas, serious problems remained. Security forces committed a number of extrajudicial killings and at times beat and mistreated detainees. Prison conditions are poor. Arbitrary arrest and detention and prolonged pretrial detention remained problems."
And in 2006, a year after the deadly and controversial 2005 elections in Ethiopia, the office of Secretary of State Condoleezza Rice announced:
After the May elections, serious human rights abuses occurred, when the opposition parties refused to accept the announced results, and in November after the Coalition for Unity and Democracy (CUD) called for civil disobedience, which resulted in widespread riots and excessive use of force by the police and military. In the period leading up to the May national elections, campaigning was open and debates were televised. The Carter Center described this period as credible and commendable. However, in the period following the elections, authorities arbitrarily detained, beat, and killed opposition members, ethnic minorities, NGO workers, and members of the press. Authorities also imposed additional restrictions on civil liberties, including freedom of the press and freedom of assembly."
Then in 2011 following another less than free and fair Ethiopia elections in 2010, Secretary of State Hillary Clinton released the annual report on behalf of the Obama administration stating:
Human rights abuses reported during the year included unlawful killings, torture, beating, and abuse and mistreatment of detainees and opposition supporters by security forces, especially special police and local militias, which took aggressive or violent action with evident impunity in numerous instances; poor prison conditions; arbitrary arrest and detention, particularly of suspected sympathizers or members of opposition or insurgent groups; detention without charge and lengthy pretrial detention; infringement on citizens' privacy rights, including illegal searches; use of excessive force by security services in counterinsurgency operations; restrictions on freedom of speech and of the press; arrest, detention, and harassment of journalists; restrictions on freedom of assembly and association; restrictions on freedom of movement; ruling party intimidation, threats, and violence during the elections; police, administrative, and judicial corruption; harassment of those who worked for human rights organizations."
Similarly, in 2015 the U.S. said:
The most significant human rights problems included harassment and intimidation of opposition members and supporters and journalists; alleged torture, beating, abuse, and mistreatment of detainees by security forces; and politically motivated trials. Other human rights problems included alleged arbitrary killings; harsh and at times life-threatening prison conditions; arbitrary arrest and detention; detention without charge and lengthy pretrial detention; a weak, overburdened judiciary subject to political influence; infringement on citizens' privacy rights, including illegal searches; restrictions on freedom of expression, including continued restrictions on print media and the internet, assembly, association, and movement; restrictions on academic freedom; interference in religious affairs."
Just this year Secretary of State Rex Tillerson asserted that in 2016,
"Security forces used excessive force against protesters throughout the year, killing hundreds and injuring many more. The protests were mainly in Oromia and Amhara regions. At year's end more than 10,000 persons were believed still to be detained. This included persons detained under the government-declared state of emergency. Many were never brought before a court, provided access to legal counsel, or formally charged with a crime."
This is all to say that thus far for all intent and purposes the above official statements going back to almost two decades have been "all bark and no bite." The irony is that since 1998 here in the States we have moved from Clinton to Bush to Obama and now Trump. In Ethiopia, however, the same individuals who wielded political and economic influence in the 1990s continue to do so at the present moment.
But in fairness the future of Ethiopia is up to Ethiopians not a foreign power, nor should it be. And as America's oldest African ally, the Ethiopian government along with the people of Ethiopia and the Ethiopian Diaspora can help shape a constructive dialogue — to facilitate and empower the political space being demanded by a new generation of leaders and pro-Ethiopia opposition voices — while still maintaining the longstanding friendship and the ongoing partnerships between USA and Ethiopia.
By doing so, perhaps, we may manage to accelerate the ever fading dream of witnessing (in our lifetime) a free, peaceful, independent, democratic and united Ethiopia with a prosperous economy that respects the natural human rights of all its citizens.
—
Join the conversation on Twitter and Facebook.