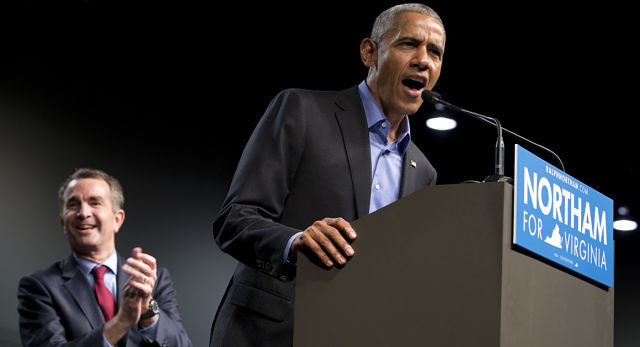 Obama calls on Americans to reject 'politics of fear' in return to campaign trail
Washington — Former President Barack Obama returned the campaign trail Thursday with a warning about the current state of politics in America.
"Some of the politics we see now, we thought we'd put that to bed. I mean, that's folks looking 50 years back. It's the 21st century, not the 19th century," Obama said during a rally in New Jersey, where he was campaigning for Phil Murphy, the Democratic candidate for governor there.
"We are rejecting a politics of division. We are rejecting a politics of fear," Obama continued. "We are embracing a politics that says everybody counts, a politics that says everybody deserves a chance, a politics that says everybody has dignity and worth — a politics of hope."
The 44th president did not mention his successor by name in his remarks, which were interrupted with chants of "four more years" from the crowd. President Donald Trump has actively taken steps to attack Obama's legacy in recent weeks, including on Iran, immigration and health care.
Beyond his lament about the country's political environment, Obama also stressed the importance of the US remaining a leader on the world stage.
"The world counts on America having its act together. The world is looking to us as an example," Obama told the crowd. "The world asks what our values and ideals are, and are we living up to our creed."
—
Related:
'Our democracy is at stake,' Obama says on Virginia campaign trail
Join the conversation on Twitter and Facebook.