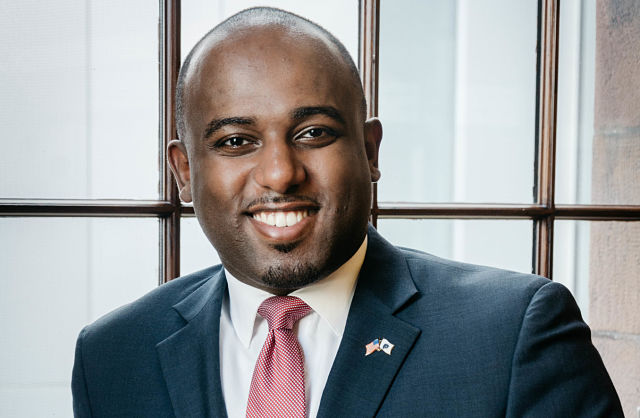 Tadias Magazine
By Tadias Staff
October 28th, 2017
New York (TADIAS) – When we first featured Samuel Gebru in Tadias Magazine a few years ago as the Founder of the Ethiopian American Youth Initiative (EAYI) he was barely 19 years old. Today Samuel, who turns 26 next month, is running for a City Council seat in Cambridge, Massachusetts with elections to be held on Tuesday, November 7th.
"If elected I will be the second Ethiopian-American in Massachusetts to hold office," Samuel tells Tadias in a recent interview. "The first one was the late Tsegaye Mekonnen also known as 'Mike.' Samuel was referring to the former Councilman for the city of Chelsea, Massachusetts who passed away in 2011. Samuel adds that he is following in Mekonnen's footsteps: "Mike was a successful and respected City Councillor. He came to America in the 1960′s during Haileselassie's time and was elected into office in the 1980′s, so if I am elected I am honoring his tradition."
"My key platform and the reason why I am running for City Council is because I believe that economic inequality and affordable housing are the biggest issues in Cambridge," Samuel says. "So I am committed to economic and social mobility, ensuring that every resident in our city has the resources, the access and the opportunities that they need to be successful. That's why I am running."
Samuel points out that Cambridge is a very well-resourced city and home to the globe's most prestigious higher education institutions and biotechnology corporations. "We have Harvard, MIT, Kendall Square, and all the leading biotech companies in the world are headquartered here," Samuel says. "The problem, however, is that because of our relative prosperity we tend to overlook the poverty that we have in the city." Samuel adds: "Thirteen percent of Cambridge families with children live in poverty. Of our single mother households one third of those families live in poverty. And people are cost burdened. A lot of people struggle with their rent because rent has skyrocketed 43% in the last decade. So we have some real issues and I want to make sure that we are continuing to talk about these issues at the City Council level."
Samuel explains that one of the qualities he loves about Cambridge is that it strives to be accommodating of everyone. "About one third of Cambridge's population are immigrants," he says. "We are also a very progressive city." He adds: "We have been a sanctuary city for over 32 years. When you are talking about progressivism and making sure that everyone is included, this is the hub of that. And I am running because I want to ensure that this tradition continues."
"As you know I have been politically active for over 13 years," Samuel reminds us, highlighting that among his many past activities detailed in his campaign bio is that as a high school student he sat for three years as an executive committee member on the Family Policy Council for the city of Cambridge, an official board that's chaired by the mayor of Cambridge. Samuel was recommending policies on children, youth and families to the City Council and the City Manager, and he was the only youth to ever have a seat on the executive committee.
"I was in monthly meetings with all the city's department heads during that time," he recalls. "So I have gotten a glimpse first-hand of city government, policy making and I want to be able to continue to have a seat at the table to make sure that no one in our city gets left behind."
What's his message to the Tadias readership?
"The message is simply that we must be involved," Samuel says. "We Ethiopian Americans need to participate in the political process and we need to be registered to vote." He emphasizes: "It's not enough to be a citizen. If you are a citizen of this country and you are not a voter you do not matter in America. I want the Tadias audience across the U.S. to know what politicians know. For example, for me, if somebody requested to meet me you know what the first thing that I do? I check their voting history because I want to know that you vote. I want to know that you are an active voter because if you are not, then why are you meeting with me? And that's what every politician in this country does. They want to know that you vote."
Samuel says like many young people he is frustrated by the often divisive and rancorous tone of the conversation among Ethiopians in the Diaspora that oftentimes conflate out of context U.S. domestic politics with Ethiopian politics. "It's okay to disagree or agree to disagree and have different perspectives," Samuel says. "After all we are a diverse community and not homogeneous, but we also have to learn how to take a break from our differences to acknowledge and support each other as well as embrace our similarities even when we have opposite opinions because that's how democracy works. At the end of the day our interests are the same, we just happen to have various methods and ways of expressing it. When one of us is succeeding, all of us are succeeding."
Samuel adds that "this is not unique to Ethiopians only" rather a widely-felt growing pain symptom shared by many newly arrived immigrant communities. "When you are new you're not only invested in the politics of your adopted homeland in the United States, but you are also heavily invested in the politics of your native homeland," Samuel says. "However, what I have noticed with lots of us Ethiopians is that we are too preoccupied by what happens in Ethiopia that we tend to disengage from what happens here."
"Of course, on the federal level we've been successfully involved before," Samuel observes. "Ethiopians for Obama did a very good job of registering Ethiopians in Virginia and other states. We have done an amazing work on that level, but on the local level what we have to remember is that if you care about safe streets, clean water, early education, local economic growth, housing, zoning, development and other matters that affects our daily lives directly here in America these issues are handled at the city level and that's why I am running."
By running for City Council Samuel is blazing a trail for Ethiopian-American youth to be engaged at the local level, and raising important points that we should all be thinking about.
–
You can learn more about Samuel Gebru at www.gebruforcambridge.com
Join the conversation on Twitter and Facebook.