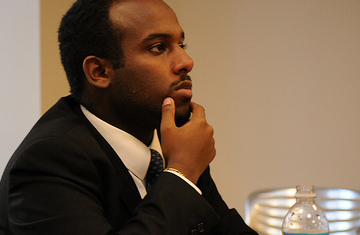 Tadias Magazine
By Tadias Staff
Published: Tuesday, February 8th, 2011
New York (TADIAS) – 19-year-old Samuel Gebru has ambitious plans. The Founder of the Ethiopian American Youth Initiative (EAYI), now called the Ethiopian Global Initiative (EGI), wants to transform Ethiopia one project at a time, using strategies and programs to reverse the brain drain or retain skilled professionals at home. The undergraduate student at Concordia College, a private liberal arts school in Moorhead, Minnesota, says he was drawn to action by two events that deeply affected him when he was just 13-years old. He tells us that in 2004, he traveled to Ethiopia and was exposed to the odd juxtaposition of poverty and wealth. But the real catalyst for his organization did not come until later that year when he watched Oprah Winfrey's highlight of the problems associated with obstetric fistula in Ethiopia. Oprah's guest was Dr. Catherine Hamlin, the Australian gynecologist who in 1959 moved to Ethiopia and eventually founded the Addis Ababa Fitsula Hospital. "As a young 13-year-old, I was shocked to hear about obstetric fistula's existence and I was further embarrassed that an Australian, and not an Ethiopian, committed over 50 years of her life to help the women of Ethiopia," says Samuel. "It was shocking obviously because the last fistula case in the United States, for instance, was in the 1800s with the closing of the New York City Fistula Hospital…It was also embarrassing because when most Ethiopian professionals left Ethiopia, she stayed and did our job. Regardless, I was inspired and decided it would be best to organize an effort in the Boston area to raise funds for their work. We called ourselves the Ethiopian Team (E Team)."
Samuel says the E Team evolved into the Ethiopian American Youth Initiative (EAYI). "I reached out to the Ethiopian Community Mutual Assistance Association of Massachusetts, and they helped me organize a group of 13 people, the youngest in 6th grade and the oldest in 12th. I was in 8th grade," he recalls. "We mobilized the community and sponsored 11 women for fistula repair surgery just from April to December 2005! This was a collective effort that I will forever remain grateful to the youth that I worked with and the community that supported us, financially and morally. From there, the Ethiopian American Youth Initiative (EAYI) was established in October 2006." Since then the group has changed its name to the Ethiopian Global Initiative (EGI).
We recently asked Samuel Gebru a few more questions: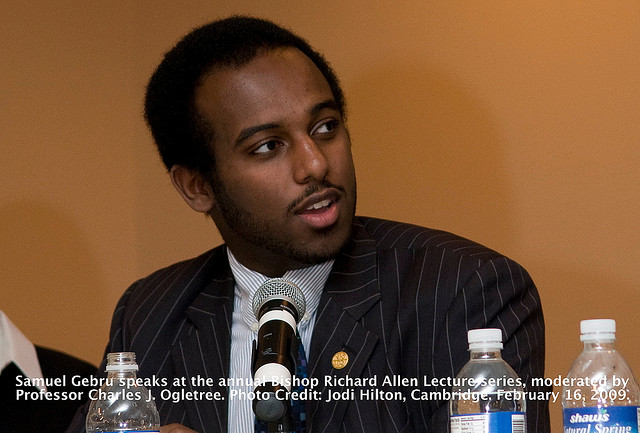 Samuel Gebru at President's Day Lecture and Panel Discussion (CAMBRIDGE, MA, February 16, 2009, PHOTO BY JODI HILTON)
Why did you change your name from the Ethiopian American Youth Initiative to the Ethiopian Global Initiative?
Samuel Gebru: That was a tough decision. It took us from January to June 2010 to decide on a new name. I received dozens of name submissions that we had to sift out. We took "Youth" out of the title because there were many adults and professionals that wanted to support our work and they did not define themselves as being youth, hence they disqualified themselves from being a part of our efforts. Global refers to the global mindset of the organization's members and the ability to act collectively, think critically, and be open-minded in a globalized world. Initiative refers to the capacity and responsibility to undertake worthwhile endeavors.
How do you define "Youth?"
SG: Personally, I will be youth forever, until I die. The United Nations defines youth as anyone from 15-24. Particular states have their own definitions of what constitutes a youth. Culturally, we even refer to Barack Obama and John F. Kennedy as "youthful presidents." Youth, to me, does not have a particular number, it is more of a mindset. I was recently watching YouTube videos of Aster Aweke, Mahmoud Ahmed and Alemayehu Eshete. Now, my mother vividly remembers them when she was a child, which would make them old, but their stage presence makes them youthful! [laughter]
What is the objective of your organization?
SG: EAYI was a way for E Team's vision to continue as a long-lasting organization and not simply an ad-hoc group for one purpose. In 2009, people began contacting me from Europe, Canada, Africa and Asia urging EAYI to become an international organization so they could participate. At the time we had folks in Massachusetts, Michigan, Pennsylvania, the West Coast and the D.C. Metropolitan Area. I agreed and told them to wait for the first EAYI Conference in 2010 at Howard University in Washington, D.C., when we changed our name to the Ethiopian Global Initiative (EGI).
What ultimately does EGI wants to accomplish?
SG: Some of the major goals we plan to accomplish by 2015 include serving as an incubator for future projects pertaining to Ethiopia's social and economic development. We aim to repair the damage done [as a result] of lost skilled workforce.
How do you plan to do that? What projects are you working on now?
SG: One of the current projects we are working on include the EGI Midwives Scholarship Fund. It is our way of continuing our five-year relationship with the Hamlin Fistula Hospital in Ethiopia. Instead of supporting the hospital's fistula-repair efforts, we are making a long-term commitment to completely fund the education of eight women to earn their Bachelor of Science in Midwifery at the new Hamlin College of Midwives. The scholarships we provide to these students will be part of our wider partnership with the hospital, which is to enhance the number of maternal health professionals in Ethiopia by prompting a homegrown effort thereby eliminating the root causes of fistula, which continue to be lack of preventative efforts and the scarcity of maternal health professionals.
We also have another project we developed last year called U.S. College Students for Ethiopia (USCSE). The program provides college students from the United States the opportunity to intern or volunteer in Ethiopia with Ethiopian-led organizations. The students are diverse, both Ethiopian and non-Ethiopian. We give them the opportunity to work and learn in a new cultural environment while allowing them to share their pre-existing skills with the local organizations they are working with. Lastly, they will be returning to the United States with the ability to share their new appreciation for Ethiopia.
Please tell us a bit about yourself. Where were you born? Where did you grow-up? School?
SG: Sure. Well, I am currently 19-years-old. I was born in Khartoum, Sudan in 1991. My parents are both Ethiopians who were working in the Sudanese capital. My father worked in the shoes industry where he repaired and sold shoes while my mother worked managing the housekeeping of the homes of Chinese and American businessmen. In 1995 I arrived in the United States and settled in Cambridge, Massachusetts after briefly living in Boston. Since then, I have been living in my adopted hometown, Cambridge. I'm fortunate to say that my childhood, both in Khartoum and in Cambridge was great. I grew up in a nice working neighborhood of Khartoum and similarly in Cambridge I've been lucky to have the things I've always needed. I grew up with a strong emphasis on family and moral values, keeping in tune with my Ethiopian heritage. I learned Arabic, my first language, and Tigrinya in Sudan. While in the U.S. I quickly picked up English. Because of the many trips I have taken to Ethiopia, I have been able to sharpen my Tigrinya and pick up Amharic. While I am still working to master Amharic, my listening skills are very good. A few years ago I picked up an obsession to learn Ge'ez, and that's been an interesting battle. It hasn't been as hard as I thought, but certainly not easy. Moving forward, my goal is to continue learning Mandarin Chinese and re-mastering Arabic, since it has been over a decade since I last used it. I completed primary school at the Cambridgeport Elementary School and high school at the Cambridge Rindge and Latin School. Currently, I am studying to earn a Bachelor of Arts in Political Science with a minor in Business at Concordia College, a private liberal arts school in Moorhead, Minnesota.
How do you balance school and your ambitious extracurricular projects?
SG: Balancing has always been very hard. I have a calendar that I try to follow to the best of my ability. My family and friends often complain that they don't hear from me as much as they would like. I jokingly said to some friends that they should have a spinoff of the television game show "Where in the World is Carmen Sandiego" for me! [laughter] . Ultimately, because EGI is not a one-man operation, there are many people who work together to get the job done. Although I founded EGI, the entire Executive Committee shoulders the responsibility of implementing our vision. The EGI family also consists of dozens of fantastic members who work worldwide to achieve our goals. I am only one part of this ambitious operation.
How often do you travel to Ethiopia?
SG: My mother has always reminded me of how fortunate I am to have traveled to Ethiopia more times than most of my Ethiopian friends and relatives in Boston. Since 1998 I have traveled five times. As EGI operations increase in Ethiopia, I might have to travel at more frequent times, perhaps once or twice a year.
What do you plan to do after you graduate from college?
SG: Once I finish with my undergraduate plans, I plan to earn graduate degree and use those skills and knowledge for the betterment of Ethiopia. Ultimately, my plan is to permanently return to Ethiopia.
What are the requirements to be a member of EGI?
SG: EGI members are students and professionals who deeply share the goals and vision of the organization. Location doesn't matter, but skills do. We aim to be a treasure chest of students and professionals who can pool in their skills, knowledge and experiences for the transformation of Ethiopia. Of course, while this goal is lofty, it is happening today in EGI. We have people from various sectors, interests and backgrounds working hand-in-hand to launch and implement projects in Ethiopia and in the Ethiopian diaspora. There is a membership application that each prospective member must complete, and that is then reviewed by our Member Committee, which makes final determinations. Beyond membership, the EGI community has grown into our friends, donors, sponsors, partners and volunteers. By extension, anyone who cares for Ethiopia is a stakeholder in the EGI community.
Is there anything else you would like to share with our readers?
SG: The EGI community includes you. Participate in our activities, help make Ethiopia a better place. In late February we will announce the 2011 EGI Global Summit. I welcome everyone to attend this, in what will be a paramount exchange of ideas, experiences and solutions.
–
You can learn more about the Ethiopian Global Initiative at www.ethgi.org.
Join the conversation on Twitter and Facebook.