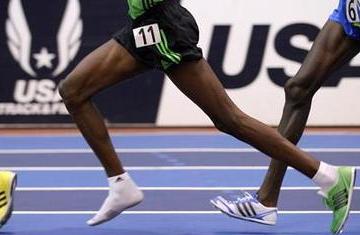 Above: Dejen Gebremeskel of Ethiopia runs with one shoe at
an indoor competition in Boston. Massachusetts Feb 5, 2011.
Gebremeskel won the race running with one shoe. (Reuters)
Reuters
By Ros Krasny
BOSTON | Sat Feb 5, 2011 9:07pm EST
BOSTON (Reuters) – Ethiopian Dejen Gebremeskel outkicked favoured British runner Mo Farah despite wearing just one shoe to win the men's 3,000 meters at the New Balance Indoor Grand Prix Saturday.
Gebremeskel finished in a time of 7:35.37 to hold off Farah, who clocked 7:35.81. The Ethiopian lost his right shoe early in the race but pressed with a finishing burst with one foot shod only in a sock.
"It's really hard to run in one shoe," Gebremeskel, 21, said afterwards.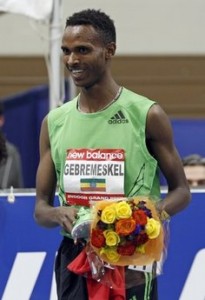 Dejen after his victory. (AP)