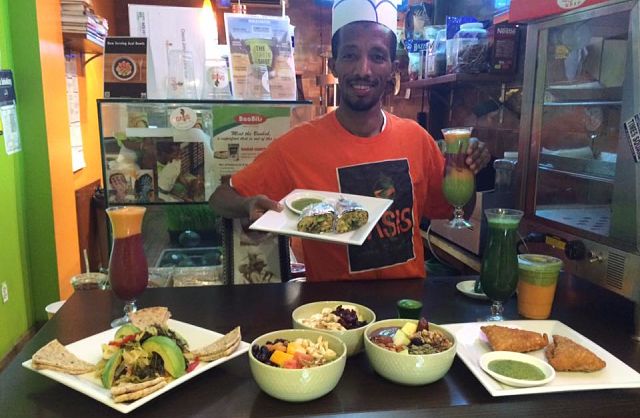 Tadias Magazine
By Tadias Staff
October 27th, 2017
New York (TADIAS) – Oasis Jimma Juice bar — named after owner Abdi Abujebel's birth place in Ethiopia — is a popular spot in Harlem offering nutritious smoothies and food as well as gems of wisdom on better living.
"This is where it all begins," Abdi tells us during a recent visit, gesturing towards a glass-case on the wall containing a large world map with a bold arrow pointing right at Jimma, Ethiopia. The map is plastered with currencies from across the globe, mirroring the eclectic composition of the city of New York and its people who hail from all corners of the world.
Abdi, who opened the health-conscious juice bar in the busy intersection of Broadway and 125 street five years ago has already expanded to a second location on 139th street, and is set to inaugurate a community center next door.
"It will be a gathering place for neighborhood generated activities including Ethiopian cultural dance class, poetry reading, yoga, marshall arts, and much more," Abdi says. "It's to encourage local residents to share their skills and give lesson to community members." He emphasizes that he wants community members to feel welcome to receive and give courses.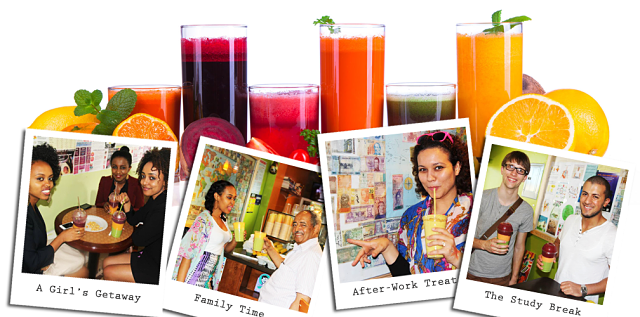 Oasis Jimma Juice Bar and Ethiopian Café in NYC. (Courtesy photo)
Abdi's moving personal story that brings him from Jimma to Kenya to New York was recently profiled in Bon Appétit magazine in an aptly titled piece: "The Refugee Juice Bar Owner Who's Defied Pretty Much Every Odd There Is."
Abdi recounts how he had to fend for himself after his father passed away, moving from place to place as a teenager and ending up in a refugee camp in Kenya before getting an opportunity to emigrate to New York in 2004. Not long after his arrival to the United States Abdi learned that his poor health condition was primarily a result of being a diabetic. Abdi had to make a personal choice. He could learn to eat healthier or he could continue to chow down on processed or junk food as he worked three jobs at Newark Airport. He pauses as he reflects on how his father had served as a holistic doctor for his village, the memory of which pushes him not only to heal himself through a healthier and more nutritious diet, but to make the same options available for the community in Harlem.
Customers young and old stroll in and are personally greeted by Abdi as he juggles the telling of his story with making sure each client is quickly and generously served at Oasis. Most are repeat customers who already have a favorite choice that he calls out as he sees them.
Abdi's face beams as he gets to talk about his new community center venture opening this Sunday (October 29th) which he named the Oasis Power House. It has been a long journey from Jimma to New York via a Kenyan refugee camp, but Abdi is determined to keep growing his holistic health business, including the possibility of making Oasis Juice Bar a franchise and the Oasis Power House as a free resource center on every block. The vision is compassionate and grand and Abdi is building it one happy customer at a time, gladly encouraged by the Oasis motto: Drink Your Food!
—
If You Go:
Oasis Power House Inauguration
600 W. 139th Street
New York City
Phone: (646) 918-6729
All are welcome. Event is family friendly.
Program starts at 1pm
http://oasisjjb.com
Join the conversation on Twitter and Facebook.