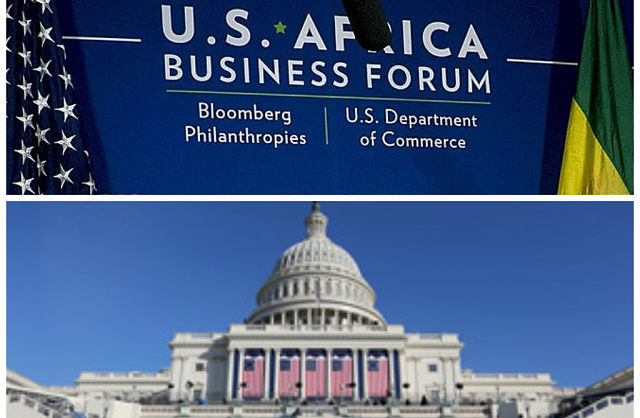 Tadias Magazine
By Tadias Staff
Published: Monday, January 23rd, 2017
New York (TADIAS) — What does the new "America First" foreign policy mean vis-à-vis Ethiopia-U.S. diplomatic, military and economic ties? No one really knows, but according to Richard N. Haass, the president of the Council on Foreign Relations and the author of A World in Disarray, this kind of approach to international relations comes with a double-edged sword: "A narrow America First posture will prompt other countries to pursue an equally narrow, independent foreign policy, which will diminish U.S. influence and detract from global prosperity."
Mr. Haass shared his concerns in an interview with the New York Times following President Donald J. Trump's inaugural speech last Friday in which he "cast America's new role in the world as one of an aggrieved superpower, not a power intent on changing the globe. There was no condemnation of authoritarianism or fascism, no clarion call to defend human rights around the world — one of the commitments that John F. Kennedy made in his famed address, delivered 56 years ago to the day."
But there is a silver lining of sorts for opponents of past American policy in a sense that the new U.S. government may not have the political appetite to continue taxpayer sponsored USAID "development projects," which critics say helps more to prop-up non-transparent and corrupt regimes than bring actual change.
Instead, Trump may favor a more business approach primarily aimed at winning against China. "How does U.S. business compete with other nations in Africa? Are we losing out to the Chinese? asks one of the first questions in a four-page document containing Africa-related questions reportedly sent to the State Department and Pentagon officials last week.
In terms of promotion of civil society, human rights and good governance the Trump administration has indicated that it will not necessarily follow the long U.S. precedent articulated in "Kennedy's most famous line: that America would 'bear any burden, meet any hardship, support any friend, oppose any foe to assure the survival and the success of liberty.'" As NYT points out: "The America that elected Mr. Trump had concluded that it was no longer willing to bear that burden — or even to make the spread of democracy the mission of the nation."
"Mr. Trump views American democracy as a fine import for those who like it," states the New York Times.

During his inaugural address, President Donald J. Trump laid out a vision for the
United States that focused on benefiting "American workers and American families."
(Publish Date January 20, 2017/NYT)
"We do not seek to impose our way of life on anyone," Trump said in his inaugural address, "but rather to let it shine as an example for everyone to follow."
The recently relaunched White House website further explains that "The Trump Administration is committed to a foreign policy focused on American interests and American national security." The website adds: "Peace through strength will be at the center of that foreign policy. This principle will make possible a stable, more peaceful world with less conflict and more common ground."
Regarding Africa, however, there is talk that one of the early collateral damages of the new era could be AGOA. "While its benefits have been uneven, the legislation has served as a key framework for U.S.-African relations," says Witney Schneidman at the Brookings Institution's. "It has led to trade and investment being at the forefront of U.S. policy in the region." Schneidman adds: "AGOA has encouraged African women in trade and led to the creation of the African Trade Hubs (rebranded as Trade and Investment Hubs under Obama) to help African companies access AGOA. More recently, the Obama administration has been working to develop a new trade architecture based on reciprocity that would ultimately replace AGOA's unilateral preference regime."
And from the African perspective in an article entitled "It might not be the end of the world if Africa drops off Donald Trump's map," Qartz Africa notes the continent might just as well choose to turn off the U.S. and look inwards. "It's worth remembering uncertainty isn't all just about downside," argues Yinka Adegoke, the Africa Editor for Quartz. "Less trade with the U.S. could force African countries to put more effort into developing stronger trade links with each other. And young Africans dissuaded from moving to the U.S. comes with one potential advantage: decades of brain drain can be stalled and Africa's brightest can focus on problems at home."
—
Related:
Ethiopia: Looking Beyond Obama, Here is What Trump's Team is Asking
U.S.-Africa Policy in 2017: What Trump Should Do
Ethiopia: US-Africa Relations in Trump Era
Join the conversation on Twitter and Facebook.