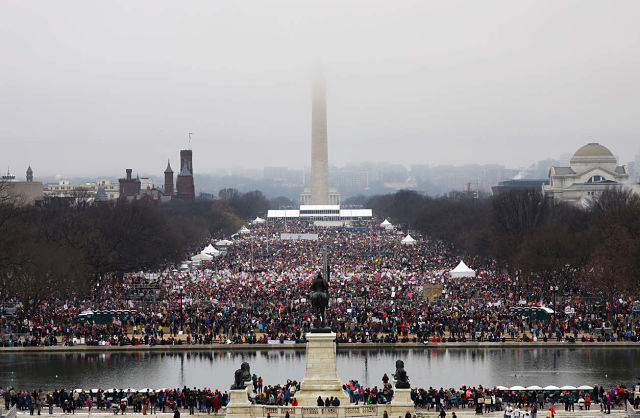 Tadias Magazine
By Tadias Staff
Published: Saturday, January 21st, 2017
New York (TADIAS) — On Saturday, January 21st, in solidarity with the Women's March on Washington, millions of people in major cities around the world from New York to Nairobi staged a protest in support of American women.
Below are some photos and links:
Women's Marches: Millions of protesters around the country vow to resist Donald Trump
Washington Post highlights that "millions of women gathered in Washington and cities around the country Saturday to mount a roaring rejoinder to the inauguration of Donald Trump one day earlier. The historic protests of a new president packed cities large and small — from Los Angeles to Boston to Park City, Utah, where celebrities from the Sundance Film Festival joined a march on the snowy streets. In Chicago, the demonstration was overwhelmed by its own size, forcing officials to curtail its planned march when the crowd threatened to swamp the planned route."
Pictures From Women's Marches Around the World (The New York Times)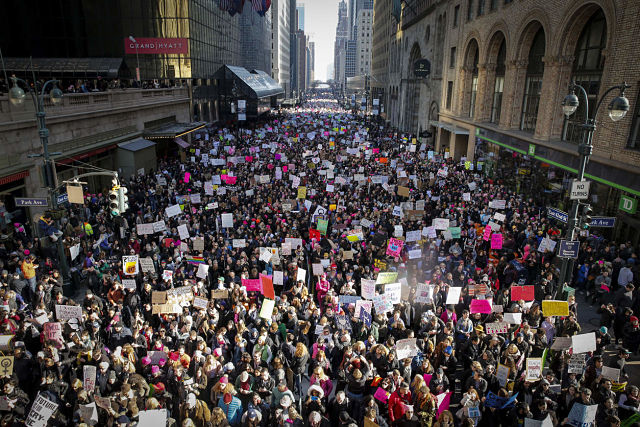 Protestors walk down 42nd Street near Grand Central Terminal during the Women's March in New York City. (Photo: The New York Times)
Lawmakers Show Solidarity With Women's March On Washington (The Huffington Post)
Huffington Post notes: "Several lawmakers turned out for the Women's March on Washington Saturday. Sens. Kirsten Gillibrand (D-N.Y.), Claire McCaskill (D-Mo.), Cory Booker (D-N.J.), Brian Schatz (D-Hawaii) and Patty Murray (D-Wash.) showed up to support the estimated half a million women in the nation's capital."
Huffington Post adds: "Some members of Congress shared the personal reasons why they marched, including Reps. Diana DeGette (D-Co.) and Barbara Lee (D-Calif.), who marched with women from their districts. Rep. Jose Serrano (D-N.Y.) marched with his sister, and Rep. Lucille Roybal-Allard, the first Mexican-American congresswoman, said she marched for "all women..Others sent messages of solidarity to the marchers, including Sen. Bernie Sanders (I-Vt.)."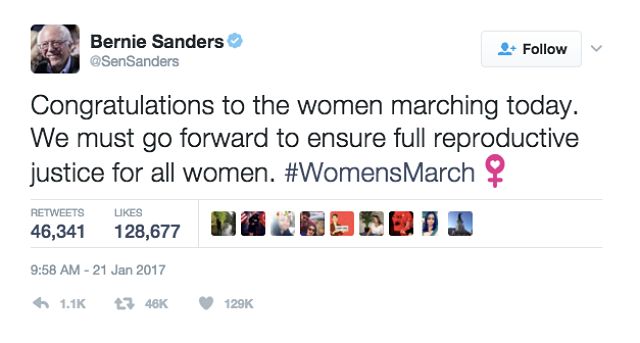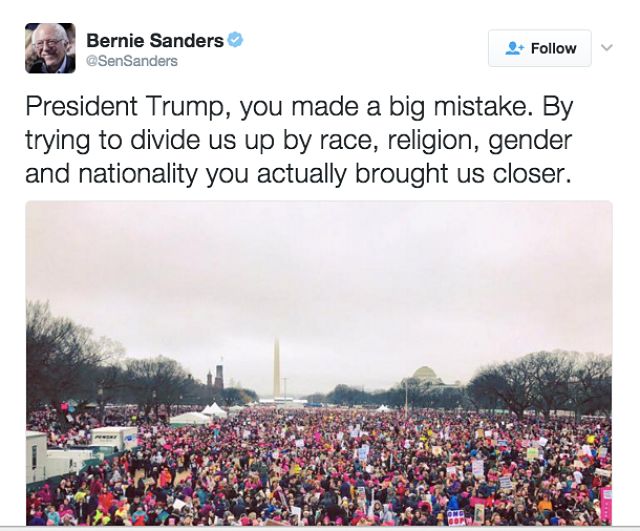 Donald Trump protests attract millions across US and world (BBC News)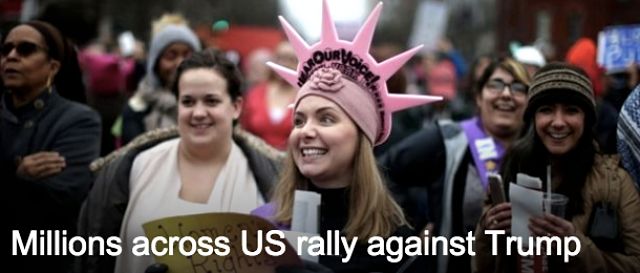 BBC writes: "Millions of protesters have taken to the streets of cities in the US and around the globe to rally against the new US President Donald Trump..Larger numbers of demonstrators than expected turned out for more than 600 rallies worldwide.The aim was principally to highlight women's rights, which activists believe to be under threat from the new administration."
—
Related:
Trump Sworn in as US President
Ethiopia: Looking Beyond Obama, Here is What Trump's Team is Asking
U.S.-Africa Policy in 2017: What Trump Should Do
Ethiopia: US-Africa Relations in Trump Era
Join the conversation on Twitter and Facebook.