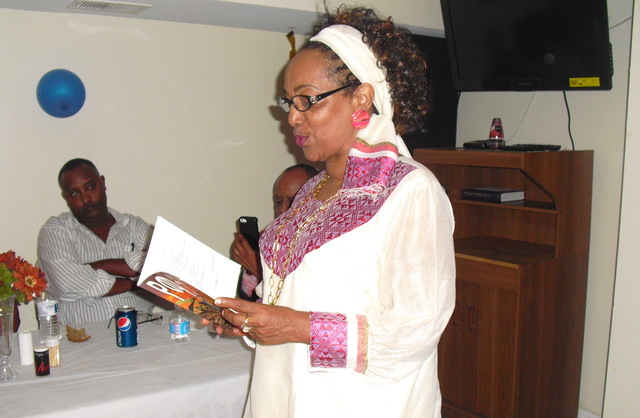 Tadias Magazine
By Dagnachew Teklu

Updated: Sunday, September 1st, 2013
Washington D.C. (TADIAS) – Taitu Cultural Center, an independent artists organization based in Washington, D.C, has opened a library and research center dedicated exclusively to Amharic publications — the first of its kind in the U.S. The opening collection features more than 900 Ethiopian books and rare periodicals, including newspapers, biographies, children's books, fiction, political journals, comedy and poetry publications.
In an interview with Tadias Magazine the center's founder, Alemtsehay Wedajo, said the library is supported by members as well as private donations and it aims to provide a space for research and study of Ethiopian culture and history.
"Visitors to the library can borrow books and take scanned copies of some 80-year old newspapers from Ethiopia," Alemtsehay said. "We used to blame the public for lack of reading culture, but we didn't create such a facility in the past."
Theater productions and other stage activities organized by the Taitu Cultural Center in the last decade has become a magnet for established and aspiring artists and authors residing in the Washington, D.C. metropolitan area, which is home to one of the largest population of Ethiopians in the United States. Regulars at the cultural center include students, artists, writers, and poets.
"It was one of my dreams to establish such a center here in America" Alemtsehay told Tadias. "I hope it will serve to narrow the gap among the various Ethiopian communities around the country."
Hiywot Kifle, who is a member of Taitu Cultural Center, said he often borrows books to support the center.
"I can't tell you how helpful this center has been," Hiywot said. "There are many youngsters who spend much of their time on the Internet because they don't have such a center around." he added: "There are plenty of parents who want such service for their U.S.-born children if its available for them."
The library, which is located at 4408 Georgia avenue, is open seven days a week. Alemtsehay said the center is able to accommodate up to 50 people at a time. She said Taitu is currently negotiating with Ethiopian airlines to bring 500 additional books from Ethiopia.

—
Related:
Book Event Taitu Cultural Center: The Life of Poet-Playwright Tsegaye Gabre-Medhin
Tadias Interview: Samuel Wolde-Yohannes on his Book 'Ethiopia: Culture of Progress'
Tadias Interview: Alemtsehay Wedajo, Founder of Tayitu Cultural Center
Join the conversation on Twitter and Facebook