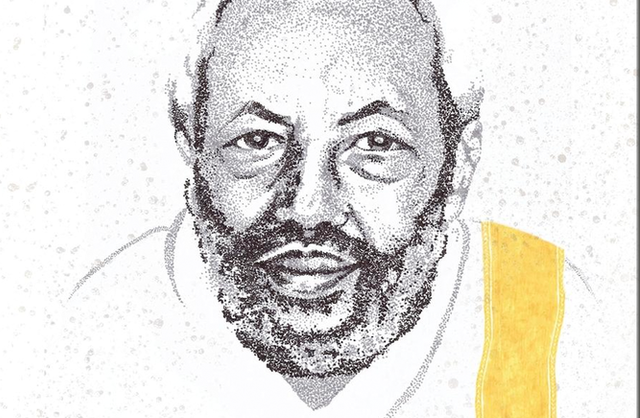 Tadias Magazine
By Dagnachew Teklu

Updated: Tuesday, July 30, 2013
Washington D.C (TADIAS) – The life and accomplishments of Ethiopian poet and playwright, Tsegaye Gabre-Medhin, was celebrated last Friday in downtown Silver Spring, Maryland. The event highlighted Fasil Yitbarek's book entitled Soaring on Winged Verse, which is the official biography of Tsegaye Gabre-Medhin — one of Africa's most important literary figures. The gathering, which was hosted by Taitu Cultural Center during its popular monthly poetry night YeWeru Gitm Mishit on July 26th, was attended by a large number of people from the Ethiopian community including families and friends of the late Poet Laureate who would have marked his 77th birthday this August.
The biography was printed by Tsehai Publishers in 2011 and is dedicated "to those whose creative inspirations springs from their love of Ethiopia." In his book, Fasil chronicles the remarkable story of Mr. Tsegaye's humble beginnings in rural Ethiopia from the town of Boda, near Ambo, to become one of the most recognized men of letters in the country as well as one of the most prolific and acclaimed writers of his generation. The poet's distinguished resume spans luminary works of more than 45 plays and an influential collection of Amharic poetry entitled Isat Woy Abeba (Blaze or Bloom).
Poet Laureate Tsegaye Gabre-Medhin passed away in February 2006 at the age of 69 while receiving medical treatment in New York. His body was flown back to Ethiopia and buried at the Holy Trinity Cathedral in Addis Ababa.
In a Q&A with Tadias Magazine, Fasil said Soaring on Winged Verse is based on several interviews, which he conducted in New York with the late Tsegaye some ten years ago at the poet-playwright's request.
"We used to meet once a week for a couple of hours and I was able to record about 30 cassettes on various occasions," Fasil said. However, Tsegaye passed away before they completed the interviews for the book, and he fondly recalled their weekly sessions as "unforgettable moments in my life." Fasil said he was able to fill the gap through further research of both published and unpublished sources.
"I was lucky to be chosen by Tsegaye to write this book." Fasil added.
Yodit Tsegaye, one of Tsegaye's daughters agreed, "We really appreciate Fasil's determination to finish the memoir," she said. "This book tells us what we didn't know about our father."
Below are photos from the event.

—
You can learn more about the book and order your own copy at www.tsehipublihers.com. "Soaring on Winged Verse" is also in the process of being translated into Amharic.
Related:
Tsegaye Gabre-Medhin, Ethiopian Poet Laureate, Dies at 69 (The New York Times)
Tadias Interview: Samuel Wolde-Yohannes on his Book 'Ethiopia: Culture of Progress'
Join the conversation on Twitter and Facebook