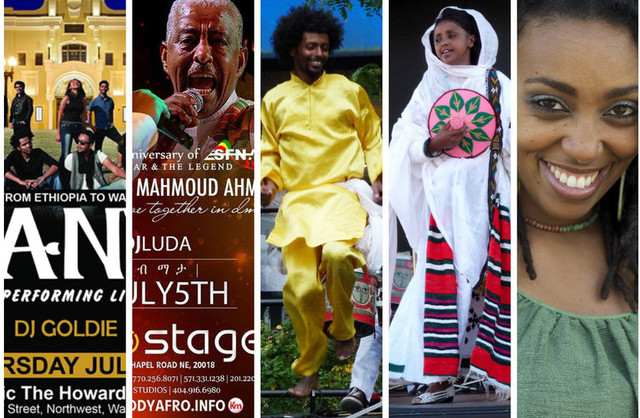 Tadias Magazine
Events News
Updated: Wednesday, June 26th, 2013
New York (TADIAS) – It is poised to be an exciting summer for Ethiopian music on the East Coast with live concerts that include the highly anticipated U.S. debut of Jano band; the Addis Ababa-based duet, Munit and Jorg; the return of Fendika direct from Ethiopia; a joint performance by Teddy Afro and Mahmoud Ahmed; as well as the first American tour by The London-based trio, Krar Collective.
Jano, which leads the pack in publicity and expectation, was recently featured on CNN in preparation for their upcoming show at the historic Howard Theater in Washington, D.C. on July 4th.
The super-group Fendika that consists of six world class dancers and Azmari artists, once again bring its exhilarating mix of Ethiopian music and dance to audiences in the United States, highlighting the wealth of diversity of Ethiopia's musical traditions. Fendika is currently in the Midwest, and is scheduled to perform on July 2nd at the Smithsonian Museum of African Art in Washington D.C., followed by a concert at the Lincoln Center Atrium, in NYC on July 4th, as well as in Boston at Hibernian Hall on July 7th.
Living legends Mahmoud Ahmed and Teddy Afro will share the stage on July 5th at Echostage in D.C.
Also in Washington, we are told, Ethiopian and German duet, Munit and Jorg, will launch their U.S. tour with a concert on July 1st at Tropicalia Dance Club. Organizers said the show will open with a performance by Feedel Band and will be hosted by the Seattle-based hip-hop musician Gabriel Teodros.
Below is a slideshow of flyers and photos courtesy of the promoters.

—
If You Go:
Jano in DC
Thursday, July 4th, 2013
The Howard Theatre
620 T Street, Northwest,
Washington, D.C.20001
Phone: (202) 803-2899
More info on the show: 201 220 3442
Thehowardtheatre.com
Legend & Superstar
Mahmoud Ahmed | Teddy Afro
Echo Stage in DC, July 5th
2135 QUEENS CHAPEL ROAD NE,
WASHINGTON, DC 20018
PHONE: 202.440.4301
FOR TABLES & GENERAL INFO:
www.echostage.com
Fendika Back in the U.S.
July 2: Smithsonian Museum of African Art, Washington DC
July 4: Lincoln Center Atrium, NYC
July 6: Lincoln Center Meet the Artist Saturdays
July 7: Hibernian Hall, Boston
July 10: Cedar Cultural Center workshop and concert, Minneapolis
July 12-14: Montana Folk Festival with Debo Band
Munit & Jorg in DC
w/ Feedel Band + Dj set by Tooth Pick
Hosted by Gabriel Teodros
Monday July 1st
Tropicalia (lower level)
2001 14th st NW
Washington, D.C.
Click here for ticket info.
Learn more about Munit and Jorg on their Facebook page.
Krar Collective, DJ Sirak in New York
July 21st, 2013 | 3:00 pm – 7:00 pm | Central Park
More info and directions at www.cityparksfoundation.org
Watch: CNN's Errol Barnett interviews Jano Band in Addis

—
Related:
Tadias Interview: NYC's AbayTeam Advances to 1st Division at 30th ESFNA Tournament in DC
Join the conversation on Twitter and Facebook