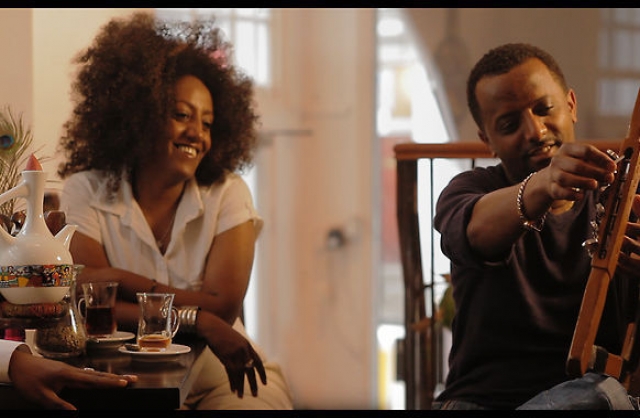 Tadias Magazine
Events News
Published: Sunday, June 2nd, 2013
New York (TADIAS) – The London-based Ethiopian trio, Krar Collective, will make their debut appearance at the annual Summer Stage concert in Central Park next month along with Oliver Mtukudzi and The Black Spirits, a group with origins in Zimbabwe that have been performing since 1979, and the Paris-based West African musician Fatoumata Diawara who was born in Ivory Coast and raised in Mali. DJ sets will be led by Ethiopian-born Sirak Getachew of NYC.
"The Krar Collective have developed a distinctive style based on the reworking of traditional songs from their native land," said an announcement from the City Parks Foundation (CPF). "Krar Collective provide their audiences with a colorful blend of dynamic roots music from different regions and ethnic traditions, but with a contemporary edge, plugged-in and funked-up."
For DJ Sirak, who arranged the groups's participation at this year's Summer Stage (his third), the open air show is an extension of his passion for the art as the co-founder of Africology, an entertainment venture started together with his friend, Kalab Berhane, a few years ago here in New York to promote African music to American audiences. His past work at the venue include DJing with the Idan Raichel project, the Israeli musical ensemble featuring singers from Ethiopia.
"Our goal is serve as a conduit for both up-and-coming and accomplished African artists of all kinds to explore the world stage," Sirak told Tadias. It's a step by step process."
Regarding his own skills as a disc jokey, "[Sirak's] endeavors as a DJ help to break down the cultural barriers through the medium of music," CPF notes in its press release. "Sirak matches the beats of artists like the Notorious B.I.G and dead prez to the up-tempo drums and breaks from his homeland." CPF stated: "The fusion is his way of bridging the culture gap between the communities of the Americas and Africa. His sets not only spice up the dance floor, but also add heat to the debate over the origin of rhythm driven hip-hop beats."
Sirak said he is looking forward to collaborating with Krar Collective in July. "They are following Fendika," he said. "I like their new and creative way of presenting our traditional music to a global audience."
In an article published in September of 2012, The Guardian highlighted Krar Collective as "one of the most rousing, reliable new African bands of the year." Per CPF: "Their first album, Ethiopia Super Krar, featuring their 6-stringed krar lyre, kebero drums and the powerful vocals of singer Genet Assefa, serves up some mind-blowing Ethiopian grooves."
—
If You Go:
July 21st, 2013 | 3:00 pm – 7:00 pm | Central Park
More info and directions at www.cityparksfoundation.org
—
Related:
Video: Watch Krar Collective on BBC Africa Beats
Summer of Ethiopian Music: Jano to Fendika, Teddy Afro to Mahmoud Ahmed (Tadias)
Join the conversation on Twitter and Facebook.