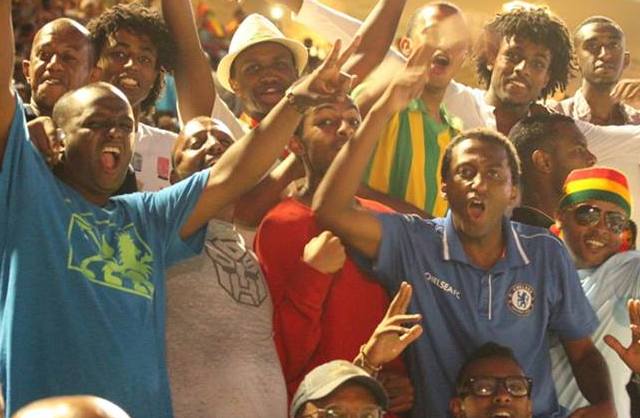 Tadias Magazine
By Tadias Staff
Updated: Wednesday, July 10th, 2013
New York (TADIAS) – New York's hometown Ethiopian soccer team, Abay, have returned back to NYC after a successful participation at the recently concluded 30th Ethiopian Sports Federation in North America (ESFNA) tournament held at the University of Maryland, College Park last week. New York's team advanced to first division during the annual soccer competition, along with Chicago, after finishing second place at the lower division final games held during the closing ceremonies on Saturday, July 6th.
"I think overall the tournament this year was quite a phenomenal event," said Samuel Tesfaye, New York Abay's team Secretary. A large and energized crowd had flocked to Comcast Center, College Park from across the country. "It was one of the best spirited tournaments I have seen in some time," Sammy said in an interview with Tadias Magazine.
Sammy made the trip from New Jersey to D.C. with his children and noted the big crowed at the arena in Maryland, youthful vibe, the colorful vendors, the ubiquitous presence of the Walia uniform sported by all ages and genders. "For the most part," Sammy said, he was "also impressed by how 'smoothly' things were run."
Except on the day of the opening [Sunday, June 30th]: "We were informed by the Federation that our Tuesday game with Portland has been moved to Monday," Sammy recalled laughing. "On Monday we showed up at the field at the apportioned time and there was no Portland." He added: "Apparently, Portland's flight was not arriving until the next day. Naturally we demanded to win by forfeit, but they said 'no' and rescheduled the game for Tuesday. What can you do?"
Abay was demoted to second division nine years ago after the team came near bottom at ESFNA's 21st tournament held at Seahawk Stadium in Seattle, Washington in 2004. "We've been trying to climb up ever since," Sammy enthused. "It feels good to be back in the big league."
Below is a slideshow of images courtesy of Tadias staff, our readers, the Abay team and other promoters who attended the soccer tournament as well as highlights of various musical and cultural festivities that took place in D.C. and the surrounding areas last week.
Click here for our Washington, D.C. correspondent Tsedey Aragie's exclusive video interview with the Ethiopian Rock band Jano, who played for the first time outside of Ethiopia on July 4th at the historic Howard Theatre in Washington, D.C.

—
Related:
Mahmoud Ahmed and Teddy Afro Bring Echostage Home (The Washington Post)
Debo Band & Young Ethio Jazz Band at Yoshi's in San Francisco – July 17th (TADIAS)
Highlights of Ethiopian Music During Soccer Tournament Week (The Washington City Paper)
Summer of Ethiopian Music: Jano to Fendika, Teddy Afro to Mahmoud Ahmed (TADIAS)
Hailu Mergia: A Beloved Ethiopian Musician of a Generation Ago (The Washington Post)
Reissues Songs From Hailu Mergia, Local Cab Driver (The Washington City Paper)
Join the conversation on Twitter and Facebook