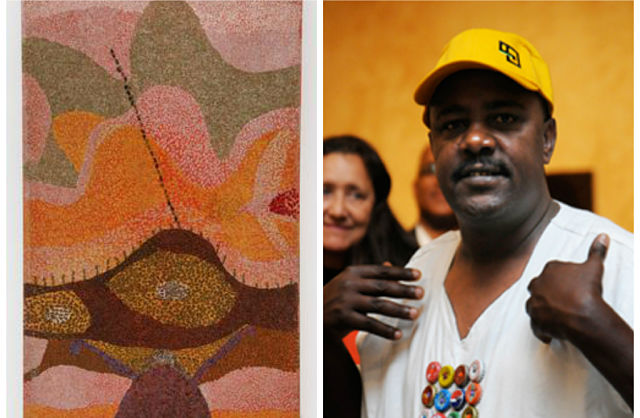 Tadias Magazine
By Tadias Staff
Published: Friday, August, 28th, 2015
New York (TADIAS) — Ethiopian artist and sculptor Elias Sime's New York exhibition opens on September 10th at James Cohan Gallery in Manhattan.
"Sime's most recent works from the series Tightrope are made from the discarded innards of computers and machines," the gallery announced in a press release noting that Sime collects most of his materials from the "Addis Ababa open-air market, Merkato, specifically the Menalesh Tera section."
"For Sime, the objects he uses are not trash" the press release adds. "Once struck by an object, Sime will tirelessly collect his chosen material in pursuit of an idea: "The size of my art is determined by the idea behind the composition. If the idea overwhelms me, the size of the work keeps growing until I have said enough."
Elias Sime graduated from Addis Ababa School of Fine Arts in 1990 and has since been dubbed "a driving force in the East African art scene." The Zoma Contemporary Art Center (ZCAC) in Ethiopia's capital, a gallery space offering an international residence program, was designed and built by Sime in 2002. Together with the founding director of ZCAC, Meskerem Assegued, Sime has traveled extensively throughout Ethiopia to study diverse indigenous ritual practices.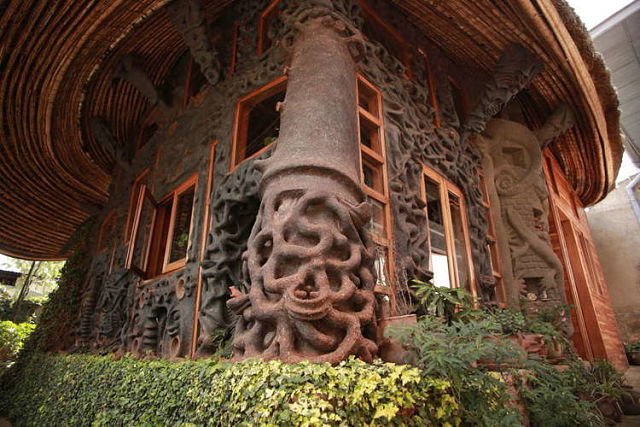 The Zoma Contemporary Art Center in Addis Ababa. (Photo: ZCAC)
Sime's work has been exhibited at the Studio Museum in Harlem in 2008, and he has participated in the Metropolitan Museum of Art's exhibit entitled "The Essential Art of African Textiles: Design Without End"; a piece titled Selechas is now part of the permanent collection at the museum. Sime has also exhibited his art at Santa Monica Museum of Art and Dakota Museum of Art in the United States, the Dak'Art Biennale in Senegal, and at the New Crowned Hope Festival in Vienna.
In his upcoming exhibition at James Cohan Gallery, "Sime's work is a history of use and disposal, desire and disregard. While some emphasize the power and spiritual intensity felt when viewing Sime's works, others note the figurative and abstract traditions of Ethiopia's modern history, evident in the objects Sime creates. From social realism — a remnant of Soviet involvement in Ethiopia following the 1974 revolution — to mid-century abstract avant-garde movements imported from the west in the 1950s and 1960s, Sime's art recycles forms as much as objects."
—
If You Go:
Elias Sime
September 10 – October 17, 2015
Opening Reception: Thursday, September 10, 6 – 8 PM
JAMES COHAN GALLERY
533 WEST 26TH STREET NEW YORK NY 10001
TEL 212.714.9500 FAX 212.714.9510
HOURS TUESDAY – SATURDAY, 10 – 6PM
www.jamescohan.com
Elias Sime Eye of the Needle, Eye of the Heart at the Santa Monica Museum of Art (SMMoA) from James Cohan Gallery on Vimeo.
Join the conversation on Twitter and Facebook.