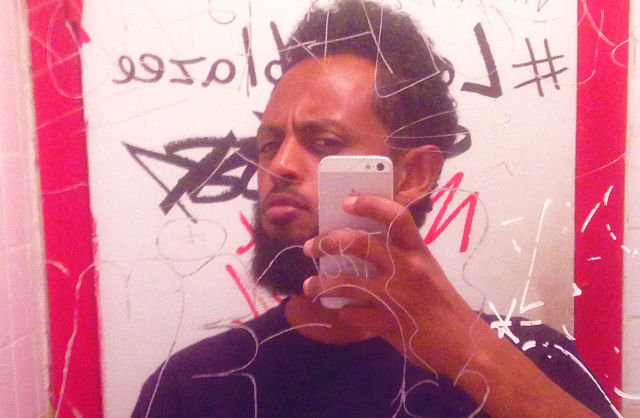 Tadias Magazine
By Tadias Staff
Published: Thursday, January 28th, 2016
New York (TADIAS) — As an emerging artist Tariku Shiferaw — whose work is currently up at Trestle gallery in Brooklyn, New York as part of a group exhibition titled Introductions 2016 — is "fascinated by contradictions, glitches, interruptions, and disagreements in a system," he says. "I investigate intricate moments in our existence that appear to be one way, but at a closer look can be perceived and interpreted in many other ways."
Tariku was born in Addis Ababa and raised in Los Angeles where he completed his undergraduate degree in Fine Arts at the University of Southern California (USC).
"One of my biggest influencers and probably the reason I pursued art beyond high school is Marco Elliott" Tariku tells Tadias. "He was my commercial arts instructor during my sophomore year, but eventually became a friend and a mentor for the rest of my time at Venice High School. Often, we disagreed on a lot of topics and those disagreements challenged and helped me grow."
In 2013, Tariku moved to New York to pursue a Masters in Fine Arts at Parsons School of Design at The New School, which he obtained in May 2015. Currently he resides and works in Brooklyn.
"I first became interested in art by watching my older brother draw quick pen-sketches of his favorite movie characters such as Bruce Lee, Chuck Norris, Bugs Bunny and more," Tariku said. "I used to bribe him with stolen candy from my dad's cabinet in exchange for his drawings."
For Tariku forms and gestures, including geometric shapes or painterly marks, fuel investigations of absolute meaning. "Often, I use a range of gray painterly gestures as ground to the geometric forms, which metaphorically refers to the gray space between meanings," he said. "The dialectical relationships between painterly gestures and geometric forms create the necessary complexity to inspire deep thoughts on these simple shapes and color, and the possible interpretations."
One of his paintings that's now on display at the Brooklyn exhibition is called Space X, which he created last year. "Triangles and X's have a strong presence in my paintings," Tariku said. "I like using these forms for many reasons. They are aesthetically interesting and also carry a multitude of meanings because of their historical usage. Triangles, along with circles, squares, rectangles, x's, and many more, are primitive forms that have existed with us (the human race) throughout our developments. These forms simultaneously carry a range of meanings at all times."
"The letter "X" is probably the most complex of all these forms," Tariku explained. "In math, X is an unknown variable until it is discovered, then it becomes obsolete. It can no longer continue to be "X" when the unknown variable is found. However, X is also widely recognized as a symbol that marks a space, denotes a place, cancels, negates, and more. The nature of these markings challenges the systems of visual language."
This week Tariku will also be participating in the annual LA Art Show in Southern California with several of his paintings on display at Werd Gallery's booth until Jan 31st, 2016.
His advice for fellow artists? "Fear nothing and pursue it with all you got."
Below is a slideshow of Tariku Shiferaw's paintings.

—-
Join the conversation on Twitter and Facebook.