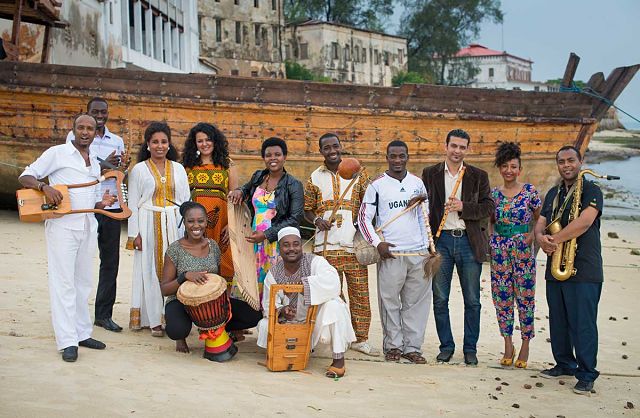 Tadias Magazine
By Tadias Staff
Published: Wednesday, February 18th, 2015
New York (TADIAS) – The Nile Project, which features a diverse group of talented musicians from several Nile Basin countries — including Ethiopia, Sudan, Kenya, Uganda, Burundi and Egypt — will perform in New York City at the Lincoln Center (David Rubenstein Atrium) on March 19th. The Ethiopian artists include Meklit Hadero, Endris Hassen, Dawit Seyoum, Selamnesh Zemene, Jorga Mesfin, Mekuanent Melese and Asrat Ayalew. Organizers note that the event is the first of a two-part concert series to be followed by a performance at Pace University on March 20th.
"The forward-thinking musicians of the Nile Project present a unique performance with an emphasis on new improvisational music structures that mimic ecological relationships found in the Nile Basin," the Lincoln Center announced. "Each member collaborates to blend aspects of their respective East African environments — whether desert, urban, highland, or tropical, but always distinctly Nile — with one another's musical systems, thereby creating a series of musical scenarios that explore new sonic terrains."
The Nile Project began in Oakland, California, in a bar. NPR highlights that Ethiopian American singer and songwriter Meklit Hadero and her Egyptian-American friend Mina Girgis were having a conversation about the relationship between the musical traditions of Ethiopia and Egypt, and the rest is history. "The Nile Project channels the unsung beauty of East African traditions," adds the press release. "In the collective's collaborative compositions, resonant harps and lyres from up and down the river have learned new musical modes, while buzzing timbres and ingenious polyrhythms support vocals in more than ten languages."
"Designed to captivate local audiences but equally accessible to international listeners, the Nile Project uses music to inspire curiosity about and engagement with the cultural, social, and environmental challenges of the world's longest river."
Video: Aswan — New Album by the Nile Project

—
If You Go:
The Nile Project Live in NYC
Thursday, March 19 at 7:30
David Rubenstein Atrium at Lincoln Center
New York City
Presented in collaboration with Pace University, A Lincoln Center commission
More info at atrium.lincolncenter.org
Related:
Amharic Hip-hop Finds its Voice in Ethiopia
Join the conversation on Twitter and Facebook.