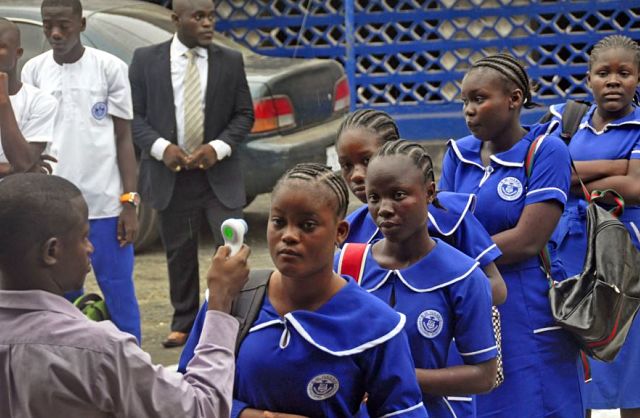 The three West African countries hardest hit by Ebola have set a target of reducing new cases to zero within 60 days.
Guinea's presidency said in a statement Monday that the presidents of Guinea, Sierra Leone and Liberia made the pledge after closed-door talks in Conakry.
The Ebola virus has killed more than 9,000 people in those three countries. Its spread is slowing, but the World Health Organization warned of complacency after a recent uptick in cases.
In its latest update Monday, the WHO reported 183 new cases in the region — 87 in Sierra Leone, 76 in Liberia and 20 in Guinea.
In another development, thousands of Liberian children returned to school on Monday after a six-month school closure during the height of the Ebola epidemic.
Students washed their hands and had their temperatures taken before entering schools. Some schools still remain closed.
Rosemary Grey, a school principal in Liberia's capital, Monrovia, said it is important to reopen the schools even if there is still a danger from Ebola.
"If we wait for the day that Ebola will be eradicated before we can reopen schools, I don't think that we are ever going to open schools, because even now I heard there is a new outbreak," she said. "Nobody knows how far it's going to go. And if schools are going to close perpetually, students are going to remain at home."
The Ebola virus is transmitted through contact with the body fluids of an infected person. Health officials have warned people to avoid all direct contact with Ebola patients, including those killed by the disease, who remain contagious.
—
Related:
A third of Sierra Leone's Ebola budget unaccounted for, says report
Ebola death toll in West Africa reaches 9,253 — WHO
US Updates African Diaspora on Ebola Response
Ethiopians arrive in West Africa to fight Ebola
Ethiopia Holds Farewell Gala for Volunteer Doctors Headed to Ebola-Hit Countries
Africa Sets Up $28.5m Ebola Crisis Fund
Don't Let Ebola Dehumanize Africa
5,000 Ebola Health Care Workers Needed In West Africa: WHO
Ethiopia to Deploy 210 Health Workers in Ebola-Hit West Africa
In first case, Doctor in New York City is Diagnosed With Ebola
Cuba's Impressive Role on Ebola
Ebola: Africa's Image Takes a Hit
U.S. Embassy: No Confirmed or Suspected Cases of Ebola in Ethiopia
Ethiopia Launches Ebola Testing Lab to Combat Epidemic
Join the conversation on Twitter and Facebook.