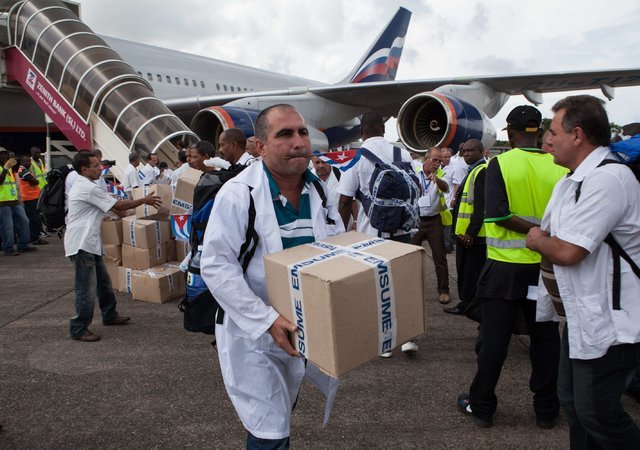 The New York Times | EDITORIAL
By The Editorial Board
Cuba is an impoverished island that remains largely cut off from the world and lies about 4,500 miles from the West African nations where Ebola is spreading at an alarming rate. Yet, having pledged to deploy hundreds of medical professionals to the front lines of the pandemic, Cuba stands to play the most robust role among the nations seeking to contain the virus.
Cuba's contribution is doubtlessly meant at least in part to bolster its beleaguered international standing. Nonetheless, it should be lauded and emulated.
The global panic over Ebola has not brought forth an adequate response from the nations with the most to offer. While the United States and several other wealthy countries have been happy to pledge funds, only Cuba and a few nongovernmental organizations are offering what is most needed: medical professionals in the field.
Doctors in West Africa desperately need support to establish isolation facilities and mechanisms to detect cases early. More than 400 medical personnel have been infected and about 4,500 patients have died. The virus has shown up in the United States and Europe, raising fears that the epidemic could soon become a global menace.
It is a shame that Washington, the chief donor in the fight against Ebola, is diplomatically estranged from Havana, the boldest contributor. In this case the schism has life-or-death consequences, because American and Cuban officials are not equipped to coordinate global efforts at a high level. This should serve as an urgent reminder to the Obama administration that the benefits of moving swiftly to restore diplomatic relations with Cuba far outweigh the drawbacks.
Read more at NYT »
—
Related:
Ebola: Africa's Image Takes a Hit
U.S. Embassy: No Confirmed or Suspected Cases of Ebola in Ethiopia
Ethiopia Launches Ebola Testing Lab to Combat Epidemic
Join the conversation on Twitter and Facebook.