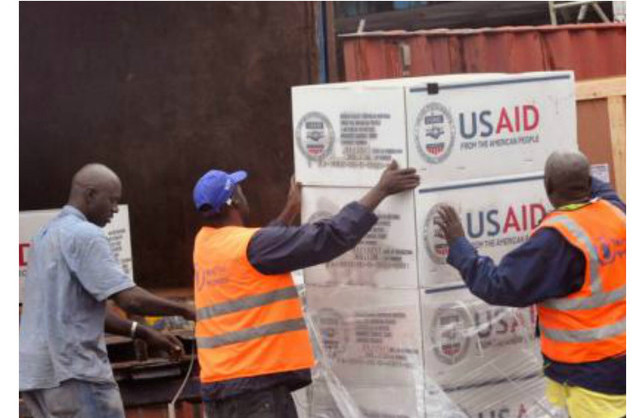 Tadias Magazine
News Update
Response
Press Release: U.S. Department of State, Bureau of Public Affairs
Last month, the State Department's Bureaus of Public Affairs and African Affairs, in coordination with interagency colleagues, hosted a conference call with Assistant Secretary of African Affairs, Linda Thomas-Greenfield and approximately 200 representatives of the African diaspora community from across the United States. Together with officials from USAID, the National Security Council (NSC) and the Centers for Disease Control (CDC), Assistant Secretary of African Affairs, provided an update on the ongoing response to the crisis.
In December 2014, Assistant Secretary Thomas-Greenfield was part of a U.S. delegation to Liberia, led by Assistant Secretary of Defense Michael Lumpkin, to assess the current state of Liberia's fight against Ebola and U.S. response efforts on the ground. On this call, she reviewed her trip and commended the efforts of U.S. Embassy personnel in Monrovia, who are working around the clock, to support the anti-Ebola effort. She also stressed that the U.S. Government response to Ebola has been a "whole of government" effort.
In response to questions from call participants, Assistant Secretary Thomas-Greenfield noted that, after several very difficult months, Liberia has made significant gains in the fight against Ebola. She also added that more work remains to be done until Liberia is Ebola-free. To that end, she urged Liberians not to change the practices that have been put in place to ensure the eradication of this disease.
The Assistant Secretary also remarked that Ebola is a "regional problem," not a Liberian problem, and one that requires tremendous teamwork and international coordination. In that regard, she described the collaborative efforts of the U.S. embassy, USAID, the CDC, the African Union and Liberians as nothing short of "impressive."
Thomas-Greenfield remains engaged in coordination efforts with other U.S. Government agencies and colleagues in the international community around the recovery program in the region, the state of the health sector, and the conditions for improvement in education and infrastructure.
The U.S. Government continues to stand with Liberia, and knows that this is a situation that they cannot fight alone. Liberia and other Ebola-affected countries need the support of the international community and we are committed to providing that support. President Obama made that very clear when he said that this is a national security crisis, not only for the region, but for the world.
For more information on the ongoing U.S. response to the virus, please visit the State Department page here.
—
About the Author:
David Duckenfield serves as Deputy Assistant Secretary of State in the Bureau of Public Affairs.
Related:
WHO: Ebola Death Toll Passes 7,500
Ethiopians arrive in West Africa to fight Ebola
Ethiopia Holds Farewell Gala for Volunteer Doctors Headed to Ebola-Hit Countries
Africa Sets Up $28.5m Ebola Crisis Fund
Don't Let Ebola Dehumanize Africa
5,000 Ebola Health Care Workers Needed In West Africa: WHO
Ethiopia to Deploy 210 Health Workers in Ebola-Hit West Africa
In first case, Doctor in New York City is Diagnosed With Ebola
Cuba's Impressive Role on Ebola
Ebola: Africa's Image Takes a Hit
U.S. Embassy: No Confirmed or Suspected Cases of Ebola in Ethiopia
Ethiopia Launches Ebola Testing Lab to Combat Epidemic
Join the conversation on Twitter and Facebook.