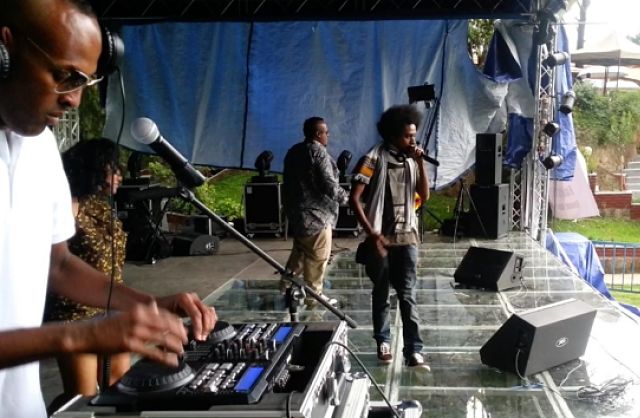 By James Jeffrey
February 19, 2015
ADDIS ABABA, Ethiopia — Ethiopian rapper DJ Same took out a smartphone and played a clip of a man proclaiming passionately in a traditional Amharic style called fukera, used during feudal militaristic times to rouse the populace to go to war.
Then he started to beatbox along to the oration before saying, "Sounds like rap, doesn't it?"
Nowadays, Ethiopia's rappers aren't concerned with stirring people to take up arms, but they still want to have an impact as they explore modern forms of music.
It is a complex picture that is emerging. When Ethiopian rappers perform in English, the comparisons with American rap are clear to see and hear. But when voiced in Amharic, the language of the second-largest ethnic and linguistic group in the country and used as Ethiopia's official language, Ethiopian rap moves out of America's shadow toward establishing its own unmistakable voice.
Yet there is a limit to how far that voice can go. Like many forms of artistic expression in Ethiopia, most rap artists use self-censorship when it comes to rapping about domestic politics. Amharic rap can, as a result, seem fairly apolitical compared with some Western rap. But that does not mean Ethiopian rap is without passion or lacking a desire to bear a worthwhile message to audiences.
"The government thinks we have a bad message, but they don't understand what we are trying to do," said 22-year-old rapper Ella Man. "A lot of foreign rap is about 'I have this, I got this," but we want to present a constructive message. We represent Ethiopia."
Read more at america.aljazeera.com »

—
Join the conversation on Twitter and Facebook.