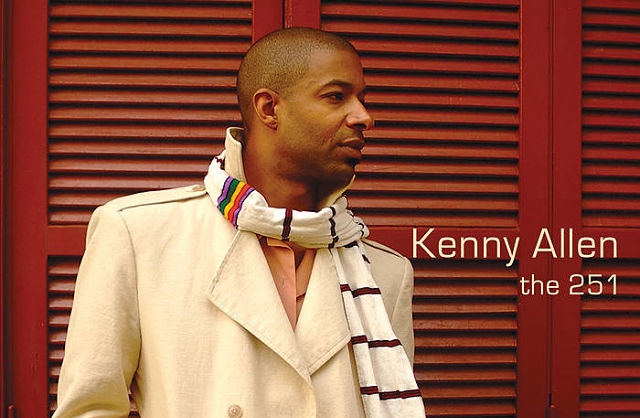 Tadias Magazine
By Tesfaye Mohamed

Published: Tuesday, April 5th, 2016
New York (TADIAS) — Kenny Allen is a musician, songwriter, producer, sound engineer, actor, and bag designer. Born and raised in Washington, DC Kenny has been living in Addis Ababa for the past 10 years, producing and performing music while making his mark in the fashion design sector.
Kenny has hosted a radio show on the first English radio station in Ethiopia (Afro-FM), and has produced music for several artists including Gash Abera Molla's album Yamral Hagere, which won "Album of the Year 2014″ at Sheger FM's Music Choice Awards; Sydney Salmon's Ethiopia is Calling; as well as Wes Felton's soon to be released The Ultimate Challenge; and Ethiopian-Armenian Singer Vahe Tilbian's Mixology albums. Currently, Kenny is collaborating with Senegalese Poet Souleymane Diamanka on a full album recorded in his home studio E.A.R.S. (East African Recording Studio) in Addis.
In addition to running his own recording studio, Kenny has recorded three albums of his own, acted in three feature films and launched an iconic bag line called Und Kǝn — roughly translating to "one day" in Amharic. The bags are designed and manufactured in Ethiopia and sold worldwide.
When I learned about Kenny, I wanted to know his story; why he packed up and left Washington, DC, to settle in Addis. I wanted to know more about his career, his successful business, and what attracted him to his new homeland, Ethiopia.
Tesfaye Mohamed: I am really curious as to what prompted you to live and start a business in Ethiopia. Can you tell me about that?
Kenny Allen: I was playing guitar for the Grammy-nominated Ethiopian Singer Wayna, when the promoter of one of her concerts, Emmanuel Mekuria, opened a club in Addis called Harlem Jazz, and asked me to join. I had been touring with two international artists, MeShell Ndegeocello and Raheem DeVaughn, all over the world but I had never been to Africa. The contract was originally for 6 months, and because I felt so professionally embraced, it turned into 10 years. Thanks largely in part to singer Jonny Ragga — who gave me the platform to reach Ethiopians both here and abroad with a song I featured on entited Shiftaw Libu — I was able to brand myself as a public personality.
I also appreciated the various distinct cultures of Ethiopia, was seduced by the year-round mild climate, and appreciated the opportunity to explore many different artistic disciplines. Living in Africa, Ethiopia specifically, allowed me to see the world at large from a different perspective.
Tesfaye: Do you have friends or family members from Ethiopia?
Kenny: When I came here, I didn't know anyone here. Over the years, in Washington DC, I encountered many Ethiopian individuals, but mainly from a distance. Ethiopian culture is often a very tight-knit bond that sometimes can be hard to break through, but the more I showed my admiration and interest in learning about it, the more people began to open up to me. I learned from some of the best in the music business — from the veteran group, the 4 Star Band, to the Mehari Brothers and a group that I assembled called the 251 Band.
Tesfaye: Why did you move from DC to Ethiopia?
Kenny: Prior to coming to Ethiopia, I had been recording and marketing my own original music for 10 years. I was shopping music and trying to get signed to record companies. When I came to Addis, I felt a sense of isolation and self-containment within the country. For a large, major city back in those times the vibe was more simple; not as tense as life in the Western world. It gave me a chance to live each day fully and enjoy conversation and companionship with friends and acquaintances.
I recognized the opportunity to share my experiences for the purpose of lifting the consciousness of those in my circle, mostly through music, but also more or less become an ambassador for African-Americans, dispelling stereotypes that black people only rapped and played basketball. I have a college degree and have seen many countries around the world while performing at some of the most prestigious venues. I felt that I could make a difference as well as have the mental space to continue to create.
Tesfaye: Can you tell me about your back-pack brand, Und Kǝn, that you launched in Ethiopia?
Kenny: Und Kǝn started very accidentally. One of the most memorable moments in the development of the brand was being on stage at Harlem Jazz having bought a cool new jacket earlier in the day. When I looked out into the audience I noticed a guy had on the exact same jacket. So I began using Ethiopian hand-woven fabrics to design my own stage wear. My shirts caught the eyes of the Desta Brothers, promoters in Washington DC, whenever I would go home to visit. They expressed how much they liked my shirts and suggested that I open a store. Almost immediately the name Und Kǝn came to mind — a play on my name Kenny, and an ode to the dreamers. I have always believed that through hard work, you will always fulfill your dreams, working towards the day where you have that breakthrough moment. I always add the tag "made in Ethiopia" because I feel like Ethiopia has made me the person and the human being I am today.
One day, as Und Kǝn was under development, a friend of mine brought back a laptop cover from the UK. There was one textile on the inside and one textile on the outside. I found this concept very interesting so I contacted a long-time friend from Florida — a performing artist and tailor named Haile Yesus — who began producing similar multi-textile laptop bags using Ethiopian and other African materials, which then became a simple hobby/creative outlet that caught the eyes of people in my social media network and turned into a sustainable business. I have gone on to employ local artisans to create the products featured on our website undken.com, namely two graduates from the Addis Ababa University leather textile program, Admassu Abera and Henok Kasahun as well as seamstress Selam Tesfaye. I quickly discovered that Ethiopia is rich in leather and that many major international companies source their leather from Ethiopia. With Addis Ababa being the home of the African Union there were several sources for West African wax, which I also incorporate in my products.
It is my belief that the only way you can make something original in this day and age is to combine elements that have not been combined. The idea of an African American musician who has always been fashion-minded coupled with the creation of a lush palette of fabrics and textiles using mainly just a great eye for color, is almost guaranteed to be at the least, a little different. I personally go to Merkato — the largest open-air market in Africa — to source and design each piece that we make before giving it to other members of the team to assemble and sew. On a craft level it's a home-run business, but the global demands are driving it into a potentially globally recognizable brand. We are currently distributing the products on a small scale while shipping internationally and looking to offer wholesale distribution by the end of this year.
Tesfaye: What are your general impressions of Ethiopia, and economic condition of the people?
Kenny: Ethiopia is without a doubt a nation on the rise. What I wish most for the country is to invest more on the skill set and experiences of people. Empower the youth, bringing them into these global times but always stressing and emphasizing the importance of maintaining the tradition. Encourage people to take pride in their works and be aware of all levels of production, both internal and external. Public services should continue to grow in this growing metropolis of Addis Ababa, leaving no person or people behind along the way. Each group should realize a oneness under the age-old proverb, "together we stand, divided we fall."
—
About the Author:
Tesfaye Mohamed is a second year law student at North Carolina Central University School of Law. His interests include Civil Rights Law, Constitutional Law, Employment Law, and Contract Law. Tesfaye was born in Ethiopia and grew up in the United States.
Join the conversation on Twitter and Facebook.