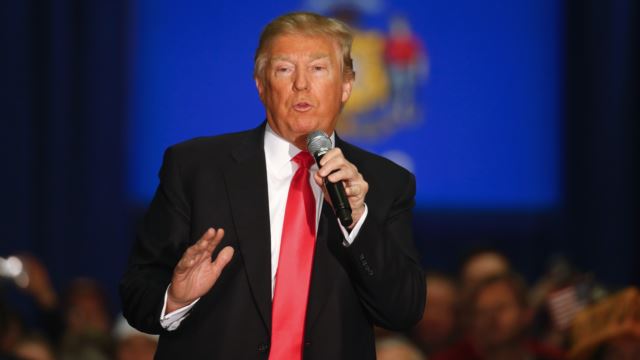 By Ken Bredemeier
April 06, 2016
The chance of a rare contested Republican presidential nominating convention is growing in the wake of U.S.Texas Senator Ted Cruz's resounding win over front-runner Donald Trump in the Wisconsin primary election.
There are 16 state Republican nominating contests to go, extending into early June. Trump, a billionaire real estate mogul making his first run for elective office, would have to win more than 60 percent of the remaining delegates to July's national convention in order to claim the party's presidential nomination before the convention starts.
Trump still has a sizable lead, but has so far won only about 47 percent of the delegates selected. Cruz would have to take nearly 90 percent of the remaining available delegates to claim the nomination ahead of the convention.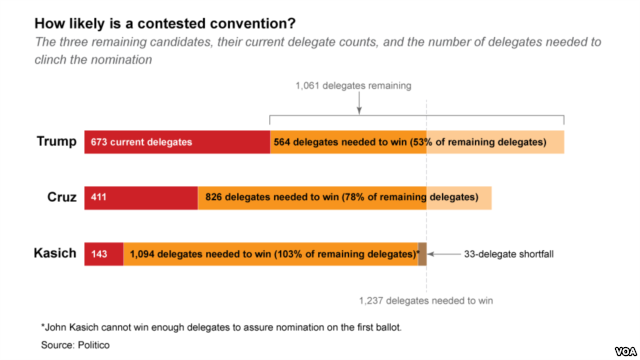 U.S. Republicans have not had a contested convention since 1976.
Delegates selected to attend the 2016 convention in the midwestern city of Cleveland, Ohio are generally required to vote according to the outcomes of primary elections and caucuses in their individual states on the first ballot. They mostly can vote for candidates of their choice on subsequent ballots until a nominee is picked.
Surveys of the convention delegates already picked show that while Trump, a brash one-time television reality show host, is likely to have a plurality of convention delegates on the first ballot, many delegates could switch to support Cruz on the second ballot or beyond. A majority of 1237 delegates is required to win the nomination.
Some of these delegates have told U.S. media outlets that they think Cruz is more consistently conservative and in line with their political views than Trump is and would have a better chance to defeat the likely Democratic nominee, former Secretary of State Hillary Clinton, in November's national election.
Recent U.S. political surveys show Clinton consistently defeating both Trump and Cruz in hypothetical match-ups, but in a much tighter race against the Texas senator, a conservative thorn in the side of both Republican and Democratic leaders in Washington.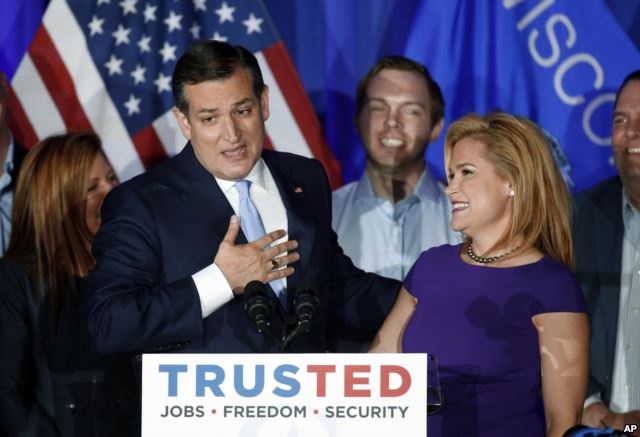 Republican presidential candidate Sen. Ted Cruz, R-Texas, speaks as his wife Heidi listens during a primary night campaign event, April 5, 2016, in Milwaukee. (AP photo)
Wisconsin turning point?
Cruz called his 48-to-35 percent rout of Trump on Tuesday in the northern state of Wisconsin a "turning point" and "rallying cry" to America.
"It is a call from the hard-working men and women of Wisconsin to the people of America," Cruz said. "We have a choice, a real choice."
He also turned his attention to Clinton, saying, "So let me just say, Hillary, get ready. Here we come."
Trump's loss in Wisconsin, following a series of controversial comments about abortion, women, NATO and the proliferation of nuclear weapons, has put him on the defensive after months as the leading Republican presidential contender.
Unlike his primary election victories, Trump made no public appearance after losing the Wisconsin contest.
His campaign issued a dismissive statement, saying, "Ted Cruz is worse than a puppet — he is a Trojan horse being used by the party bosses attempting to steal the nomination from Mr. Trump."
A third Republican candidate, Ohio Governor John Kasich, trailed badly in the Wisconsin voting and cannot mathematically win the Republican nomination ahead of the convention. He is hoping that neither Trump nor Cruz claim the nomination beforehand and that convention delegates eventually turn to him as the nominee.
So far, Kasich has won only in the midwestern state he governs. He is meeting Wednesday in Washington with his political advisers on his next steps in the face of demands from both Trump and Cruz that he drop out of the race.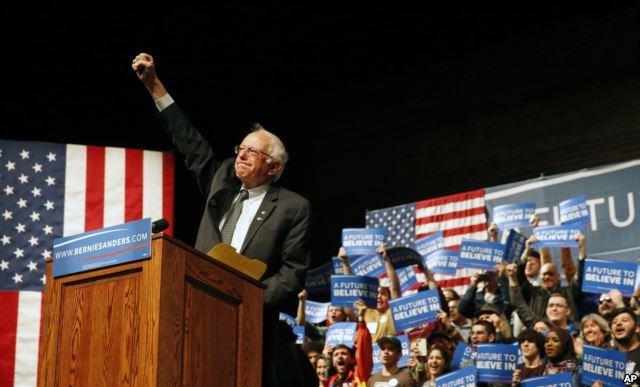 Democratic presidential candidate Sen. Bernie Sanders, I-Vt., gestures to supporters during a campaign rally in Laramie, Wyo., Tuesday, April 5, 2016.
Sanders challenges Clinton
In the Democratic race, Clinton is facing growing competition from her sole challenger, Vermont Senator Bernie Sanders, who now has defeated her in six of the last seven state nominating contests, including Tuesday's primary in Wisconsin.
Clinton, however, still holds a sizable lead, but not a majority yet, in the number of national convention delegates she needs to claim the party's presidential nomination. If eventually elected, she would be the first female U.S. president.
The next key nominating contest for both parties is April 19, in New York, where pre-election surveys show Trump and Clinton ahead.
—
Related:
Rolling Stone Endorses Hillary: "It's hard not to love Bernie, But Anger is not a plan"
Hillary, Trump in Command of US Election
Join the conversation on Twitter and Facebook.