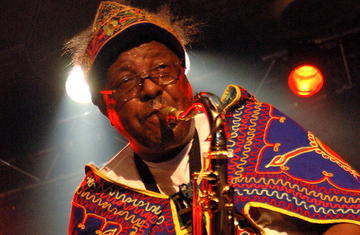 Tadias Magazine
By Tadias Staff
Published: Tuesday, April 5th, 2016
New York (TADIAS) — Legendary Ethiopian saxophonist Getatchew Mekurya passed away this week at the age of 81.
Getatchew, who began his musical career in Addis Ababa in the 1940′s, was a member of Ethiopia's famous Police Orchestra. However, Getatchew gained international exposure mostly in the past decade through his world tours in collaboration with the Dutch avant-garde band, the Ex, and the release of his album Negus of Ethiopian Sax as part of the Ethiopiques CD series. Getatchew Mekurya was also part of the historic outdoor Ethiopian concert at Lincoln Center here in New York City in 2008 that included Mahmoud Ahmed and Alemayehu Eshete.
In a statement the EX band said Getatchew started playing with them in 2004, but recently he had been in failing health. "He recognized something in our music which reminded him of the early groups he was in, like the Fetan Band (Speed Band)," the group said in a Facebook post. "For us it was also an incredible experience. He was always totally himself, full-on intense and dedicated. We played more than 100 concerts and made two beautiful albums together."
The EX band added: "The last few years, his health was not very good. He couldn't really go on tour anymore. As a kind of farewell concert for his fans, we organized a big event in the National Theatre in Addis Abeba. He got lots of attention and respect that night: 1500 people in the audience, three TV stations and a legendary concert. Getatchew was playing while sitting on a chair, but his playing was stronger than ever. His whole life was music. With his unique sound and approach he leaves behind an eternal inspiration! We will miss him."
According to wiki: "Mekurya began his musical studies on traditional Ethiopian instruments such as the krar and the masenqo, and later moved on to the saxophone and clarinet. In 1955 he joined the house band at Addis' Haile Selassie I Theatre, and in 1965 joined the famous Police Orchestra. He was also one of the first musicians to record an instrumental version of shellela, a genre of traditional Ethiopian vocal music sung by warriors before going into battle. Mekurya took the shellela tradition seriously, often appearing onstage in a warrior's animal-skin tunic and lion's mane headdress. He continued to refine his instrumental shellela style, recording an entire album in 1970, Negus of Ethiopian Sax, released on Philips Ethiopia during the heyday of the Ethiojazz movement. Mekurya continued to work alongside many of the biggest orchestras in the Ethiopian capital, accompanying renowned singers Alemayehu Eshete, Hirut Beqele, and Ayalew Mesfin. Mekurya reached an international audience when his album Negus of Ethiopian Sax was re-released as part of the Ethiopiques CD series."
—
Join the conversation on Twitter and Facebook.