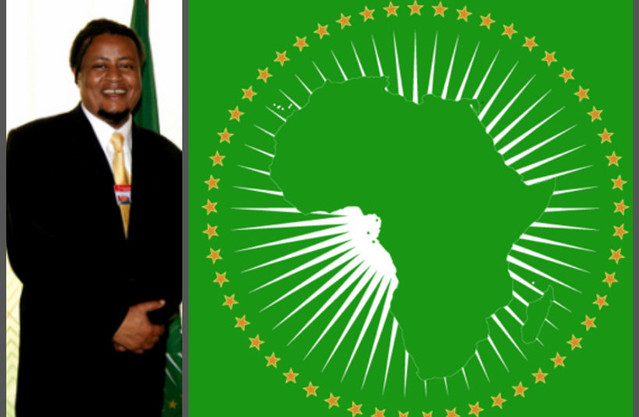 Tadias Magazine
By Tadias Staff
Updated: Monday, May 20th, 2013
New York (TADIAS) – On the evening of September 28th, 2009, Yadesa Bojia, an Ethiopian American artist based in Seattle, Washington, was babysitting his children at home while watching CNN when he recognized an image on the TV screen of one of his artworks. "That's my design!" he exclaimed. He was looking at the new African Union flag created using a sketch that he had submitted for competition two years earlier. "By then I had almost forgotten about it because at that point I had not yet heard back from AU," Yadesa (a.k.a. Yaddi) recalled in a recent interview with Tadias.
Yaddi spotted the flag on Lary King Live whose guest was Muammar Gaddafi, the Chairman of the African Union as well as the head of the African Union Commission (AUC) at the time. The Commission was tasked to come up with an updated insignia for the continental body, and the interview conducted at the Libyan Mission in New York showed Gaddafi flanked by the new banner. "I could not believe my eyes," Yaddi said.
Immediately, Yaddi contacted the AU headquarters in Addis Ababa to enquire about the new flag. "What flag?" the perplexed women on the other end of the receiver replied. "Sir, I have no idea what you're talking about."
"To top it off the next morning there was Gaddafi again on CNN wearing my design all over his clothing," Yaddi remembered laughing. "I was losing my mind."
Yaddi would eventually learn that his work was selected earlier that year by the Commission out of approximately 127 entries submitted in the span of two years from artists residing in several African countries and including two contestants from the Diaspora.
Three months after he first saw the flag on CNN, Yaddi finally received a formal letter from the African Union announcing the adoption of his design as the continent's new emblem. The letter included an invitation along with a paid travel package for him and his family to attend the flag's inauguration ceremony during the 14th Ordinary Session of the Assembly of Heads of State held in Addis Ababa on January 31st, 2010.
The design depicts a green Africa, the color portray the hopes and aspirations of the continent, resting on rays of a white sun that symbolizes the people's desire for friendship and co-existence with all countries around the planet. The map is circled by a ring of golden stars each representing member states, wealth and a bright future.
"I was told by an official from the Ethiopian ministry of Foreign Affairs that when Meles found out the winner was an Ethiopian, he told them to go find the guy," he said. "Once I got to Addis, on the second day of events, I was approached by the protocol chief who informed me that the Prime Minister wanted to see me. So my wife and I had the chance to meet with the PM privately who told me that he was proud of my work." He added: "In addition, I also met with President Zuma of South Africa, Tanzanian President Jakaya Kikwete and other leaders who were very complimentary of the flag. Not to mention the five hours I spent with President Girma Wolde-Giorgis at the national palace."

(Courtesy photos)
Although he received wide publicity in Ethiopia, Yaddi pointed out that his favorite moments were in the subsequent days spent in Addis, where people who recognized him would come up to him to give him a hug and a kiss. "A street vendor gave me a coin from the Menelik era that he was selling," said Yaddi fighting back tears. "He sternly protested my offer to pay. The man told me that he just wanted to show his appreciation to me and he did not want any money for it."
Yaddi says he continues to be proud of his contribution to AU and Ethiopia's role over the past 50 years under starkly different successive regimes in keeping the organization alive. He is reminded of a forceful defense of this legacy by the late PM Meles Zenawi during his tenure as Prime Minister when there was a concerted effort to move the head office outside of Ethiopia.
"It was people like Nyerere, Nkrumah, who decided that Addis Ababa should be the headquarters of the OAU; Addis Ababa ruled at that stage by Emperor Haile Selassie," Meles had argued. "Who trained Mandela? Who supported Mugabe in his fight against Rhodesia?" Meles asked. "There is one fact that nobody can deny — that irrespective of who is ruling Ethiopia, Ethiopia has always been committed to African independence and liberation."
Indeed, it was 50 years ago this month that under the leadership of Emperor Haile Selassie 32 heads of state signed the founding charter to AU's predecessor the Organization of African Unity (OAU). And to mark the occasion, Yaddi said, he has collaborated with his friend reggae musician Iré Taylor (Reginald Taylor) for a poetic and musical tribute.
"I wanted to commemorate the Golden Jubilee by remembering those who worked hard to establish the OAU, leaders like Haile Selassie, and applaud the Union's historic and unwavering stand against apartheid in South Africa, as well as the present economic promise of African Nations and the selection of the first woman chair," he said.
—
You can watch the video on You Tube here. The music is also available on iTunes, spotify, Amazon, and Zune.
—
Watch: African Union New Flag Design Winner Yadessa Zewege on ETV

Watch: ETV Interview Part 2

Watch: Tanzania's President Jakaya Mrisho Kikwete Poses for a photo with Yadesa Bojia

Watch: African Union African Union Yaddi & Iré (Official Music video)

—
Related:
Photos: United Nations Marks OAU-AU 50th Anniversary (TADIAS)
Yadesa Bojia Interview with Voice of America
Moammar Gadhafi on Larry King 9/28/09
—
Join the conversation on Twitter and Facebook.