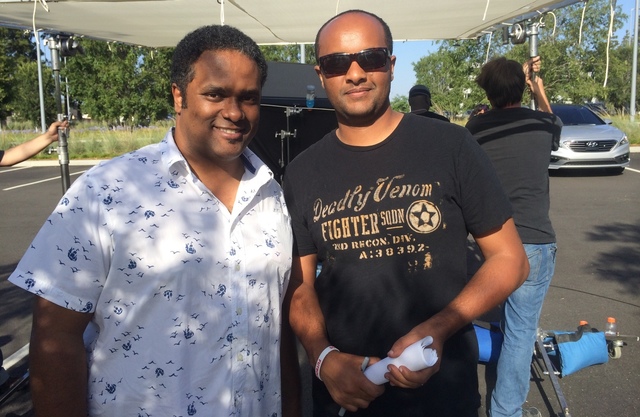 Tadias Magazine
By Tadias Staff
Tuesday, June 10th, 2014
New York (TADIAS) — David Mesfin credits his love of visual communications to his teenage days in Addis Ababa in the late 1980′s where he used to hang out at a place called Neon Addis — a design and advertising firm that produced neon signs, billboards, and other forms of print ads. Today he is at the forefront of his field in the United States and his latest project as an Associate Creative Director includes new multi-platform commercials for Hyundai car company entitled "#BecauseFutbol" (becausefutbol.com) designed for the 2014 FIFA World Cup getting underway this week in Brazil.
The TV spots – created by the advertising agency Innocean USA — also come with microblogging on the social networking website Tumblr, and will be broadcast on ESPN and Univision "as part of Hyundai's exclusive whistle-to-whistle automotive advertising sponsorship of the World Cup series." The ad also made an appearance in New York's Times Square yesterday via Hyundai's large billboard space. For the Tumblr site, David told Tadias Magazine that he worked with "two amazing Ethiopian artists," Ezra Wube and Wondwossen Dikran.
"Few things bring us together like the World Cup," David enthused. "The excitement and passion for the game all culminate into something so extraordinary, that for 30 days the world pauses and allows permission for anything." He added: "Grown men cry, blood pressure rises, families reunite in living rooms, strangers embrace, fathers and sons bond at 3 a.m. Why? Because Fútbol. Once we defined the Because Fútbol slogan and the TV spots, I began experimenting with converting short videos of emotionally charged Fútbol fans to GIF animations," David shared. "It began with one video of an Argentinian Fútbol fan yelling at the TV while watching a game."
David proposed, and the ad agency and client agreed, that Tumblr was the best social media platform to display the images and to engage the soccer fan community. "While working on the project I reached out to two Ethiopian friends who I thought would be the right people for this project: Ezra Wube and Wondowssen Dikran," he said. "We set the objective to create and curate over 120 original pieces. It could be photography, illustration, digital rendering or GIF animation. What type of content might a fútbol fan enjoy and share? We also looked at different thematic ideas such as celebration, defeat, community, rivalry, ritual and more." So far only two of the Hyundai Because Fútbol ads have been released: Boom and Avoidance. 'Avoidance' features a man trying in vain to avoid the unavoidable — the FIFA World Cup frenzy- where this month teams from 32 different countries will battle for a chance to be crowned the globe's soccer champion.
Wondowssen Dikran's involvement with the Hyundai 2014 FIFA World Cup campaign began when his company, Activator Pictures, was approached by the ad agency Innocean USA to produce a couple of spots that were going to be used in the campaign. "Being familiar with David Mesfin's previous work for the brand, I was very excited to jump on board as the producer, along with Activator's Creative Director Olumide Odebunmi, to put together a game-plan to implement the vision that Hyundai and Innocean both believed in," said Wondowssen who is also the filmmaker behind the 2004 Ethiopian movie Journey to Lasta. "As a fanatic Futbol fan, this was a very exciting project to be involved with because we got to work with some very talented freestyle soccer players from Southern California. They were all young, full of energy and totally devoted to the sport."
"One more interesting insight we have to share is a guinea pig called 'Tony The Wiz' who is going to predict key match-ups during the World Cup," David added. "He will also make some appearances on social media channels such as Facebook and Twitter in real time. I'm really looking forward to this."
Wondowssen shared: "Our company has always wanted to work with David Mesfin and his creative team, and when the opportunity presented itself, we jumped right in. Activator is very proud of the work we have done on this particular campaign. It is not everyday that you get to do work that represents prestigious brands such as Hyundai and FIFA."
Credits:
Client: Hyundai Motor America
Spots: "Boom" and "Avoidance"
Agency: INNOCEAN USA
Executive Creative Director: Greg Braun
Creative Directors: Barney Goldberg and Tom Pettus
Associate Creative Director, Art: David Mesfin
Senior Copywriter: Nick Flora
VP, Director of Integrated Production: Jamil Bardowell
EP/Content Production: Brandon Boerner
Associate Creative Director: David Levy
Senior Copywriter: Ryan Durr
VP, HMA Account Services: Marisstella Marinkovic
Account Director: Lester Perry
Account Supervisor: Casey Nichols
Production Company: Biscuit Filmworks
Director: Aaron Stoller
Managing Director: Shawn Lacy
Executive Producer: Holly Vega
Producer: Mala Vasan
Directors of Photography: Jess Hall and Jokob Ihre
Editorial Company: Union Editorial LLC
Editor: Jim Haygood
Vice President/Executive Producer: Megan Dahlam
Music Company: The Rumor Mill
Telecine Place: CO3
Online Place: Resolution
Record Mix Place: Eleven Sound
Mixer: Scott Burns
Tumblr Artists: Adhemas Batista, Adam Osgood, Dušan Čežek, Ali Graham, Matthias Brown, Daniel Nyari, Kieran Carroll and Ezra Wube
Production Company: Tool of North America
Managing Partner, Digital: Dustin Callif
Producer: Simi Dhillon
Managing Director, Live Action: Oliver Fuselier
Creative Director: Michael Sevilla
Creative Director: Bartek Drozdz
Senior Designer: Josh Jetson
Jr. Designer: Yuee Seo
Senior Developer: Simon Lindsay
Senior Developer: Richard Mattka
Senior Developer: Josh Beckwith
Tech Manager: Vincent Toscano
Head of Digital Production: Joy Kuraitis
Digital Producer: Simi Dhillon
Content Creators: Activator Pictures, ilovedust, Golden Wolf
—
Update:
Hyundai USA Releases World Cup AD "Epic Battle" Video by Wondwossen Dikran
Join the conversation on Twitter and Facebook.