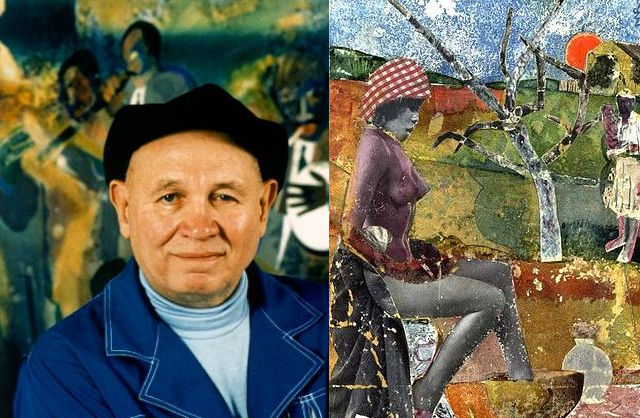 Tadias Magazine
Art Talk | By Tadias Staff
Published: Wednesday, February 22, 2012
New York (TADIAS) – For Black History month last week, Macy's held a series of in-store celebrations that honored the legacy of the distinguished African American artist Romare Bearden. Window displays of paintings by Bearden, as well as other artists, were featured in New York, Los Angeles, Pittsburgh, Chicago, Philadelphia, Washington, DC, and San Francisco. The week-long events included an opening reception, children's activities, live music, cooking demonstrations featuring Bearden's favorite recipes, and a celebration of the artist's 100th birthday if he were alive.
The California-based Alitash Kebede Gallery provided several of the works exhibited at Macy's Los Angeles and San Francisco stores. "I was delighted when I was asked by the Bearden Foundation to be a part of the Celebration," gallery owner Alitash Kebede said in a recent interview with Tadias Magazine. "Romare Bearden along with the pioneer Ethiopian artist Skunder Boghossian was an inspiration for my venture into the art world."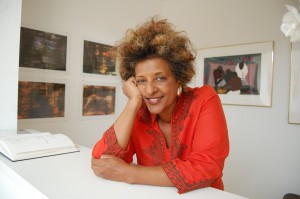 Alitash, who was born and raised in Ethiopia, recalled that when she first encountered one of Bearden's most famous series, Prevalence of Ritual, in the 1970s, she had no idea who he was. "I certainly didn't know that he was a celebrated American artist," she said, reflecting on Bearden's work. "I also had no idea that one day I would end up being in the art business because of him."
"Life works mysteriously," Alitash said. "The 100th birthday celebration happens to fall in 2012, which happens to be the 30th anniversary of my art business." She added: "It is in 1982, not knowing how long it would last, that I started my art venture out of my West Hollywood apartment showing the work of Romare Bearden."
Four years later, Bearden's friend, the artist Herbert Gentry introduced Alitash to Bearden. "He took me to his studio in Long Island City and there I thought I was in heaven," she said. "It is when I met Bearden, the artist who inspired me, that I decided that I was destined to be an art dealer."
Alitash continued: "I feel so fortunate to be associated with one of the most innovative artists of the 20th century, and someone I'm privileged to call my friend," she said. "Not only was he a master of the collage medium, he was also an author, a songwriter and had a wide range of scholarly interests in performing arts, history, literature and world art, which highly informed and inspired his work." She added: "He was also known as one of the most generous people in the art world who helped many artists personally and through institutions that he co-founded, such as the Studio Museum in Harlem. He has certainly helped me, in more ways than one; and I will forever be indebted to him."
–
Related:
Macy's Celebrates The Romare Bearden Centennial (Macys.com)
The Romare Bearden Foundation
The exhibition "Romare Bearden: Southern Recollections" will open at the Newark Museum, on May 23, 2012. "The Bearden Project" is presently at the Studio Museum in Harlem. This and other exhibitions are all part of the 100th Birthday Celebration.
Photo credit: Alitash Kebede by Lily Kebede at Alitash gallery.
Join the conversation on Twitter and Facebook.