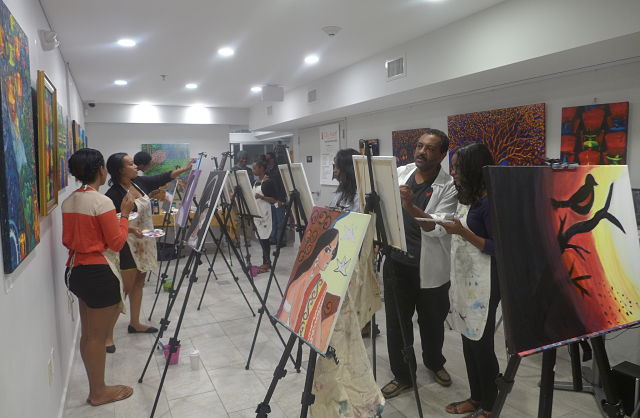 Tadias Magazine
By Tadias Staff
Published: Thursday, October 1st, 2015
New York (TADIAS) — For the past nine months an organization called Beteseb Art has been hosting weekly Saturday painting sessions for amateur artists at a small rental space on 18th street in the Adams Morgan neighborhood of Washington D.C. The program was launched by Ethiopian artists Aleme Tadesse and Solomon Asfaw.
"I stopped in there last night quite randomly while looking for a place to eat in DC" one participant shared on Facebook regarding her discovery of Beteseb's program. "$30 pays for a canvas, paint, wine, beer, snacks, use of easel, brushes, and apron. With lots of love and encouragement from organizing artists it looks like everyone was having a great evening and making great art."
And neither do you have to be an artist to take part in the program. One of the regulars is Nathaniel Abebe, a Computer Science student and former President of the Ethiopian Students Association (ESA) at the University of Maryland. "For me it's the quality of time spent and the kind of people that you meet here," says Nathaniel who recently completed his first artwork at the gallery. Not having any prior experience in painting, Nathaniel enjoys the social aspect of the gathering. "Initially I brought my 13-year-old sister, who was visiting from Ethiopia over the summer, but eventually I got involved and now I am in charge of publicity, website, reaching out to students and the larger community."
Founders Solomon Asfaw and Aleme Tadesse envisioned providing a "creative environment for individuals as well as groups" not only to create art, but to also jumpstart a movement for youth to spend their time in more rewarding ways.
"We are trying to redefine weekend pastime," says Aleme Tadesse who leads the social painting sessions over wine and music targeting young people in the Washington, D.C. metropolitan area. "You don't necessarily have to go to a shisha bar to have a good time."
The Beteseb evening program has become popular among local college students. When Tadias stopped by at last Saturday's session the room was filled with University of Maryland Students including the current president of the Ethiopian Student Association at UM and her predecessor. Beteseb has likewise conducted more outreach and offered painting sessions at the annual Ethiopian soccer tournament. In the summer Beteseb offers two sessions from 11am to 2pm.
"The first painting session was held at the house of Nini Legesse, Founder of Wegene Foundation," Aleme says. The program has now expanded to include weekend sessions from noon till 5pm for kids ranging in age between 3 to 18, and providing both supplies and "art-trained creative enablers" on hand to provide guidance and encouragement.
Below are photos from Beteseb Art's painting sessions:
—-
If You Go:
Beteseb Art Weekly Paint Session
Every Saturday: 7PM – 10PM
in Adams Morgan
2448A 18th Street, NW
Washington, D.C.
www.beteseb.org
Join the conversation on Twitter and Facebook.