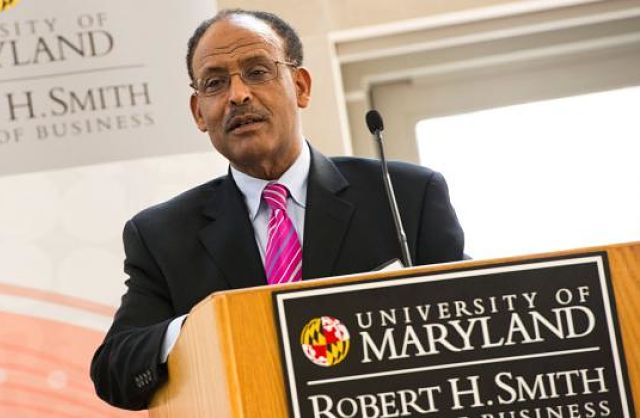 Tadias Magazine
By Tadias Staff
Published: November 15th, 2018
New York (TADIAS) – Last weekend in Alexandria, Virginia Dr. Lemma Senbet, renowned Ethiopian American economist and professor, attended the 8th year anniversary celebration dinner hosted by Your Ethiopian Professionals (YEP), a D.C.-based organization dedicated to promoting career networking and mentoring opportunities for members of the Ethiopian American community. Dr. Lemma was keen to share the current effort of the recently formed Ethiopian Diaspora Trust Fund to YEP's program attendees as part of the Fund's upcoming launch of a D.C. chapter to help accelerate the global donor campaign.
Dr. Lemma W. Senbet, who is currently the William E. Mayer Chair Professor of Finance at the University of Maryland, College Park and the former head of the African Economic Research Consortium (AERC), is also one of the Advisory Council members for the Ethiopian Diaspora Trust Fund.
"We are in the process of forming a chapter," Dr. Lemma said in a recent interview with Tadias, noting that several members of the Advisory Council from the D.C. area had recently met to discuss the effort and to come up with formal guidelines on the process of establishing a chapter. "In between, what we are doing is engaging in a number of retail activities piggybacking on and leveraging various events that are being held by the Ethiopian Diaspora, such as the YEP event." Dr. Lemma added that chapters will be viewed as an extension of the Council. "So it's important that it is done with care, so it will not engender any reputational risk" he shared. "We have some guidelines, but not too restrictive so it will not discourage chapter formation," Dr. Lemma said, which has been reported back to the Council.
"It's like knowing your customer," Dr. Lemma emphasized. "We need to know the people, experience and areas of interest so we can also engage in appropriate monitoring, because any misdeed could actually hurt us."
More importantly, the Fund has the responsibility of following U.S. laws governing charitable organizations for nonprofits designated under section 501(c)(3) of the Internal Revenue Code, which is how EDTF has been established.
One thing that EDTF has yet to do is engage in "systematic campaign activities," Dr. Lemma told Tadias. This would include events such as "holding town hall meetings and press conferences not only in Washington D.C. but worldwide." To that end in Washington a press conference on the Fund and mobilization of the process will be held later this month at the Ethiopian Embassy, and a major fundraising event is also in the works for early 2019.
"Due to the coming holiday season, however, the earliest we can hold the fundraiser is probably in February," Dr. Lemma said. "We are also going to seek assistance from the Embassy in terms of accessing a database of organizations that we can try to reach out to." Dr. Lemma noted they are attempting to "map existing Diaspora organizations" such as churches, professional associations and other community groups. "We don't have an extensive database so we are going to work off whatever the Embassy has."
As to the online fundraising effort, which as of this week has raised close to $300K, Dr. Lemma said: "Here is where we are now. Although this one dollar a day idea is a very nice and appealing vision, we also want to attract high net-worth individuals, which we have not done yet, not only from the Diaspora but also from the individuals who consider themselves friends of Ethiopia, such as former Peace Corps Volunteers for example."
As part of the final implementation of projects Dr. Lemma said that they will host "a number of discussion forums" around the world.
"The input is going to come from all over the globe and we'll have the mechanism to collect that feedback including via the established chapters, which are key in this process as well."
"It's also very important for people to understand the linkage between the Council and projects in Ethiopia, which is governed by a Board in Ethiopia," Dr. Lemma said. "Our job is to advise on project identification and also to make sure that Diaspora voices are heard. We plan to also provide advice on final allocation of resources."
Dr. Lemma credits PM Abiy Ahmed for helping to bring unity among the diverse voices of the global Ethiopian Diaspora. "I am one of them," Dr. Lemma enthused. "As you know in the past I was not as involved, not because I was in the opposition, but rather I had some genuine differences of opinion with the previous administration especially when it came to the state of finance policy and the complete lack of privatization of finance, which had nothing to do with capacity." Dr. Lemma added: "Today what we have here is an unparalleled opportunity to impart transfer of knowledge coming from the collective wisdom of the huge global Diaspora."
For EDTF the most important thing is that there should be an "inclusivity of growth in Ethiopia," Dr. Lemma said. "So we have agents of inclusivity among youth, women, and small farmers to foster entrepreneurship and also enhance agricultural productivity, which is really very consistent with the prime minister's vision."
Dr. Lemma considers it a good thing that the current Advisory Council is comprised of a "talented bunch" and that the members involved "are navigating together" a complex set of international regulations and rules spanning several continents.
On a personal level Dr. Lemma said that he sees his involvement with EDTF as a once-in-a-lifetime opportunity to make a real difference in Ethiopia.
"In some sense you can think of it as being in unchartered territory," he admits. "It's a new concept and a new vision from what appears to be a highly transformational leadership in Ethiopia." He added: "We need to seize this opportunity and we need to move fast because this momentum, who knows, it could slip by. That's why I feel strongly that we need get this EDTF right. We need to get it right on a variety of ways, one of which is to move consistently with the pace of the Prime Minister."
—
Related:
Interview with Dr. Bisrat Aklilu About the Ethiopian Diaspora Trust Fund
A Diaspora Trust Fund for Ethiopia (Tadias Editorial/July 10th, 2018)
You can learn more about the fund and contribute at ethiopiatrustfund.org.

Join the conversation on Twitter and Facebook.